The new stringing rules for college lacrosse made stringing a traditional pocket just a little bit tougher because of the fact that shooting strings can not be placed lower than 4″ from the top of the scoop. Traditional and Pita pockets can tend to bag out up top without shooters to keep the pocket stable, especially when they are strung with mid or high pockets.
If you want to use traditional in college, the best way to do it is to string a low pocket with your leather and cross lace, and then let the pocket move up in the head as it breaks in. I've done this before, and it works. This week I'll show you what the pocket looks like when it's freshly strung. In two or three weeks I'll show you what the pocket looks like once it has broken in.
As you can see, the pocket is DEFINITELY a low pocket… at least for now.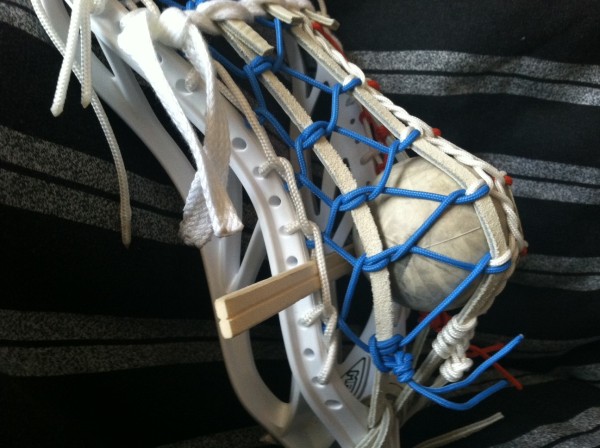 I used a Maverik Metrik head of the Universal variety. It's stiff and I like it. It should hold up to some abuse too, so I won't break the head just as the pocket breaks in. It's college legal, but still pretty narrow. Overall, it's a solid head and it's got a lot of sidewall holes. Not bad for the college game.
Do YOU have a trick or tip for creating a perfectly legal college traditional or pita pocket? We want to hear it! Hit us up in the comments below!
Check out the rest of our Traditional Archive for more leather and cross lace know how.