Even if you thought, as I did, that Loyola got a rough assignment for a #3 seed by hosting Albany, you can not say that the Danes were the favorite to win this game. Loyola was the heavy favorite heading in, but that mattered little as Albany started out hot, played composed lacrosse for 60 minutes, and got a superb effort from their defense and goalie, Blaze Riorden. The Danes beat the Hounds 13-6 on the road, and move on to the next round of the NCAA tourney, looking like the hottest team in the country.
Oh, and all three Thompsons made SportsCenter's Top 10:
Photo Credit: Craig Chase
We all knew it was possible. Albany's offensive prowess ranks up there with just about anyone, at any time. If those offensive guys have a day, no defense is safe. Their goalie has the ability to play light's out lacrosse, and he can spark transition play as well. His 13 saves on Saturday were a difference maker. Their D is big, and athletic, and their midfielders are truly throw back players, who can go both ways. They have depth at the midfield as well, and this allows them to play settled, or to run. Either way, they are confident they can win.
So while the rest of us figured Loyola would squeak out with a win in a high-scoring game, Albany and the Thompsons were thinking otherwise… and they made it happen. Lyle Thompson scored the first goal of the game, which set the record for points in a single season at 115. He continued to put up points and finished the game with 122 for the year, and counting. Miles Thompson also had a day, and he to broke the old record, finishing the game with 115 points on the year, and counting. Just so you pick up on this (in case you didn't already), TWO BROTHERS broke the same record in the same year, and they are still going. These two have combined for 237 points… so far… THIS YEAR. That's more than many D1 teams. These guys are legend.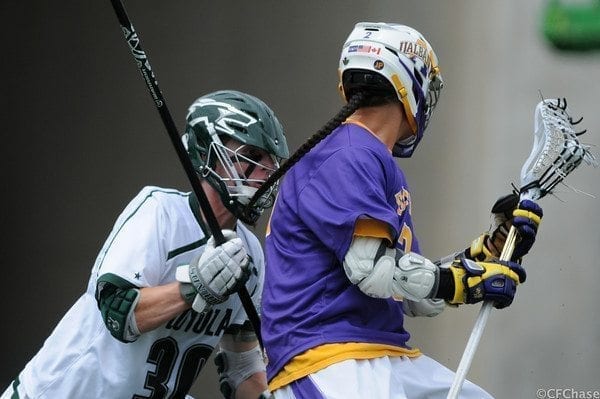 Oh, and their cousin Ty also had a big day, emerging in the second half, and notching a nice little hat trick. He probably had the ball in his stick for about 6 seconds all day, but he made those seconds count. Ty can straight finish, and his lefty position makes him unique in the group.
Loyola's Joe Fletcher was impressive on Thompson, even though Albany won, and Thompson had a big day. Fletcher scooped up a ton of GBs, put on really good pressure, and made some truly nice plays here and there. Fletcher is still, in my book, the best defender in the country. Another guy who really played well for the Hounds was Pat Laconi, who truly did it all. He put the ball on the ground, played tough D, scooped up loosies, and scored a couple goals from his D-mid position. He left it all out on the field, and it showed.
While Riordan was locked in on the Hounds' shooters, Jack Runkel also did well in cage for Loyola. Watching the game, I felt like Loyola could make a run, and that they were still in it, even late in the contest, and Runkel had a lot to do with this feeling.
Overall, Albany played the way we all thought they could play, and even a top flight team like Loyola struggled against it. I wasn't sure we'd see Albany make a run this year, but if they can keep playing with the same intensity and teamwork, they can make a legitimate run at a title. If potential is gelling into reality right now, the rest of D1 should be on notice.