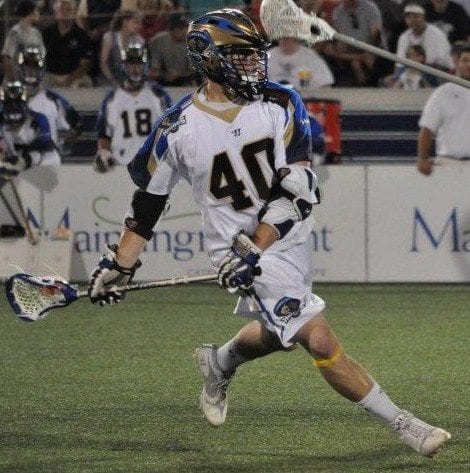 Major League Lacrosse's Championship Weekend presented by Smartlink has already provided some huge story lines, and great games, and we've still got the Finals to go! If you're not in Philly yourself, check out the game on ESPN2 at 3pm.
By now you must know that the upstart Charlotte Hounds knocked off the previously undefeated Denver Outlaws in semifinal #1. VERY few people predicted this outcome and it looked like Denver would be just fine when Eric Law scored the first goal of the game, but the Hounds came out hot, going up big in the first quarter. They showed an impressive ability to answer with yet another goal of their own whenever Denver started to get too close. Denver made it tight at 14-12, but in the end, the Hounds waltzed away with a 17-14 win, and the franchise's first trip to the title game.
Oh, and remember when I said Eric Law scored the first goal of the game? He would go on to score 8 more, for a grand total of nine. Even though it came in a loss, that is insanely impressive. And he's a rookie? Oh my. Charlotte had a very balanced scoring attack, and also got a great game out of Geoff Snider, who went 17 for 25. Adam Ghitelman had 17 saves to earn the win.
In the second semifinal, the Bayhawks just barely edged out the Hamilton Nationals 13-12. This was a super tight game throughout, as many thought it might be, and the #2 and #3 seeds really slugged it out. No one player dominated the game scoring wise, and a number of guys had multiple points for both teams. This was one of those games that you really had to see. Hopefully you were there. Owning a DVR is a second best option, because if you were watching on TV, you missed most of the first quarter because some high school quarterfinal baseball game ran long. Well done, CBSSports!
At least the MLL has you covered with highlights. Some day networks will pre-empt other sports for lacrosse… but I guess that day is not today. Oh well, at least they showed the rest of this great game, and are covering the sport. It's a start.
Today's final should be REALLY good. The Bayhawaks want to repeat, and the Hounds want to show the world they are for real. It should be an epic game. Who you got!?!?!