In this week's edition of Wednesday Lacrosse Games To Watch I'll run through all the top action from the college lacrosse world that's going down on the weekly hump day.  Wednesdays often offer some of the best under the radar college lacrosse games of the week, and it can be upset city.  Let's dive right in!
Our first game is actually on Tuesday, but it's a D1 game so that makes sense.  D1 just loves playing its games on Tuesdays.  Syracuse should beat Hobart, but if there is a D1 game poised for an upset this week, the ' Cuse – 'Bart game could be it.  Hobart is not having a banner year, but they can erase all those bad feelings with a win here.  This game is just that big to these two teams.  My mind say Syracuse, but my heart says Hobart.  Going with my mind here.  Cuse by 4.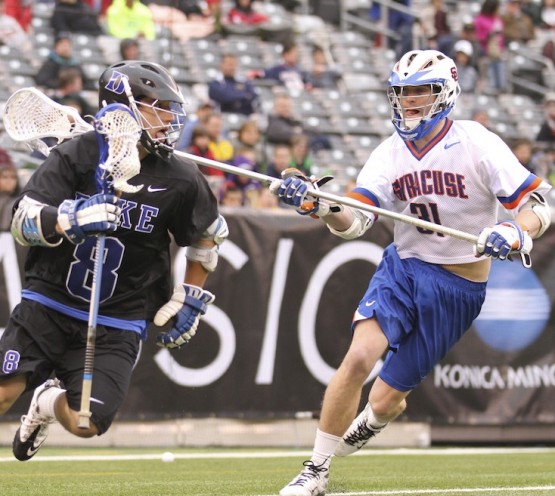 The big midweek game for NCAA D2 ball is a toss up between Adams State at Lindenwood, which features two newer teams battling it out, or Notre Dame de Namur traveling to play Molloy on Long Island all the way from the San Francisco area.  I'll take Adams State on the road and Molloy at home, and both of these games could go either way, although Molloy should still be favored pretty heavily.
In NCAA D3 action, the NESCAC gets going today (Tuesday), which is a departure from the normal Wed game set up, but as we approach the conference playoffs, extra time is given to teams to prep for weekend games.  Bowdoin hosts Colby and this game is often intense because of the Maine rivalry.  But this year, Bowdoin is top 20 and Colby is knocking off Top 20 teams like gangbusters.  If Colby is for real, they take this game.  I'm a believer.  Colby by 2.  Want to watch the webcast?  Here you go, Bowdoin – Colby Lacrosse webcast.
Wesleyan keeps it in CT as the travel to Trinity where they will play on turf.  I can't believe I'm doing this, but I'll pick Trinity here.  Wesleyan seems to struggle sometimes when they don't play on grass.  I've never hoped to be wrong so strongly before!  If Trinity takes the win, they are really in the driver's seat for the regular season NESCAC crown.  You can watch a live webcast of the Wesleyan – Trinity game.
On Wednesday, D3 also delivers in a major way as Union heads to RIT.  Supposedly, this game is going to be televised on some channel I don't get in NY State.  Check your local listings, but I think the game got picked up by Time Warner Sports.
Both Union and RIT are top 15 teams in the Polls and Power Rankings, and there is a lot of upstate pride on the line.  It's also a Liberty League game, which will most likely determine who wins the League.  The Liberty is looking pretty strong this year.  RPI beat RIT but lost to Union.  So if Union wins this one, they take the Liberty.  If RIT wins, then I have no idea who wins, and there will be some sort of tie breaker to clear up the 1-1 three way tie.
Absolutely HUGE game for the Liberty, potential Pool C bids and NCAA seeding.
In the MCLA, Indiana at Purdue is huge.  IU wants to keep improving and Purdue stands in the way.  In-state game, IU coming off a tough loss and Purdue looking tough.  I'm prepared to be wrong here, but I think Purdue uses experience to win this one.  UNH is at Boston College and this will tell us where these two teams are really at.  Big rivalry game between these two schools in New England and I'm taking UNH with the upset.  Insane pick?  Probably.
The MCLA also serves up Utah State at Utah and UCLA at USC.  Talk about your rivalry contests on a Wednesday!  Crazy awesomeness from the MCLA this week.  I'll go with UCLA and Utah, both by at least 6 goals.
If you know the links to any other webcasts, PLEASE drop them in the comments!  We love seeing great college lacrosse on the internet.