This weekend, we will all be treated to some serious lacrosse action, and it comes in a number of different forms. It's not just NCAA D1 lacrosse that's on and popping, although that is a big part of the equation, and we've got story lines to follow from across the lacrosse (box and field!) landscape.
NCAA D1: What To Watch For
Colgate and Army play on Friday night, and both of these teams are capable of making a run, knocking off Loyola (who beat Bucknell last night), and taking the Patriot League title. Keep an eye on Army especially. Lehigh should roll Lafayette, but a loss there could change some things up. High Point plays UNC, and this is a potential trap game for UNC. High Point will bring it, UNC better show up. Hopkins – Navy probably won't be a tight game, but weirder things have happened!
On Saturday, Cornell tries to right the ship against a tough Brown team. If there is a potential Yale of 2012 team in the Ivy this year, it has to be Brown. Penn should roll Dartmouth. Duke should easily beat Rutgers. Harvard – Princeton should be a really good game. Harvard is #2 in the Ivy at 3-1, and Princeton is #5 in the Ivy at 2-2. That's conference parity! Hobart and Syracuse play their rivalry game. If Hobart does well on face offs, and holds long possessions, anything can happen in this one. UMass and Hofstra are both Top 20-ish teams, so their game is huge, no matter who wins. Notre Dame vs Maryland is a huge ACC game, but every team in that conference is good, so every ACC game is one to watch. Ohio State is looking better again, and so is Air Force. Whoever wins that one could climb the polls.
There are three more games that really pique my curiosity because all six teams are very close to being "Top Tier" level: St. John's vs Villanova, Towson vs Drexel, and UMBC vs Albany should all be good games, and I'm looking for big wins in each match up to show me who the contender is. These games don't have all the hype that a Top 10 game has, but they are going to be hugely important for records, seeding, and any playoff hopes.
On Sunday, Richmond hosts Jacksonville. Richmond is 3-9 and Jacksonville is 3-7. Not great records, but a new team is playing the Southern-most team in D1. That's always good! As crazy as it might sound, I actually like Richmond in this one!
D1 Trap Game Of The Week
For my trap game of the week, I'm going Denver – Providence. Providence plays teams tight, Denver wins some tight games, and both teams have excellent coaching. Providence can make a late season statement with a win here. If Denver doesn't show up ready to roll, this one could be very interesting. If you're in the Providence, RI area, I highly recommend checking this one out in person. Noon on Saturday. Be there!
Other NCAA College Games – Pay Attention!
My biggest game of the week isn't even a D1 game, so you know there is good stuff here! Stevenson – Salisbury is legend. Find a way to watch that game. Just trust me on this one. Or read this week's Hot Pot and Throwback Thursday posts. Then you'll believe me. I guess that's better.
When it comes to NCAA D2 Lacrosse, you've got undefeated #1 Adelphi traveling to Massachusetts to take on Merrimack. 'Mack is 9-3, and looking like a pretty solid top 10 team. Can they be the ones to knock off the Panthers? It's unlikely, but a game worth watching. Another HUGE game pits 9-1 Wheeling Jesuit against #4 Mercyhurst (9-2). Wheeling Jesuit is coming off a big win over Seton Hill on the road, so confidence should be high. CW Post vs NY Tech should also be a great game, but you knew that already!
In D3, there is plenty of action. If Amherst beats Williams, they win The Little Three. If Williams wins, it is a three way tie. Being a Wesleyan guy myself, I must say, Go Williams! Man, it was weird just writing that. Endicott vs Bowdoin should be a good one, and Tufts – Wesleyan is usually tight and intense. Washington College vs Gettysburg is going to be great, and has big overall implications.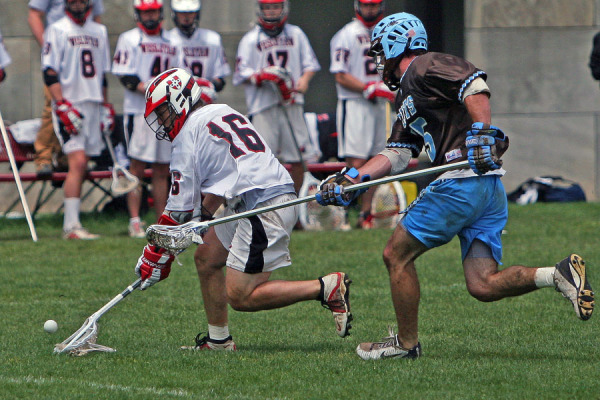 MCLA Contests Of Note
Arizona State is 13-0, and they are hosting 10-2 Grand Canyon in a big time SLC South conference game. I like ASU here, but an upset seems possible. 11-2 Colorado plays 10-3 Colorado State, and this is the game of the weekend for the MCLA. It's #2 vs #4, it's in-state, and it's late in the year. This will be an intense game, and I'm tempted to fly out to Colorado to watch it in person! Chapman plays at UCSB, and that game should also be a gem. Forget CO, I'm going to CA!
NJCAA Games – Playoffs!
CCBC Essex plays Monroe in a Top 10 battle. Essex just dropped a rough one to Nassau, so look for them to bounce back strong in this big Friday game. ASA hosts Harford in NYC on Saturday. Delhi Vs Dean is another Top 10 match up worth keeping an eye on, and Finger Lakes vs Genesee could see some pretty goals scored. Nassau hosts Army Prep on Saturday, and if you're on Long Island and like physical lacrosse, I'd go to Mitchell Field to take this one in live.
NLL Games – Who's IN?
Ryan Connors fills us in on the weekend's NLL action, but we've got a LOT going on. Buffalo vs Toronto is a huge game, as both teams have clinched playoff spots, and will be vying for home field advantage in their first round series… with each other. Colorado play Minnesota, and Vancouver plays Philly. Minny and Philly are out, but Colorado and Vancouver are fighting for the last spot in the West. Will Minny or Philly play spoiler? Will Colorado lock up a berth this weekend? It's all going down this weekend. WATCH!
Talking A Little High School Lacrosse!
Landon vs Gilman down in Maryland… historic schools, hot bed, Spring weather. This should be a good one, with loads of boat shoes. Cohasset vs Marshfield in Massachusetts should be a good game, and in the NE prep world, Deerfield vs Taft is usually pretty fun, more often than not for Deerfield. Darien (CT) travels to Manhasset (NY), and Cold Spring Harbor (NY) is making the trip to MA to play Wellesley. In New Jersey, Delbarton vs Mountain Lakes is about as good as it gets. This one should be epic. There is way more going on than I could ever report on when it comes to high school lacrosse. The above is just a sampling of some of the excellent action!