We hate ruining surprises, but by now it's probably safe to assume that many of you have already pieced together the clues we've been dropping on the LAS Facebook Page. You do frequent it daily, we hope.
And with that assumption made, let's cut to the chase and answer the question on everyone's mind: What's Really Inside The Holiday Grab Bags? 
All it takes is a single image. Here's what is guaranteed in the ULTIMATE Holiday Grab Bag:
Using simple logic and the information we've previously provided, you'll be able to cognitively assemble a lineup for the PREMIUM and ESSENTIAL Holiday Grab Bags. Remember, EVERY Holiday GB has an LAS Stringing Kit.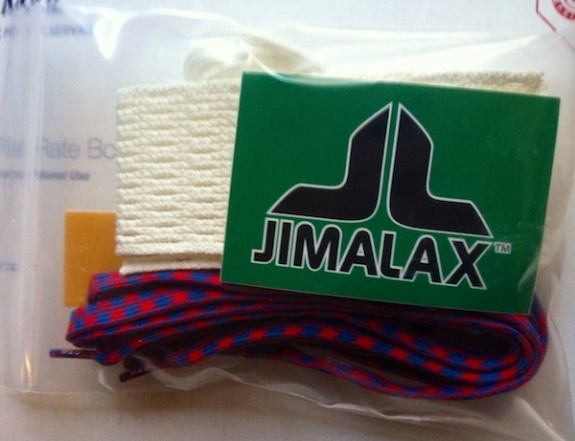 And there you have it. We've thoroughly and effectively answered the question on everyone's minds. The question that's been emailed to us time after time.
Now on to the important details… WE'RE RUNNING OUT OF SUPPLIES!
The PREMIUM is going to be your best bet if you haven't scooped up a GB yet. As of this morning at 10am Pacific Time, here's what is still available in The Lacrosse Shop:
ESSENTIAL
1 Small
0 Medium
3 Large
0 XL
1 XXL
PREMIUM
5 Small
1 Medium
8 Large
8 XL
0 XXL
ULTIMATE
2 Small
0 Medium
0 Large
1 XL
0 XXL
And you know all about the 12 Days of Laxmas, right? Each Grab Bag you order gets you X number of entries into our gear raffle beginning Dec. 14th. What the heck – here's one more Laxmas teaser!
REMEMBER – TODAY IS THE LAST DAY TO ORDER! CLICK CLICK
Every purchase in our store helps fuel the great content here at LaxAllStars.com.
_____________________________________________________________________________________________________________
A special thanks goes out to the guys at 412 Lax and 24 Seven Lax for helping us spread the word about the Grab Bags this Holiday Season. If you're considering a purchase and would like to support either blog, simply click the official purchase link of your choice below!