I was looking through a plastic bag of CDs and came across a photo album one of the parents had put together of shots from Wesleyan's 2004 Spring Break trip down to Florida.  I was an assistant coach at the time so there aren't any pictures of me, but whatever.  Some of these guys are still pretty active in the lacrosse world and it's always funny to see how much uniforms and equipment has changed in only 6 years.
As you can see, we all had different gloves, cleats and yes, even helmets.  We paid for our own gear so as long as it was close, coach let it go.  As the years passed, we definitely got our act together and eventually dropped the 1970s style uniforms for some Warrior threads.
Nowadays the Wesleyan team has a very different look from Nike and Brine and they are all wearing team gear. Guess it had to happen!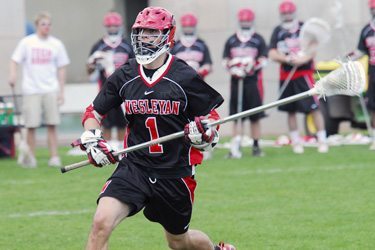 They certainly look a lot more serious.  I guess we'll have to wait for a Spring alumni game to test that theory out!