Numero uno overall was no-doubt going to Lyle Thompson. People were nervous about Miles going #1 last year since his experience in box only went as far as the Can/Am, luckily for Lyle, Miles had a spectacular rookie season with Minnesota and they both put on clinic after clinic at the WILC 2015. Sending Miles to Florida to join Lyle paid huge dividends in the MLL, let's see if Georgia can capitalize on the highlight reel ready duo.
I don't know what I doubted in Graeme Hossack at the #2 spot, the dude wrecks people, has a great stick and will be a great lefty addition to the Knighthawks. Rochester has had a knack for developing greatness recently, let's see if Hossack will fall right in line. The next three out of four picks went to Georgia and a handful of NCAA all-stars heard their names called at the TRAC early on.
2015 was a hearty class full of players ready to make an impact, so without further ado, it's time to decide for yourself… who won the 2015 NLL Draft?
2015 NLL Draft Results
Georgia Swarm
Rd. 1: Lyle Thompson, University at Albany; Jesse King, Ohio State; Chad Tutton, North Carolina; Randy Staats, Syracuse;
Rd. 2: Thomas Hoggarth, Trent;
Rd. 3: Michael Seidel, Robert Morris;
Rd. 5: Nick Ossello, Notre Dame;
Rd. 6: Rick Lewis, Ohio State;
Just like in 2013 and 2014, the Swarm dominated the selections. Unfortunately they haven't been able to capitalize on the youth yet, sending 2013's #1 pick Logan Schuss packing after just one season. Luckily last year's #1, Miles Thompson, had already been working on the team's foundation which will only be bolstered by the addition of his brother Lyle.
The Swarm also picked up Victoria/OSU product Jesse King, a giant, experienced lefty that's bound to have a lengthy NLL career along with Chad Tutton from Oshawa/UNC and Randy Staats, a Six Nations/Cuse product. All four were arguably some of the best players we got to see last year in the NCAA and all four have an extensive box lacrosse background. Tutton and King are both box lacrosse dominant Canadians while Thompson and Staats both are Haudenosaunee and played for the Iroquois Nationals at the WILC 2015.
Staats at WILC 2015
The Swarm are also known for taking a chance on guys without real box experience and they kept the streak alive by picking Ossello from Notre Dame and Lewis from Ohio State. Here's to hoping late-round picks for the Swarm will start to pay off.
Rochester Knighthawks
Rd. 1: Graeme Hossack, Lindenwood University; Brad Gillies, RIT;
Rd. 2: Derek Searle, RIT; Adam Bomberry, Onondaga CC;
Rd. 3: John St. John, Beaches Jr A;
Rd. 4: Greg Longboat, Six Nations Arrows
All six picks Rochester made in the draft were no-brainers and solid choices for continuing to build on the dynasty. As I mentioned earlier, Hossack is likely going to be a force to be reckoned with right away, Joining him is two local RIT guys that have serious hours logged in the box, the Iroquois Nationals' own Adam Bomberry, and two other players that live in close-proximity to Rochester.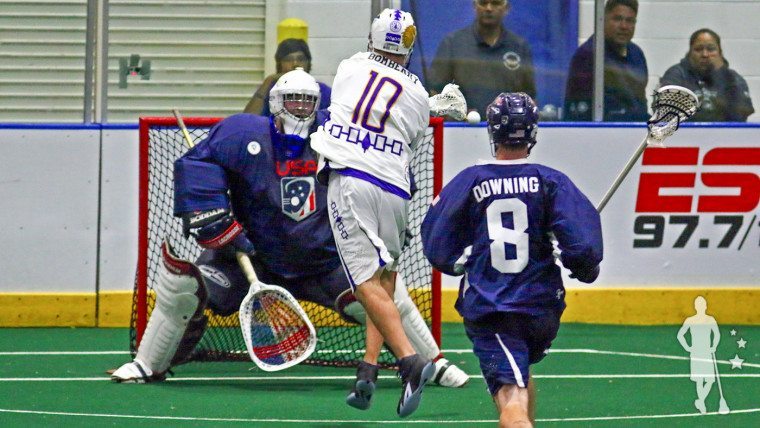 The team is going to save cash on travel and won't have to worry about jet lag by adding more locals, something the Knighthawks seem to excel at. Any of their first four picks have solid potential at cracking a roster and steer the K-Hawks back toward another Champion's Cup.
Calgary Roughnecks
Rd. 1: Wesley Berg, University of Denver; Reilly O'Connor, Georgetown;
Rd. 2: Mitch De Snoo, Drexel; Christian Del Bianco, Coquitlam Adanacs;
Rd. 3: Tyson Bell, Onondaga CC; Kellen Leclair, Six Nations Arrows;
Rd. 4: Jacob Ruest, Robert Morris;
Rd. 5: Jordan Kancsal, Jr A Mountaineers;
Rd. 6: Carson Barton, Coquitlam Adanacs;
Loading up at the 2015 NLL Draft was the previously 7-11 Calgary Roughneck who made moves to bring home 9 guys. Wes Berg had GM's grinding it out to make moves for the #2 pick, although he could have arguable went #1 if Georgia was desperate for Lyle. Coming in alongside Berg is another NCAA D1 product that has no trouble scoring, lefty Reilly O'Connor can be a weapon for the Roughnecks offense right away, the big guy scored over 403 points in 6 Jr. A seasons with the Whitby Warriors.
A well-rounded draft class includes shooters, defensemen, big name NCAA D1 guys, a former MCLA star and two young goaltenders. The Roughnecks did well finding guys from all across the board and could translate into instant playing time for a lot of young bucks. After selecting three big scorers right away, the Riggers capped off the 2nd Round with the selection of Del Bianco, a solid tendy out of the west.
New England Black Wolves
Rd. 1: Dan Lintner, Cornell;
Rd. 3: Mike MacDonald, Princeton; Phil Caputo, Brampton Jr A;
Rd. 4: Brooker Muir, Brampton Jr A;
Rd. 5: Ryan MacSpadyen, Beaches Jr A;
Rd. 6: Jordi Jones-Smith, Whitby Jr A;
Over six rounds the Black Wolves seemed to manage picking up six east coast based guys to help build the culture in New England. Lintner is a big-body goal scorer out of Brooklin that should make an immediate impact on the lack-luster Black Wolves offense. Mike MacDonald also had a successful NCAA and Jr. campaign to prepare him for the next level.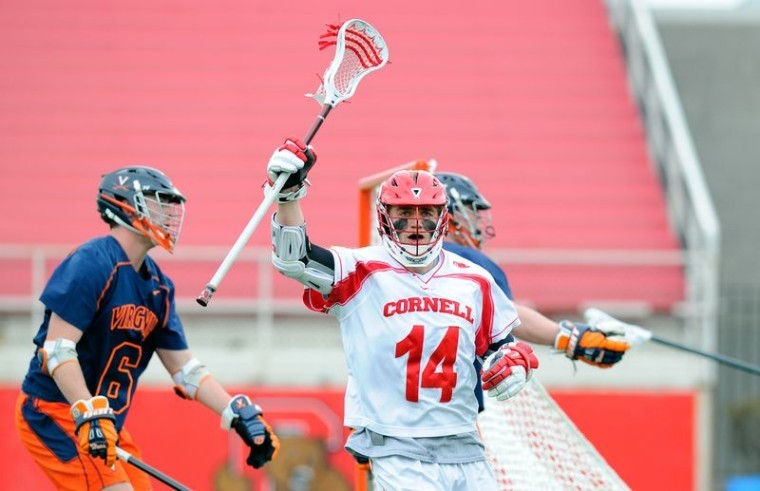 Joining those two are four more Jr. A players all looking to use their youth as a tool to fix some of New England's needs. Not having many draft picks in the past few years had New England desperately needing to lock-in an immediate goal scorer in the first round. They didn't waste any time finding more runners to fill the bench, selecting no goalies in this year's draft.
Toronto Rock
Rd. 2: Turner Evans, Ohio State; Luc Magnan, Robert Morris;
Rd. 4: Kyle Aquin, RIT;
Rd. 6: Jamie Batten, HH Jr B Bulldogs; Tyler Roche, Peterborough Jr A;
After falling short in the NLL Finals last year, the Rock would be hard-pressed to find ways to improve on their 14-4 record. Shawn Evans' cousin Turner was any easy first pick for the Rock, who were likely surprised he stayed on the board so long. Turner is coming off a successful MSL rookie season with the Oakville Rock, so I'm sure there's been plenty of eyes on this kids from the Rock front office for a while now.
Damon Edwards is out for 2015 with knee problems, possibly opening the door for a defender like Magnan to find floor time early. The Rock really needed to bring in a young defenseman to stand tall with the elder statesmen and Magnan is one of those young guns that should easily rise to the occasion. The final three Rock picks seemed a little odd to me, seeing as each of the guys had pretty sluggish summer seasons in 2015 and are all three seem questionable whether they are prepared or not for the NLL. Like I said, there's not a lot of room for improvement in Toronto, so picking up a handful of young guys could have a solid ROI on the longevity of their success.
Buffalo Bandits
Rd. 2: Anthony Malcolm, Mars Hill University;
Rd. 3: Mike Triolo, Pfeiffer;
Rd. 4: Tim Edwards, Canisius;
Rd. 5: Matthew Clearwater-Francisco, Mimico;
2015 was fairly low-key for the Bandits after a pretty successful 2014 campaign. With only four picks in this year's draft, the Bandits used their first two choices to build up their stock of righties, taking a couple strong shooters with Sr. A experience. Not only did they both play college field lacrosse, Triolo spending his summers with the Brooklin Redmen and Malcolm running with Langley in the WLA.
Canisius standout Tim Edwards selected by Buffalo Bandits in NLL Draft tonight: http://t.co/uNjoUCQUPS pic.twitter.com/OQQorZqSUF

— Canisius Men's LAX (@GriffsMLax) September 29, 2015
Edwards and Clearwater both only have Jr. A experience so far, but Edwards could easily extend his career after Canisius, also looking to crack a MLL roster while Clearwater will likely have a longer path trying to crack through the impressive Buffalo defensive depth chart.
Saskatchewan Rush
Rd. 2: Dan Taylor, Lehigh University; Doug Buchan, Burlington Chiefs;
Rd. 3: Justin Goodwin, LEC; Luke Gillespie, New Westminster;
Rd. 4: Jimmy McBride, Mars Hill University;
Rd. 5: Reagan Harding, LEC;
After a Champion's Cup winning campaign in 2014, the recently relocated Rush didn't have a whole lot of rebuilding to do in order to align themselves for another successful run in 2015-16. With no first round picks, the Rush had to wait until round two to pick up Dan Taylor who is coming off a monumental career with Lehigh. Goalie Doug Buchan is in a great place to learn a ton from WILC 2015 Gold Medalist, 2015 Mann Cup winner and 2014-15 NLL Champion Aaron Bold, who obviously has a knack for winning championships.
Vancouver Stealth
Rd. 2: Jordan Durston, Six Nations Arrows; Shayne Adams, University of Detroit;
Rd. 3: Connor Brown, HH Jr B Bulldogs;
Rd. 4: Riley Campbell, Peterborough Jr A; Evan Messenger, Delta Jr A;
Rd. 5: Ryan Wagner, Niagara Thunderhawks; Keegan Letourneau, Six Nations Arrows;
Rd. 6: Marvin Curry, Potomac State;
Durston is coming off of a recent Mann Cup win with the Arrows and alongside him comes Adams who is one of many Canadians groomed though the Detroit program. Campbell, Messenger and Letourneau had successful Jr. A runs in 2015. It will be interesting to see if the inexperience of Curry, Wagner and Brown will bring mush to the table for Vancouver, who chose a core of east coast guys in the draft.
Vancouver has struggled to click since moving north of the border, hopefully with the 3-year deal they inked with Schuss over the off-season and more local support, the team will be able to make a push for the playoffs in 2016.
Colorado Mammoth
Rd. 4: Bryce Sweeting, Peterborough Jr A;
Rd. 5: Dane Sorensen, Florida Southern;
Rd. 6: Jordan Gilles, Delta Jr A;
The most quite draft of 2015 came from the Colorado Mammoth, only expending three picks, all in the late rounds. Sweeting was a smart defensive pick since Colorado will be without a first rounder for a few years. Sorenson will be working alongside world-class transition runners Cupido and Holding to keep speed as a primary weapon of the Mammoth offense.
Gilles is another quick kid that can help push transition and take the ball to the net. These three might actually see floor time early on if they can grind it out while Colorado is striving to make things click amongst their all-star locker room.
By the Numbers
[mks_dropcap style="letter" size="52″ bg_color="#ffffff" txt_color="#000000″]1[/mks_dropcap] MCLA athlete was selected, Carson Barton from the 2015 Champs, Grand Canyon University.
[mks_dropcap style="letter" size="52″ bg_color="#ffffff" txt_color="#000000″]4[/mks_dropcap] WILC 2015 athletes were selected in the Draft including the Iroquois Nationals' Lyle Thompson, Randy Staats and Adam Bomberry along with Ireland's Tyler Roche.
[mks_dropcap style="letter" size="52″ bg_color="#ffffff" txt_color="#000000″]2[/mks_dropcap] selections have little to no box lacrosse experience, including Notre Dame face-off athlete Nick Ossello and Rick Lewis from Ohio State, raised near Atlanta and drafted by the Swarm.
[mks_dropcap style="letter" size="52″ bg_color="#ffffff" txt_color="#000000″]8[/mks_dropcap] picks from the 2015 MLL Draft were also selected in the NLL Draft including Chad Tutton, Lyle Thompson, Jesse King, Randy Staats, Nick Ossello, Mike MacDonalad, Dan Taylor, Tim Edwards.
[mks_dropcap style="letter" size="52″ bg_color="#ffffff" txt_color="#000000″]3[/mks_dropcap] NCAA schools each had 3 athletes drafted including Ohio State (King, Turner, Evans); Robert Morris (Seidel, Ruest, Magnan); and RIT (Gillies, Searle, Aquin).
[mks_dropcap style="letter" size="52″ bg_color="#ffffff" txt_color="#000000″]14[/mks_dropcap] NCAA D1 schools were represented in the draft amongst 18 athletes that competed in 2015.
[mks_dropcap style="letter" size="52″ bg_color="#ffffff" txt_color="#000000″]5[/mks_dropcap] NCAA D2 schools boasting 7 players were selected in the Draft along with 3 NCAA D3 players from RIT and 3 from a NJCAA school.
[mks_dropcap style="letter" size="52″ bg_color="#ffffff" txt_color="#000000″]4[/mks_dropcap] Brooklin Redmen (Hossack, Lintner, Triolo & Aquin) made the transition from Sr. A.
[mks_dropcap style="letter" size="52″ bg_color="#ffffff" txt_color="#000000″]5[/mks_dropcap] Six Nations Arrows (Longboat, Bomberry, LeClair, Durston, Letourneau) made the jump from Jr. A.
*All statistics and information in this article was accumulated through research conducted by the author. Please comment below or send us a note if you believe there are any mistakes or relevant information to add.