Last week was truly one of the best quarterfinal rounds we've seen. Three overtime games and a Penn State squad that is just on another level right now. But, that was four games. Now, there are only two as we are coming up on the 2019 NCAA Lacrosse semifinals. They'll be held on the biggest stage the sport has to offer: NCAA Championship Weekend. Best of all? They're both rematches! Nothing like some unfriendly history to add to the fun.
2019 NCAA Lacrosse Semifinals Previews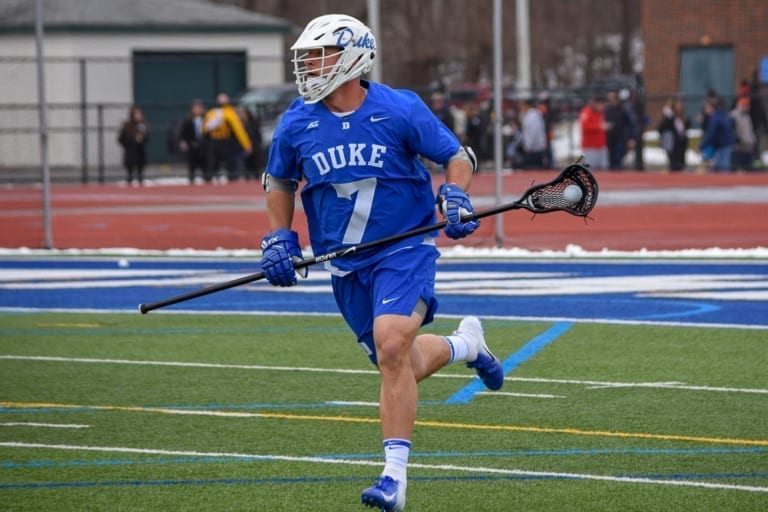 Saturday, 12:00PM ET
#2 Duke vs. #3 Virginia
In seasons of old, this classic ACC matchup was never a simple rematch. For me personally, this 2019 NCAA Lacrosse semifinal is a throwback game to the 2010 semifinals. That game was the one that taught me to watch a game and just enjoy it for what it is. I had no favorite, all I wanted to see was a good game and they delivered. It was back and forth with high-level plays. Their familiarity was obvious. That game back in 2010 turned into one of my favorite games of all time. Fast forward to now, Virginia is coming off an ACC Championship in which they never saw the Blue Devils, meaning their only meeting was in the regular season. Duke failed to get past Notre Dame in the ACC Semis, a team they wound up finishing 2-1 against for the year after last week's win.
But aside from this not being a third game between the two, they still have a laughable amount of overlap between common opponents. They're both teams that represented the "yeah, but" part of why High Point should have been in the tournament, with Duke losing by more. They both beat Richmond, who beat High Point, with UVA having the larger margin even after combining both of Duke's games against the Spiders. They both played a one-goal game against Syracuse even though the games themselves were complete different. UVA has a pair of narrow wins over UNC, but Duke has a narrow loss. They each have a narrow win over Notre Dame and a six-point win. Then, while UVA lost to Loyola by eight, Duke managed to beat them by five. What does all this all mean? Not a thing, really.
Each of these teams squeaked by in their last round, so their confidence is not very high. They know they each have to really work for everything in this game. Even with Duke being the higher seed, I'm not even sure you can call them a favorite. Virginia has been the more consistent of the two teams. UVA is also 7-1 in games decided by two goals or fewer while Duke is 5-3. In a game that could be a toss up, having positive experience playing under pressure is definitely going to be helpful.
Head to head: Duke over UVA 12-7
Common Opponents:
| | | |
| --- | --- | --- |
| Opponent | Virginia | Duke |
| Notre Dame | W 13-11W 10-4 | W 14-8L 10-12W 14-13 |
| North Carolina | W 11-10W 14-13 | L 8-10 |
| Syracuse | W 15-14 | L 8-9 |
| High Point | L 13-14 | L 9-13 |
| Richmond | W 16-7 | W 11-7W 12-11 |
| Loyola | L 9-17 | W 12-7 |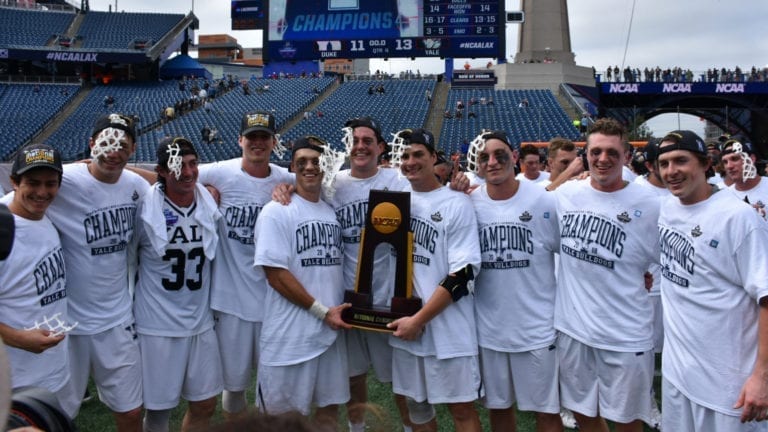 Saturday, 2:30PM ET
#1 Penn State vs #5 Yale
This game is like something out of a movie script. In fact, given that we're in Philly — where overplayed Rocky references are mandatory — this is like something right out of Rocky II. In their first game, the reigning champ (Yale/Apollo) held off a late rally and it took them all the way into the final minute to secure the win. It was Penn State's (Rocky) only loss of the year, but that didn't even matter. Yale was still playing second fiddle all year long, and had all the questions surrounding them while Penn State was getting the Hollywood treatment and carried the No. 1 ranking. Now, the rematch.
If this follows the script, this is an overtime game where everyone is exhausted and dodges are all reduced to just running into each other, with passes requiring more work on the part of the player catching it. It ends with a botched clear by Yale with a ground ball scrum in front of the crease where Penn State rolls it in for the win.
But, this isn't a movie. In reality, Penn State has the No. 1 seed and in their two games so far in this tournament, they are the most dominant team in the field. Everything is clicking right now for them. But, it's easy to forget that while they are an incredible winning streak (13 games), three of those were one-goal games over Rutgers, Penn, and Hopkins. This team is incredible, but they're not invincible.
For Yale, they have three losses on the year and two were to the team they just beat to get here (Penn). They also have three other one-goal games that aren't Penn. While one is a win over Penn State, another is an opening day loss to Villanova. So, as great as Penn State has been, it's hard to imagine them topping Yale in a dominating fashion. But how do they win? Channel their defense from a year ago. Yale playing in the 2018 semifinal was one of the best complete games of lacrosse I've ever seen. With their defense, off-ball movement against the Bulldogs was not possible. They were in the right spot for every ground ball and every ensuing pass.
For Penn State, they can play fast and loose. It's an odd situation where a No. 1 seed can almost claim underdog status. They have lost to Yale before, they're playing the defending national champion, and one month ago, we were talking about how Penn State had never won an NCAA tournament game. No matter what, this is going to go down in the history book in State College as the best team they've ever had. And, they can only get better.
Head to head: Yale over Penn State 14-13
| | | |
| --- | --- | --- |
| Opponent | Yale | Penn State |
| Michigan | W 17-11 | W 17-7 |
| Villanova | L 11-10 | W 17-7 |
| Penn | L 13-12L 12-11W 19-18 | W 15-14 |
| Cornell | W 15-10W 16-11 | W 19-13 |