The 31-man USA box lacrosse roster has been released for the WILC 2015, and after this weekend, we can expect to see the final 18-man roster soon. What's this weekend? The USA Box Lacrosse team's training camp in Simbsbury, CT, that's what! The 31 Team USA hopefuls will play two games against the Vermont Voyageurs Sr B team on Saturday night and Sunday morning, and then final cuts will be made.
Currently, the 31-man roster has a nice mix of big-time names and US box lacrosse diehards. How will the final roster shake out? It's hard to say (that's why we'll be there this weekend), but there are a couple of guys who seem like a lock to make the team from this writer's perspective. Which guys count as a "lock"? Let's get right to it! First I'll list out the Offensive guys from the 31-man roster, then the Defensive guys and Goalies, and then I'll get to predicting the final team. While the team will carry 23 guys, I'm trying to pick my top 18.
Pro box lacrosse, or other relevant box lacrosse experience is listed next to each player.
USA Box Lacrosse Roster – Offense
Kevin Buchanan – New England Black Wolves
Tim Desko – lacks a lot of recent box experience, but those hands!
Brandon Dube – Vermont Voyageurs (Senior B)
Marcus Holman – same comment as Desko, spent time with the Swarm
Jeff Ratcliffe – 7 years in the NLL for New York and Philly
Joe Resetarits – Rochester Knighthawks, 2015 MSL MVP
Blaze Riorden – Yes, this field goalie plays O, and he's good!
Drew Snider – Teaches box to kids, trains with OD, why not?!
Ty Thompson – Grew up playing box in Akwesasne
Joe Walters – Rochester Knighthawks, won a Mann Cup
Drew Westervelt – Colorado Mammoth
UPDATE: As evidenced with the strike through above, as of Friday, August 21st, Ty Thompson is no longer trying out for the team due to an eligibility issue. We got direct confirmation of this late Friday afternoon. While Ty does have dual citizenship, he played in an exhibition game for the Iroquois last Summer, and that means he can't switch countries at an FIL event for 4 years. In 2019, Thompson would be eligible for the US team again, assuming he didn't play in an event for the Iroquois in the meantime.
USA Box Lacrosse Roster – Defense
Matt Abbott – fast, great stick, could play transition
Joe Cinosky – Big and tough
CJ Costabile – Philadelphia Wings
Scott Ditzell – Rochester Knighthawks (retired)
Greg Downing – Georgia Swarm true American box addict
Steve Holmes – Philadelphia Wings
Ryan Hotaling – New England Black Wolves, former D3 stud for Nazareth
Brett Manney, New England Black Wolves, tenacious
Brian Megill, New England Black Wolves, another tough athlete
Don Moss – plenty of experience
Chris O'Dougherty – Vancouver Stealth and Burnaby Lakers, absolute monster
Drew Petkoff – New England Black Wolves
John Ranagan – Philadelphia Wings
Jeff Reynolds – A lot like Abbot, great speed and strength
Joe Smith – Wings, Bandits, and Knighthawks
Joel White, Georgia Swarm, a ground ball machine
USA Box Lacrosse Roster – Goalie
Chris Collins – Black Wolves coach, some NLL experience
Jake Henhawk – Knighthawks practice squad, Chiefs GM
David Mather, Langley Thunder (Senior A)
Ni McComber, Vermont Voyageurs (Senior B)
If you're asking how Ty Thompson or Jake Henhawk can play for the US, it's likely because they live, or has lived, for a number of years at a US residence. Players can also apply for an exemption, as there are other avenues to play for a different country, like parents and grandparents. Remember when Brendan Mundorf played field for Australia in 2006 and then played on the US team in 2010? There are even exemptions for people who make "an extraordinary effort" to help a national program grow. It's kind of like international soccer. There is a limit on how players can switch countries, and how many times they can do it, but it does happen. Jeff Ratcliffe is another guy like this as he grew up out in British Columbia. It should be noted that moves like this don't always work out, and Thompson's removal is a recent testament to this fact.
While we may not be accustomed to "better" players coming to play for the US because they can't make the Canadian or Iroquois team in field lacrosse, in box lacrosse it definitely happens.
Who Will Make The Team?
Ok, let's start out with some "locks" to make it on Offense. I like Buchanan, Resetarits, Westervelt, and Walters to make the team on their pro box lacrosse experience and big name draw alone. That gives us two lefties, two righties, and the reigning Major Series Lacrosse MVP (Resetarits) to start out. Not too shabby!
With two goalies and nine defensive guys still needing to be named to the team, we now only have three spots left. If I were GM, I'd be sure to put full-time box lacrosse guys in those slots, or at least guys who had played the game for years. So I'll take Brandon Dube and Blaze Riorden as my "experienced" box guys, and Drew Snider as my hard-working, team-first, glue guy, willing to do whatever it takes to win.
If Desko puts away a ton of goals, how do you keep him off the team? Will he be in shape and able? If so, that could ruin my predictions quickly. Remember, he has ridiculous sticks skills and loves contact. Marcus Holman is, to me, a total darkhorse. The man can finish, and play team ball, but he can he do it in the box? Remains to be seen. And what about Jeff Ratcliffe? Why am I writing him off? Sure, he's older, but sometimes that can be a good thing if he can slow the game down for his team, and settle everyone else on the floor with his poise.
I like my 7 O guys, but I could see a number of different combinations working for Team USA.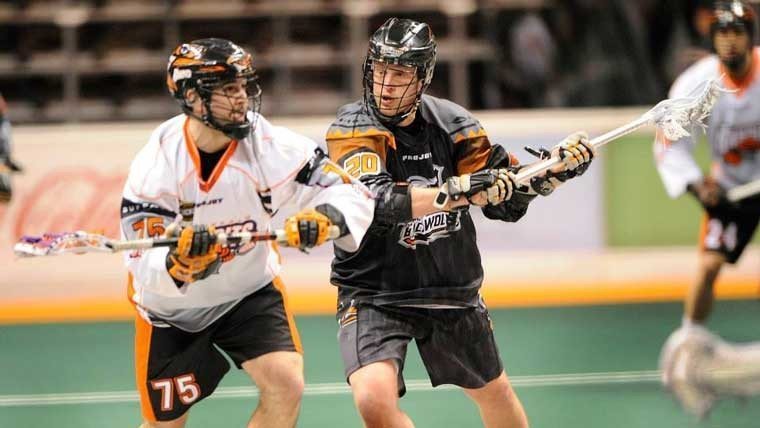 On defense, I think you've got a couple of absolute locks, and one of those is Ryan Hotaling. Tons of experience, can play O or D, and can take draws. He's on the team, I have no doubts. Greg Downing, Brett Manney, Brian Megill, Chris O'Dougherty, John Ranagan, and Joel White also look like locks from where I'm sitting based simply on their NLL performances and athletic ability. With just the group above you have a tough and talented D. But we still have two more spots to fill!
Joe Smith, Drew Petkoff, and Jeff Reynolds seem like front-runners to me, but I can't imagine Abbott, Ditzell, Moss, Holmes or Cinosky is all that far off. Taking draws will be key to making these final spots, and so will playing man-down. Whoever shines this weekend could make the team off of just those two areas, if they play perfect lacrosse.
When it comes to goalies, I honestly have no idea. Who will gel with this group the best, or have a superior set of games? If no one really emerges there, how do you compare a summer of Canadian Sr A to Sr B, or being a coach and former pro, or playing club? This could be the hardest position to pick of all!
Overall, the US Team's 31-man box lacrosse roster looks solid. There are plenty of experience guys on offense to get the job done, and the defense could be tough, athletic, and team-oriented, all while creating possible transition chances with their speed. If the US can find a goalie to step up in a major way, and win more draws, they have the talent to play with anyone. For US Box Lacrosse, this is a somewhat recent phenomena!
USA box lacrosse has made some solid strides in recent years, and the group heading to CT this weekend represents a very box-dedicated US team… maybe the most so we've ever seen. Will that result in a bronze medal or better at the WILC 2015? We're only a month away from knowing!
See below for the full press release from US Lacrosse:
31 Named to U.S. Men's Indoor Training Camp Pool
US Lacrosse has announced the 31-player tryout pool for this weekend's U.S. Men's Indoor National Team training camp at the Westminster School in Simsbury, Conn.
Following the three-day tryout, the final 18-man U.S. roster will be announced on Sunday, Aug. 23. Team USA will compete in the 2015 Federation of International Lacrosse (FIL) World Indoor Championship, Sept. 18-27 in Onondaga Nation and Syracuse, N.Y.
The U.S. men's indoor national team is led by head coach Tony Resch, and assistant coaches Adam Mueller and Chris Schiller. Jimmy Butler (general manager), Tim Soudan (assistant general manager), Mike Fox (equipment manager), Jason Matuszak (primary care physician), Brian Mata (orthopedic physician), Adam Thomas (athletic trainer) and Ben Towne (athletic trainer) round out the staff.
Team USA has earned the bronze medal in each of the three FIL World Indoor Lacrosse Championship events (2003, 2007, 2011). The 2011 championship saw Canada defeat the Iroquois Nationals for gold in Prague, Czech Republic.
The U.S. training pool, with current professional affiliation, college and graduation year:
Forward
Kevin Buchanan, New England Black Wolves (NLL)/Boston Cannons (MLL), Ohio State 2008 *
Tim Desko, Florida Launch (MLL), Syracuse 2012
Brandon Dube, Vermont Voyageurs (Senior B), Endicott 2009
Marcus Holman, Ohio Machine (MLL), North Carolina 2013
Jeff Ratcliffe, UMBC 2001
Joe Resetarits, Rochester Knighthawks (NLL), Albany 2012
Blaze Riorden, Albany 2016
Drew Snider, Denver Outlaws (MLL), Maryland 2012
Ty Thompson, Rochester Rattlers (MLL), Albany 2014
Joe Walters, Rochester Knighthawks (NLL)/Chesapeake Bayhawks (MLL), Maryland 2006
Drew Westervelt, Colorado Mammoth (NLL)/Chesapeake Bayhawks (MLL), UMBC 2007 *
Defense
Matt Abbott, Chesapeake Bayhawks (MLL), Syracuse 2009
Joe Cinosky, Charlotte Hounds (MLL), Maryland 2008
CJ Costabile, Chesapeake Bayhawks (MLL), Duke 2012
Scott Ditzell, Syracuse 2005 *^
Greg Downing, Georgia Swarm (NLL)/Denver Outlaws (MLL), Fairfield 2007 *
Steve Holmes, New York Lizards (MLL), Virginia 2005
Ryan Hotaling, New England Black Wolves (NLL), Nazareth 2006
Brett Manney, New England Black Wolves (NLL), Delaware 2007
Brian Megill, New England Black Wolves (NLL), Syracuse 2013
Don Moss, Adelphi 2009
Chris O'Dougherty, Denver Outlaws (MLL), Rutgers 2010
Drew Petkoff, New England Black Wolves (NLL), University of Windsor (Canada)
John Ranagan, Rochester Rattlers (MLL), Johns Hopkins 2013
Jeff Reynolds, Chesapeaker Bayhawks (MLL), Maryland 2009
Joe Smith, Towson 2004
Joel White, Georgia Swarm (NLL)/Rochester Rattlers (MLL), Syracuse 2011
Goalie
Chris Collins, Delaware 2005
Jake Henhawk *^
David Mather, Langley Thunder (Senior A)
Ni McComber, Vermont Voyageurs (Senior B)
* 2011 U.S. indoor team
^ 2007 U.S. indoor team