"Being positive is not easy. It takes work. But we stress it every day," said Coach Scott Marr at an Albany Police Athletic League (PAL) fundraising breakfast this spring. He was there to bring attention to the Albany CityLax program, an initiative to grow the game of lacrosse in the city where his team plays.
Regarding the values he instills in his players, Marr added, "The main thing we talk about with our kids on a daily basis is our reaction to failure, because failure happens… in sports. How do I react when I drop the ball? Do I put my stick on the ground? Do I put my head down? Or do I turn and pick it up right away? How do I react when someone says something to me on the field? Do I punch them back? Do I slash them? Do I put myself and my team in a bad situation by reacting that way? No. I walk away. I make the next play, and I put something positive into our bank."
At the time of his PAL speech, Marr's team hadn't played a game in twelve days. It had been almost two weeks since the Danes had suffered their first loss of the season to unranked UMBC – a game in which senior starting attackmen Justin Reh and Connor Fields both did not play, with Fields' injury being the more serious one, an MCL sprain incurred three games before at UMass Lowell.
Albany went undefeated for ten straight games and was the number-one-ranked team in the country for the first half of the season, so their loss to UMBC only set them back one place in the rankings. At number two in the country, they could still hope that, after a period of rest, Fields would return to full form and the Danes could resume what many believed to be their best chance yet at a deep postseason run – despite their success in recent years, Albany has never made it to the NCAA tournament semifinal round.
Two days after Marr's PAL speech, Fields returned to action, notching seven points in Albany's 18-7 win against Binghamton. Two days after that game, they played Yale, and Fields exited early when he tried to make a hard cut and his knee gave out. With Yale leading 7-3 at halftime and Albany preparing to face a second half without their star player, Marr could be seen embracing Fields at the sideline for a long moment, sympathizing with his disappointment that he wasn't able to put his team on his shoulders the way he had done so many times before in big games.
Albany fell to Yale 14-6 that day. But six days later, Fields returned to play against Hartford, contributing a goal and four assists in a 16-6 win for the final game of Albany's regular season. Of the Hartford game, Fields said, "I didn't feel 100 percent," and heading into the postseason, Marr acknowledged that Fields was "not going to be 100 percent."
A day before the start of the America East tournament, Marr's mentor, Dick Edell, passed away. Marr first met Edell when he was a kid attending a lacrosse tournament at West Point. He got injured and Edell personally took him to the hospital. In a speech at the America East banquet the night before the tournament was to get underway, Marr recalled that day, saying, "He talked my ears off for about an hour. He asked me so many questions. I think he knew my whole family tree by the time I was done. And that's what Coach Edell was all about. He was about people, and he was about making you feel good and better. It was never about him."
Years later, Marr had the opportunity to serve as Edell's assistant coach and offensive coordinator at Maryland before taking over as head coach at Albany in 2001. Edell left Maryland two years after Marr; he had been diagnosed with myositis, a debilitating disease involving degeneration of skeletal muscle tissue. Edell and Marr remained close throughout Edell's valiant fight, and the longtime Maryland head coach known affectionately as "Big Man" came to root for Albany along with Maryland because Marr was at Albany. After Albany's 2017 loss to Maryland in the NCAA quarterfinals, Edell was there to console Marr, who cried on his shoulder.
It's hard to imagine a regular season matchup with more heaped upon it than Albany's rematch with Maryland earlier this year – both teams undefeated, both vying for the number-one ranking in the country, and with their last matchup being a Maryland trouncing of Albany in last year's NCAA quarterfinals, which propelled Maryland to their 25 th appearance in the semi-finals, 14th appearance in the finals, and third NCAA tournament championship.
Albany's comeback win in that midseason thriller, with Marr willing his team to remain positive and Fields orchestrating a dizzying attack to overtake Maryland in the final minute of the game, was one of those moments when an ingenious approach to life is actualized under trying circumstances to produce an amazing outcome.
Discussing his team's demeanor with their backs to the wall as they entered the fourth quarter with Maryland leading by their largest margin of the game, Marr says, "When the fourth quarter started and we were down by four, there really was no panic out of anybody. Everybody was just like, 'Okay, we'll get one at a time.'"
Marr explains that this diligent immersion in the process of lacrosse is essential to Albany's ability to thrive under pressure. "You have to take it one at a time, one play at a time, one possession at a time," he says. "It's just a game. It's just the same game you practice every day. It's the same field you play on every day…. You have to keep focused on the process."
That process for Albany entails an intense work ethic tempered by a deep enjoyment of the game, a commitment to live in the moment, and the cultivation of a family-like camaraderie on and off the field. "The brotherhood on this team is awesome," says senior Stone Sims, Albany's top close defender. "I have friends other places who aren't exactly happy, and everyone on my team I love, and that shows on the field. You have that connection, hanging out off the field, being together all the time."
Sims, and juniors Erik Dluhy and Matt Perla, comprise a veteran defense anchored by senior goalie JD Colarusso, a big game player whose thirteen saves and four ground balls helped propel the Danes past defending National Champion North Carolina in the first round of the NCAA tournament last year.
Offering some insight on the dynamic between Sims, Dluhy, and Perla as they work in support of Colarusso to lock down the opposing attack, assistant coach Derrick Eccles says, "The key for us is the difference in our defenders. Stone, Eric, and Matt all have different styles, different strengths, so that really benefits us against teams that have different kinds of attackmen. It's all about figuring out who's going to cover who. It might not always be our best defenseman against another team's best attackman. It's more about how those three guys match up against the opponent to decide who covers who."
Eccles played for Albany from 2012 to 2016, having been redshirted in his freshman year and going on to captain the team in his final two seasons. He's part of a team of coaches who have all played for Marr and who contribute to the ethos that cultivates the unique culture of Albany lacrosse on a daily basis. Defensive Coordinator Liam Gleason and Offensive Coordinator Merrick Thomson both played for Marr in 2007, when Albany was the top scoring team in the country. Now in his third year of working for Marr, Thomson grew up in Canada and brings a box lacrosse influence to his coaching style, which has helped him to integrate the box skills possessed by key players such as Fields and freshman sensation Tehoka Nanticoke.
Coach Gleason, who went to work for Marr in 2011, is a towering figure with a larger than life personality to match his imposing stature. Upbeat and down-to-earth, he has been instrumental in reinforcing Marr's positive coaching philosophy, which is exemplified by the demeanor of Albany players, who seem to never get down on each other and constantly embrace opportunities for lighter moments, such as the time the freshman ringed the outside of a huddle during a timeout, all bending their knees in unison and bobbing up and down to the beat of music playing in the stadium, or the time that Nanticoke could be seen dancing as he took the field after a timeout when they were down by one goal with five minutes left in the Maryland game.
Recalling that moment, Nanticoke says, "They were playing my song… That's why I was dancing… I don't know what it does, but I feel it lifts me and reminds me to relax. It's a game, and we're going to do our best. With this team, we're never down. We got TD at the faceoff. We got JD in net. We're never down at any point in the game. I just come out and put a smile on my face. At halftime that was one of the things Marr says, 'Put a smile on our face. Let's go have some fun.'"
With his five-goal NCAA debut at Syracuse, Nanticoke quickly established himself as a potent number-two option in the Albany attack, demonstrating power and finesse in isolation situations. After that opening game blowout of then number-nine- ranked Syracuse, Lyle Thompson tweeted, "Prediction. Fieldsy aka skinny breaks the NCAA Point record this year… Then Tehoka breaks it."
Fields' injury and subsequent missed playing time puts Thompson's 400-career-point record out of reach. Yet the sentiment expressed by Thompson was much appreciated by Fields, who said, "It just shows the type of person Lyle is – all the Thompsons for that matter. They're all super humble, and they're not about the awards or anything like that. They just want to see Albany be successful. To have them behind us like that – it shows how much they care for this program and care for each one of us."
Having been a freshman in Thompson's final year at Albany and a recipient of many of the assists leading up to Thompson's record, Fields is part of a senior class that is the last of the Albany players from the Thompson era. The Thompsons' contribution to the close-knit community of the Albany team left an impression on many current seniors. Recalling that time, Colarusso says, "When I was playing with them, they had a great family atmosphere. All the guys were really close, and the Thompsons were great guys so it just bled onto the whole team. As seniors now, that's what we're trying to do, just trying to get everyone close, get our chemistry real nice because I feel that's a big factor to us playing well."
In his speech ahead of the America East tournament, Coach Marr paid tribute to what he learned from Jerome Thompson, the father of Lyle and Miles Thompson, saying, "In talking with him about the game and what the Creator meant it to be was a game for fun, a game to be played hard, a game to be played with respect for your opponent. It's not a game to be played with hatred or frustration in your heart."
It's common for him to put things in perspective when talking about lacrosse by referencing people he knows who are facing extreme challenges in their lives, and in that America East speech, he spoke of a friend whose daughter would be facing brain surgery the following week. "We played for her last year against North Carolina," Marr said, referencing their first-round victory over the defending national champion.
https://www.youtube.com/watch?v=RWpIuxeHZRc
"Don't take it for granted that you have the ability to go out tomorrow night and play a game," Marr said. Naming players in attendance who once played for his summer tournament team as high schoolers and are now on opposing teams, Marr said, "They're friends. You all have friends on the other teams. If I took the four teams right now and cut all of you up into quarters and made new teams, you guys would all be friends. Competing is one thing. Hatred is another. You don't play with hatred. You play because you're competitive. You play because you want to win. But at the end of the day, you move on."
As a father figure in the Albany lacrosse family, Coach Marr credits his own upbringing with the values that have made him a compassionate leader. He says, "I try to instill in our guys to treat people the way you want to be treated. That's something my parents always stressed with me, my brothers and my sister. It doesn't matter who you are or where you're from. People are people. And I'm only with these players for four years, some five. My goal is to guide them through the ups and downs of going from 18 to 22, just teaching them overall, in a sense, compassion for people… I don't take the place of their parents. I try to reinforce what most of the parents who come through this program are already doing with their kids."
Regarding the influence of his father, who passed away last summer, Marr says, "My father was a coach my whole life. He coached all my siblings in sports. I get my positive outlook on life from him. He always taught me to be positive with kids, to have an understanding of what they're going through at times, and life's not always easy for everybody. I'm not a cookie cutter guy. I treat every kid as a different situation. Everybody has different paths, so you have to roll with all the individuals. And then you're trying to build team goals at the same time, so you're getting kids individually to progress but then really buy into a team system and being a good teammate, supportive of their teammates, and unselfish."
One day after the passing of Dick Edell, a man who Marr has referred to as being like "a second father" to him, Albany played the first round of the America East tournament at home. Their opponent was UMass Lowell, who got out to a 4-1 lead to start the game. Wearing a right knee brace, Fields was visibly stiff. He resorted to playing a positioning and passing game to facilitate the offense, helping Albany reel in UMass Lowell and take a two-goal lead early in the fourth. But with the game remaining tight, Marr took Fields out, opting for more speed in the offense to close things out, and they pulled away to secure a 15-10 victory and a spot in the America East final.
https://www.youtube.com/watch?v=Q5NLn3svoq0
After the game, after most of the fans and players and media had filed out, Marr and Fields remained on the field together. With a huge question mark lingering in regard to Fields' ability to lead Albany on that dreamed-of postseason run, Marr embraced him like a son, and for a long moment, they consoled each other over such an unexpected wrinkle at the close of a year filled with triumph, expectation, struggle, and loss.
Later, in the press conference, Marr said of Fields, "My heart goes out to him. The kid just wants so badly to be a hundred percent and be able to play, and for this to happen his senior year and the team that he's on and the season that we're having — it's a difficult thing for a young man to swallow. It's adversity he's never really had before because he's never been hurt. I really feel for him. I love him. He's a great kid."
Two days later, Fields didn't dress for the America East Championship game against Vermont (another program on the rise), but the team seemed like they were playing it for him, to buy him an extra week of rest and a top seeding with a manageable first-round game. They crushed Vermont 14-4, and celebrated afterwards, with Fields leading the cutting of the nets and declaring his intention to be ready to compete in the NCAA tournament.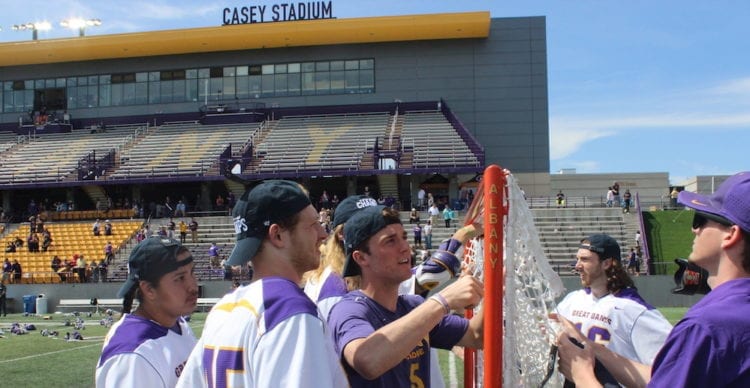 A day after winning the America East tournament, on the first weekend in May, Albany landed the number-two seed in the NCAA tournament, securing that desired manageable first-round game. Now more than ever, Ierlan's performance at the X becomes the key to Albany's hopes for a run at the elusive semifinals. A fierce competitor with a wrestler's background, he's a master tactician who studies his opponent pre-game and in the moment to figure out how to best them. He was 83% from the X this season and went 21 for 21 against Vermont, but perhaps an even more impressive moment took place at Maryland, a day in which he struggled, going 8 for 18 in the first three quarters before winning every faceoff in the fourth to facilitate Albany's comeback win.
Filling in the pieces that make Albany tick are two-way midfielders who work in pairs. McClancy is a high-octane scorer who works with senior Josh Egan, a savvy facilitator; and brothers Jack and Alex Burgmaster work together, bringing lock-down defense and a frenetic style in transition. In an age of specialization, Marr has worked to cultivate the two-way middie teams, who bring field chemistry and a free-flowing style of play. And Albany's LSMs, seniors Troy Reh (Justin Reh's twin), Justin Zelen, and AJ Kluck, are known for contributing to the spirited style with their up tempo transition play, with Troy Reh being a particularly unique weapon given his abilities on the crease when he slots inside on a break.
Patterson and distance sniper Sean Eccles (Derrick Eccles' younger brother) share time at
offensive midfield, though Patterson can also play attack. Talking about Patterson, who has
emerged as one of his most explosive scorers, Marr says, "He's a quick kid. He gives us that
ability to beat a short stick and make some things happen for us as far as creating offense off the ball. When you have multiple weapons, you become a very dangerous offense."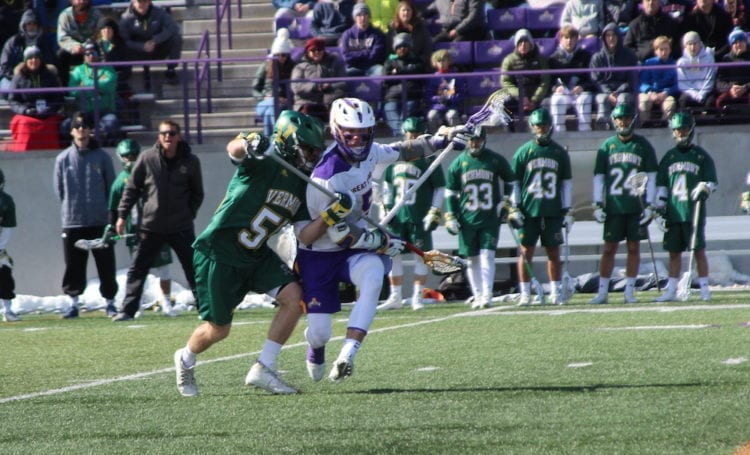 With Fields at less than 100%, the offense will rely more heavily on Patterson, Nanticoke, and Justin Reh, who offers a dangerous option both on the crease and from distance. In the absence of Fields for any significant amount of time, Reh becomes the stabilizing force in the offense, while Nanticoke becomes the creative X factor, capable of magnificent playmaking yet in a freshman's natural state of constant adaptation to the college game.
Marr remains ever the optimist about his team's chances to make a postseason run. He has shown a remarkable ability to adapt throughout his career, from his understanding of people and situations to crunch-time play-calling. He is open-minded about many things yet set in his ways about things he knows shouldn't change. In a year when loss has permeated his life, from the passing of his father to the passing of his mentor to the injury of his star player, Marr is determined to keep things in perspective.
Asked about the pressures that naturally ensue from that deep postseason run his team dreams of making and whether the game still remains fun for his players, Marr says, "It definitely does. If you take the fun out of it, then I think you take the spirit of the game out of it, and that's just not who we are. I want my kids to enjoy the process. I want them to enjoy each game or each practice. When we get to the playoffs, I think we have more fun, because it's exciting being in the playoffs. There's no reason to change the mentality of how we go about our everyday practices, and travelling and being in the locker room and guys dancing on the field. There's no reason to change."
Editor's Note: Many thanks to Garan Santicola for going DEEP on what makes Coach Marr, Albany Lacrosse, and all its players tick! We truly appreciate an insider's view in to a successful program, and we hope that this story inspires and informs other coaches out there, who want to make their program special, and make it about a whole lot more than just lacrosse.
Garan Santicola lives and writes in Albany, New York. He serves as Secretary for the Albany Lacrosse Club and plays pickup lacrosse whenever he gets the chance.