We're breaking down each and every NCAA D1 team one by one to get prepped for the rapidly approaching season. Welcome back to the Alphabetical 2013 NCAA D1 Previews! We move another spot down the list and the US Naval Academy, located in Annapolis, Md, is up for Preview!
In 2012 the Midshipmen went 6-6 under Rick Sowell, during his first year as Head Coach. Navy beat VMI in their opener, then dropped three straight, to tough teams (and coming within a goal of UNC). The Midshipmen then rattled off four good wins, including a great win over Colgate, before dropping three games, two to Top 10 teams. Navy finished the season with a huge 8-2 win over Johns Hopkins to make it to .500.
In 2013, Navy plays a similar schedule, and once again opens with VMI. Outside of the Patriot League, they play Detroit, Fairfield, Georgetown, Towson, Maryland, and Hopkins. The Fairfield, Gtown, and Towson games should all be fantastic, low-scoring match ups. I'm interested to see if Maryland can run and gun against Navy, and I get the feeling Hopkins will approach this game a little differently this time around. Low scoring, control the pace of play games with Navy are risky.
A big part of that risk equation for Navy was RJ Wickham. The Senior goalie was a force all season long, and leaves a huge void, which needs to be filled. Thankfully, Nolan Hickey is a HUGE man. At 6'7″, and 247 pounds, he might be the biggest D1 goalie ever. If Hickey doesn't work out, Paul Zimmerman or John Connors will need to step in. If the machines ever rise, you've got to go with Connors, right?
Austin Miller, Jay Christopher, and Peter Rogers all return on D, and bring some solid experience with them. Pat Kiernan will continue to impress and put up points as Navy's LSM. Down low, Navy has a number of options, and they all bring size to the table. Navy's shortest defender is 6′, and most average out around 6'2″ and 200 pounds. If Hickey gets comfortable (he did at Chaminade in HS), and the D fills out, Navy will be tough on this end of the field once again.
Offensively, Navy welcomes back Juniors Tucker Hull and Sam Jones at attack. These guys combined for 78 points, and that was more than the next six players combined. If Navy wants to continue to improve, a couple more scorers need to emerge. Pat Durkin and Bryce Dabbs could put up more points this year, but I think Gabe Voumard could have a really big breakout season at midfield. Austin Heneveld could also be a brighter spot for the attack.
A huge point of concern for Navy has to be face offs. Navy returns face off 41 attempts from 2012. With four players on the roster listed simply as FO, one has to hope a truly capable FoGo will emerge. If not, the best option may be Pat Kiernan, typically a more offensive-minded mid.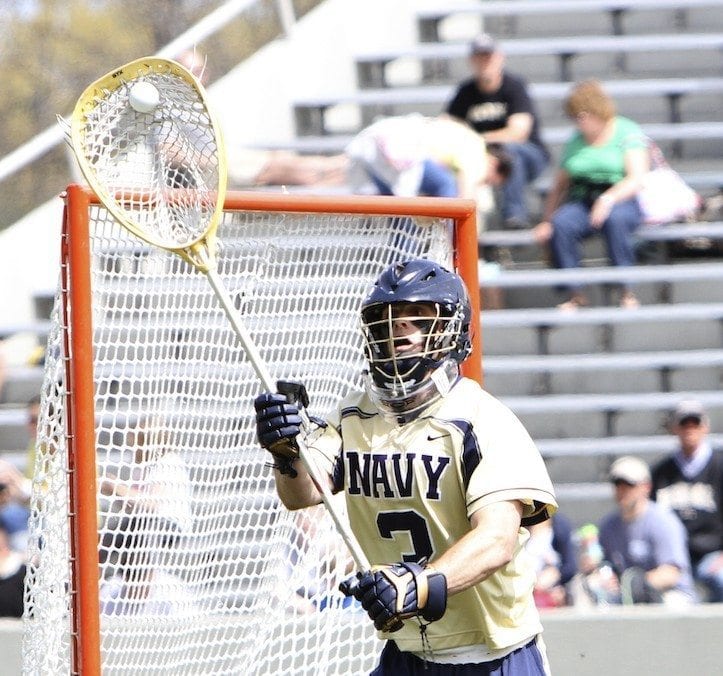 Navy's defense does not concern me too much, and I think they'll be fine in goal as well. Their offense also seems better, and more capable of scoring double digit goals, which can help ease the new defensive players' transition into starting roles. However, if face off success doesn't come, Navy will need to rely on their D, and that could lead to some early season losses. Either way, Navy will improve throughout the 2013 season, and will be a major spoiler squad at the very least. Contending in the Patriot is not out of the range of possibility either.
Click HERE to see Alphabetical 2013 NCAA D1 Preview posts for Air Force, Albany, Army, Bellarmine, Binghamton, Brown, Bryant, Bucknell, Canisius, Colgate, Cornell, Dartmouth, Denver, Detroit, Drexel, Duke, Fairfield, Hartford, Harvard, High Point, Hobart, Hofstra, Holy Cross, Jacksonville, Johns Hopkins, Lafayette, Lehigh, Loyola, Manhattan, Marist, Marquette, Maryland, Massachusetts, Mercer, Michigan, and Mount St. Mary's!