[dropcap]I[/dropcap]t's 
Rivalry Week
here at Lacrosse All Stars, and today we're going deep. You've got a rival somewhere, don't you? Think of him as you read.
Dr. Evil, Magneto, and Lex Luther are just a few examples of archenemies in the most powerful and unrelenting form. The names of these villains are as ingrained in our vocabulary as much as their heroic counterparts. We don't just remember the good guy, we remember the nemesis, too, and the challenge he presented to the guy we were rooting for.
In lacrosse, we don't have any real-life archenemy stories to point to – there are no Magic vs. Bird caliber rivalries. No Shaq for another pro's Kobe. No Richard Sherman for our game. The closest thing we've had to a lacrosse rivalry with the potential of getting the attention of the masses is probably MLL vs. LXM PRO.
There is one thing common amongst every athlete, however. Even lacrosse players. And that's a private and personal rivalry or two. There's always someone out there who might be faster and stronger, capable of beating you. He may be a player on a neighboring team, or the guy one garage over, working on the next big lacrosse innovation. Our biggest rival is the guy who keeps us on our toes, keeps us training to be better, keeps us hungry to succeed. Our biggest rival is always on our mind, and as athletes we learn to thrive on that energy.
That's the beauty of competition, but it's also the kryptonite. A major part of growing as a player and a person is accepting your rival and treating them with respect. They're after the same end game as anyone – being the best player they can be. The greatest tales in sports are the ones that have shown us that even the greatest athletes have work to be done and a rival to overtake.
It's only a matter of time until we see a rivalry that personal rise as a storyline in our game.
[mks_separator style="solid" height="4″]
[twocol_one]
LAS Update
We've made some updates to the way our sign-on process works, and we're hoping it improves the user experience of our site. We've also locked in better web hosting, and we're currently trying out a new version of the LaxAllStars.com homepage.
And finally, we're excited to once again be offering a $25 Gift Certificate to each new LAS Insider during the month of April. Be sure to check it out as LAS Insider is only getting better and we'd be honored to have you on board!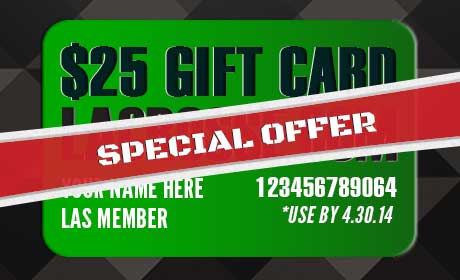 [/twocol_one] [twocol_one_last]
Contest Queue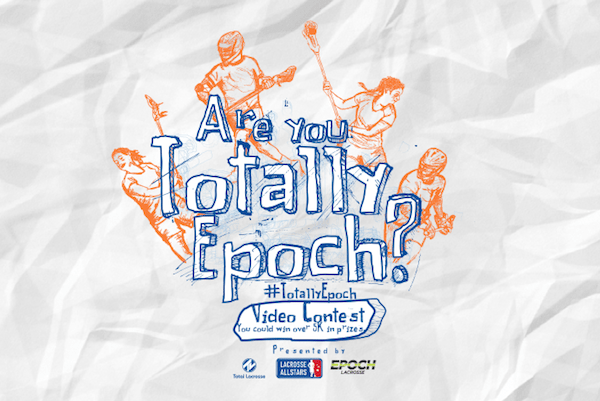 TWO HUGE CONTESTS JUST LAUNCHED.
Are You #TotallyEpoch? – Win a GoPro Hero 3 and Epoch gear for your entire team! All you gotta do is create a #totallyepoch Instagram video.
Deadline to Enter: April 13
Show Us Your Dome – The Ultimate Lacrosse Helmet Competition
Deadline to Enter: April 25
[/twocol_one_last] [mks_separator style="solid" height="4″]
Click, Baby, Click!
Andrew Suitor and the Swarm payed tribute to a fan who last her life in the offseason by wearing her jersey. (Kare11)
THIS JUST IN – Lacrosse will be included in the 2017 World Games. (LAS)
West Coast products hope to bring improvements to Syracuse faceoff game. (Syracuse.com)
The Harvard men's lacrosse team knocked off undefeated Cornell. (LAS)
Does #1 Loyola really have the chemistry of champions? (Baltimore Sun)
Connor Wilson had a thing or two to say about the NCAA D1 Men's Lacrosse Media Poll this week. Best read! (LAS)
Living legend John Tavares scored his 800th career goal with the Bandits. (Time Colonist)
Jacob Silberlicht explains the goal of growing the game in Israel. Hint: It all starts with the kids! (Israel Lacrosse)
The second string middies are being looked at to provide production for Retrievers. (Baltimore Sun)
Lacrosse is now an elective for students at Santa Monica High School in California. (SMMirror)
Registration is now open for the 2014 Salt Shakerz Invitational in NYC. (LAS)
Thompson trio kept in check in Hopkins' win over Albany. (Baltimore Sun)
The sport of lacrosse opens many new doors for Jake Seau, son of late NFL star. (UTSanDiego)
Denver Pioneers barely got past the Villanova Wildcats in OT thriller. (Baltimore Sun)
The Binghampton Bearcats post their first win of the season against UMBC. (BUPipeDream.com)
Norfolk Academy raise funds and awareness in honor of Yeardley Love. (PilotOnline)
#1 Loyola squeaked by Navy, 7 to 6 in double overtime. (The Washington Post)
Westminster Griffins set scoring, shots, and faceoff wins record in finale at home. (Deseret News)
Boise, Idaho, was recently named "Best City to Move to in 2014." We're proud to have LAS headquartered in the City of Trees. (KTVB)
[mks_separator style="solid" height="4″]
Got something you want us to include in next week's edition of Crosse Clicks? Submit a link here.
[mks_separator style="solid" height="4″]
Required Reading
[justified_image_grid preset=17 max_rows=8 recent_posts=yes recents_include=3]