Editor's Note: Please welcome Markus McCaine back to the LaxAllStars.com Family! Markus is going to be dicing up some lacrosse numbers for us this year, and he'll be using MATH to make predictions and keep you informed. To see Markus' first post, check out 2013 Final Four: By The Numbers.
_____________________________________________________________________________
It's time to answer the question of who is the best? Who's taking home the bronze Mohawk native statue this year? For me, and many people, it comes down to two guys. Will it be Cornell's Rob Pannell, or defending Tewaaraton Trophy winner, Peter Baum?
Let's break down both players…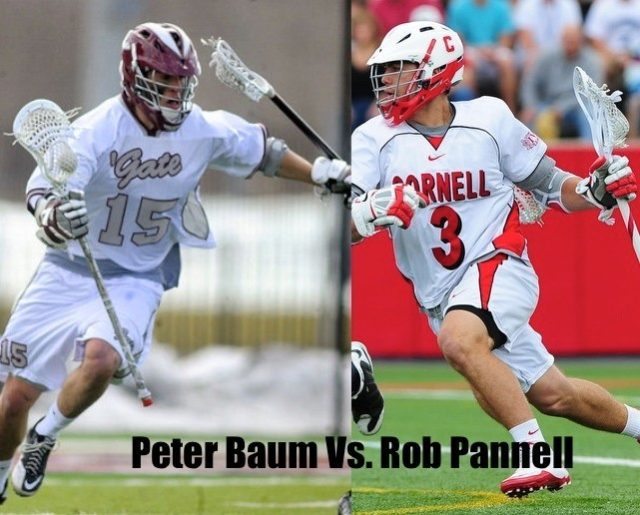 As we all know Pannell was granted a fifth year of eligibility after a broken foot brought his 2012 campaign to a grinding halt. Before the injury (2009-2011) Pannell averaged 4.54 points per game. That's just nuts; I don't really need to say more, but I will.
Pannell is a beast; but is he really the going to take Cornell to the promise land and bring home the hardware in late May? He is a feeding machine. Pannell puts up over two goals per game, but the cornerstone to his game is feeding his teammates. This couldn't be more evident looking at Cornell's team assist percentage.
Team assist percentage is the percentage of a team's goals that come from assists. It is a true measure of how well a team moves the ball on offense. With Pannell on the field (2010, 2011), Cornell posted .569 and .532 team assist percentages respectively. But with Pannell on the bench, in 2012, the Big Red only posted a measly .474 percentage.
Cornell also failed to make the National Tournament without Pannell in the roster, a true tribute to his importance. The Big Red plummeted to No. 15 with just a 9-4 record.
Peter Baum hails from Oregon, the far reaches of the Pacific Northwest, home to MCLA legend Con Bro Chill and Bigfoot. What catches my eye about Baum is not how far he is from home, but instead his pure scoring ability. Baum didn't put up 96 points (67g, 29a) last season for no reason. And 67 goals put Baum sixth on the single season goals record list.
Who knew the Portland kid could snipe corners? At this point, everyone.
During Baum's trophy-winning season, he averaged 5.39 points per game. Colgate, as a team, averaged 13.11 goals per game – which was second best in the nation. That is almost a five goal jump from their 2011 season where they only averaged 8.88 goals per game. Colgate's team assist percentage also saw a jump from .458 to .538. Baum's presence on the field for the Raiders is clearly crucial for their success.
Pannell gave Baum the ultimate compliment while they were teammates at the prestigious Vail Shootout, saying Baum was probably the best shooter he has ever played with. At this point here is nothing more that needs to be said about Baum's shooting. Baum was the reason Colgate shocked No. 1 UMass in the first round and Baum was the most valuable player to his team.
Both players are clearly central to their respective teams' triumph but the goal of this is not to praise but to separate. They are both ballers, but we need to divide and conquer. So to do this, I'm going to take a look at a stat that many people will let fly right over their heads – turnovers per game.
I like to compare Pannell's 2011 campaign with Baum's 2012 season, as those were both players' best campaigns, and I think that those seasons give us the best preview of what will come this year. Pannell averaged 2.41 turnovers per game in 2011. As a matter of fact, Pannell's turnovers per game have risen in each of his first three seasons at Cornell. Baum on the other hand, only turned the ball over 1.5 times a game in 2012.
For most, this is just something to think about, but this really put it all in perspective for me.
What I really think we have here is the case of scoring vs. feeding- an age old debate in the lacrosse world. On one hand you've got Pannell, your traditional shifty feeder. And on the other side of the coin you've got Baum, the sharpshooter. To really shed light on this endless shooter-feeder debate, we need to consult the trends. Let's take a look at how the Tewaaraton voters have voted on their choices for player of the year.
We will say, for the sake of simplicity, that a feeder is somebody who recorded more assists than goals, and a sharpshooter will be one who has more goals than assists.
In the 12 years of the Tewaaraton trophy, we have seen seven scorers win the award, as opposed to five feeders. That may not be staggering odds but it may show that the voting committee slightly favors goal scorers. It is also worth noting that we have only seen a two-time Tewaaraton winner once (Mike Powell) and we have never seen a back-to-back Tewaaraton winner.
This is the year we see a back-to-back winner.
I am giving a slight edge to Baum, but not by much. Baum gets the nod for me for his scoring. He is deadly accurate and can make even the best goalies shake in the boots. He makes his team much better, and seems to have history on his side. For that reason, Peter Baum will win the 2013 Tewaaraton Trophy.
So who do YOU think is going to take home the hardware this year? Pannell? Baum? Or did I miss somebody who is going to shock the world?