On March 9th, 2011, I was at a luncheon with parents of the recent graduates of the school I teach at in the gymnasium. Around 1 PM there was a tremendous rumble and the light fixtures on the ceiling were rattling furiously. My first instinct was to get out of that gym, I thought those things were coming down. Being from New York, I had never really experienced earthquakes and this was a strong one.
Having experienced my first earthquake was quite memorable, but only two days later as I sat in the clubhouse preparing for practice, I felt that rumble starting up again. Quickly I popped up and headed out to open space with the players.
The rest of the story, I am sure, everyone saw on the news. The earthquake created a massive tsunami that tore through northeastern Japan with some waves reaching over 40 feet high, towering over blockades that were made to protect people from it.
People rushed to rooftops, waving for help and unfortunately the very unlucky who had no time to escape perished. It was a tough time for Japan and eastern Asia and it even started to snow while the quake was still having left over tremors, making matters even more difficult to deal with at the time.
In a two week period there were about 500 small tremor/quakes, the Fukushima Nuclear plant about 50 miles south was compromised from the tsunami. The leak caused people to vacate their homes and the general area.
In Sendai, where I live, the U.S. Embassy sent out a bulletin advising all Americans within a 50-80 mile radius of Fukushima to evacuate immediately, that is about the same time I started getting more and more calls from my obviously concerned family at home. It was fortunate for most that the U.S provided bus service to Tokyo to evacuate citizens. Ordinarily a bus ride from Sendai to Tokyo lasts 4-5 hours, but since we need to avoid Fukushima, we had to travel all the way to the other side of Japan, near the Japan Sea, to reach Tokyo. The evacuation bus ride was something like a 16 hour ride total.
Recollecting on American soil
Then started the process of getting tickets to return to America. When I touched down my family was happy to see me in one piece.
I called my HS coach and now friend, Paul "Chick" Chakrian, and he told me,"Everett, come on over spend the night, we are heading down to James Madison University to see my daughter Cally play against Maryland, why don't you come and take your mind of things?" Needing some recovery time, I did just that.
During the post-game tailgate, Chick explained to the player's parents that I had just returned from the Japanese earthquake and tsunami. With a great deal of compassion for those affected, they immediately took up a small collection of funds to donate to my team. I couldn't be more grateful of those super people!
I decided to order some practice gear from Wave One Sports with the collected funds for my team. The players received one windbreaker, mesh embroidered practice shorts, t-shirt, hoodie and sweats with a STX embroidered crosse bag to match.
Wave One was generous enough to donated half of the order as relief to my team, freeing up more money for travel and expenses. 
How it all started
When I first arrived in Japan back in 2010, my Japanese was very weak and I knew no one in the community. I was trying to research information online, but with limited Japanese, that was rough.
One day on the train, I saw 6 girls with lacrosse windbreakers that read, TGU Lacrosse. I did what I could to speak with them and find out how I can visit practice, they gave me the information about their next game.
I couldn't find my way around town so well, so I went to an electronics shop to ask an English speaker I met before for help. Unfortunately he wasn't there but another speaker was. She was very kind and gave me directions on how to get to the school.
Finally, after a few trains and buses, I made it to the school on a really rainy, cloudy day. Walking around campus, there seemed to be nobody around.  I managed to speak with someone and they said that there is a typhoon today so any activities were cancelled.
That was my introduction to the lacrosse community here.
Starting my coaching career in Japan
After that, I began visiting local college teams practices and getting to know players. I would also give advice and teach occasionally.
My team had about 8 girls at the time.  I also taught lacrosse in PE which was me with 40 girls, for nearly two hours, four times a week, it was a tough time!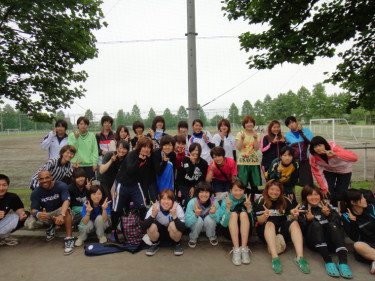 Little by little the team began to grow as I recruited more and more players from PE.
In 2014 the girls team roster was at about 25 players, at that time a boy in my PE class badgered me about playing. I told him we only have a girls team. He insisted he wanted to play so I told him to come on as a manager, if he does a good job I will teach him to play so he can play in college.
He continued to ask me about a boys team, while doing an outstanding job as a manager.  I decided to give him a chance.  I said okay, if you pull together at least 15 boys, I will ask the school for permission to make the boys program. Around the summer of 2014 he pulled in 20 boys. I began preparing my proposal for the school, made him captain and started giving him numerous videos to watch and train from.  He was so dedicated he came an hour early to school everyday to work on passing and catching. So began our first boys program as well.
The program is coming together and the kids are having a great time. They also get additional exposure to English which will help them as well, as English is becoming more necessary for Japanese globally.
Check out this article on lacrosse leading to the best jobs in Japan.
Growing the game each and every day
Now I am busy with both teams.  We practice on the same field, so I am constantly running from one side to the other to instruct all the players.  My manager and assistant are a great help too.
I'm located in the Tohoku region of Japan and we are the only HS team in the area. So we have to take a 5 hour bus ride to compete in the Japanese HS tournaments. We also travel to scrimmage as the Tokyo and Osaka areas have a ton of teams.
We also scrimmage with local college teams in this area. Since the college players are starting lacrosse as freshmen, they are at nearly the same level of skill as my freshmen.
High school in Japan is only 3 years as opposed to America's 4 years, so they have to learn a great deal in that time. There is a term in Japanese to describe it called TANKI SHUCHU, which means focus in a short period of time. That is a big part of my coaching, to condense the education of playing lacrosse into a 3 year period. Most seniors retire from the team about 2-3 months into the school year, so it really feels like 2 years of play for them. My career players who have played all three years are usually skilled with a great lacrosse IQ.
I try to share the game with new players as often as possible and put on clinics when I have time.
My players really enjoy playing and that is the best thing about this. I have even had player's mothers playing catch in between games at tournaments.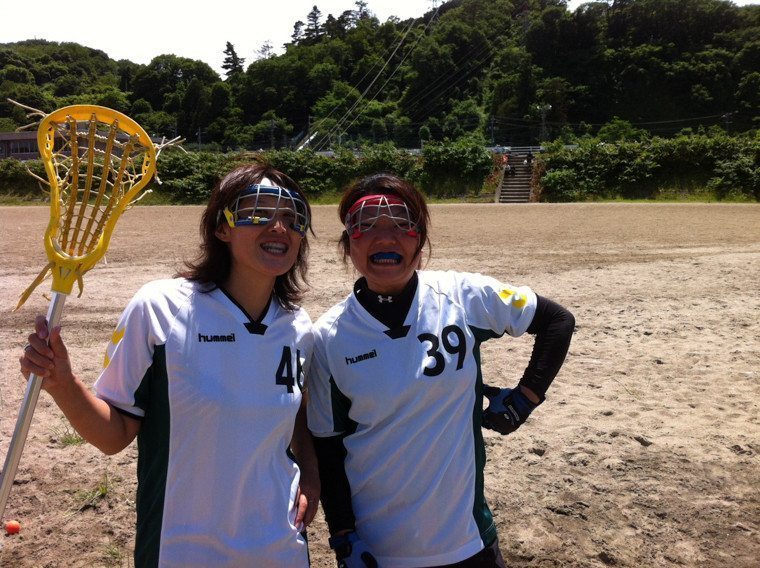 My wife enjoyed playing so much she joined a club team, that is her on the left with my assistant coach.
Let me know if you have any memorable experiences of growing the game in Japan or elsewhere in Asia or if you have any questions about my mission abroad!