Editor's note: What follows is an open and honest review of the 2011 Brawl In McCall Lacrosse Tournament. This marks the first official review in LaxAllStars.com's new tournament review series (more info will be released in the coming weeks). Here's a quick rundown: the reviewer has a maximum of 10 points to distribute over 8 categories, making the highest possible score 10/10.
________________________________________________________________________________________
Name the best place for a Men's Club Lacrosse Tournament. Go on, name it. Lake Placid, Vail, Hawaii, Tahoe, Miami… If we took a poll, those locations would be at the top of the list. But McCall? McCall, Idaho? You may not expect that.
In fact, most people reading this have no idea where McCall, Idaho is located. Hell, most people with roots in our sport's hotbeds probably mistake Idaho for Iowa half the time. That's not intended to bash East Coasters at all, it's just a matter of fact. I lived in NYC and had interactions like that nearly every single day. Of all the lacrosse players I've met from around the globe, only a handful have known that Idaho is one of America's best kept secrets. But hey, normally I like to keep it that way.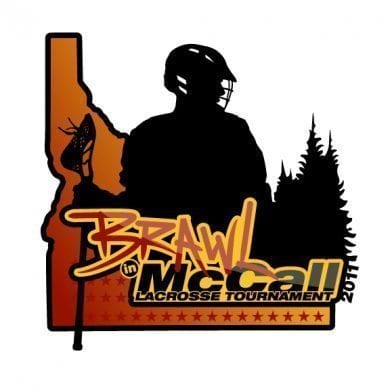 When I relocated back to my hometown of Boise, Idaho last year, I had no plans of entering a team in the Brawl in McCall Lacrosse Tournament. Instead, my plan was to continue to play on someone else's team. I'd attended the tournament with the Woozles from its inception in 2004 to 2007, and it was always a fun experience because I was playing lacrosse with my closest friends. I rarely considered the location, competition, or potential. Boy, was I naive.
Enter 2010. I went up to McCall on a whim to play with Team Bigfoot and a bunch of University of Oregon alumni. Arriving in McCall for the 2010 Brawl, I was ready for a good time with a side of winning. Little did I know there had been 2 alumni teams from Seattle area high schools and a group of seriously committed post-collegiate Idaho lacrosse players added to the mix. Boom – a competitive tournament with night life, boating, and cliff diving in its backyard. From there on out, it was going to be different.
Welcome To McCall
Thanks to my great experience in 2010 and some encouragement from Brawl organizer James Stewart, I decided to enter a team in the 2011 Brawl. It turned out to be one of the best decisions I made all summer. The 2011 Brawl was one for the ages – the weather was perfect, the atmosphere was relaxed, and competition was at an all time high.
We arrived in McCall (Population 2,300) on Friday afternoon and rolled straight up to My Father's Place, the best burger joint in town. I ordered the Heli-Tac burger which consists of a 1/4 lb. burger, bacon, onion rings, BBQ sauce and blue cheese. Why is this important? Because if you were with me in McCall you know I couldn't stop talking about how good it was all weekend. Delicious grub… +1
One of the fun parts of playing in a lacrosse tourney just 2 hours from home is the fact that your family can be in attendance. A few weeks before the Brawl, my parents locked in a cabin for the weekend at a very reasonable price. My family, LAS Co-Founder Ryan Craven, our girlfriends, and I were all able to stay under the same roof in McCall, with plenty of outdoor space to entertain Team LAS. Affordable and comfortable accommodations… +1
I don't know about you, but aside from actually playing lacrosse at a lacrosse tournament, being near a body of water is most important to me. After laxing all day, all I want to do is throw my gear down, jump in a lake and enjoy the great outdoors. Good thing McCall is a resort town. Beach? Done. Boating? Done. Fishing? Catch one. Endless off-field activities… +1
To Each His Own
Okay, so on to the actual playing experience. The Brawl In McCall can be whatever you want it to be. For me, it was fun and competitive, and I wouldn't have it any other way. Summer tournaments like this are exactly what I need to fill the void left from college lacrosse. Prescription to lax… +1
Of the seven teams in McCall this year, each one had a handful of great players on board. Washington & Jefferson, BYU, Arizona, Oregon, RIT, Idaho, Boise State, Gettysburg, Westminster, Carthage, Montana, and Dominican were just a few institutions of higher education represented by students and/or alumni at the Brawl. Talent variety… +1
Team LAS Brawls
Team LAS was made up of a few friends who have been playing together for almost a decade, young men fresh from high school state championships, and even a few LAS readers and fans. While somewhat of a motley crew, the diversity of the team was one of the great pieces that brought us together. No matter where we came from or who we played for, we love lacrosse and were excited to get on the field, have some fun, and step up to the competition.
While Team LAS was full of talented players, few of us had ever played together before. We started out very slow on Saturday, losing to Issaquah 10-5, then Bainbridge 7-4. Our lack of chemistry was obvious, but every now and then some sparks would fly.
We had two goalies who split time in the cage, switching at halves. Both are Bishop Kelly alums (my alma mater) and they took on the monikers of Thunder (Craig Patrick) and Lightning (Blake Gaudet). While different in their playing style, both goalies spoke up and gave much appreciated direction to the poles protecting the crease. By the end of the tournament, I think our defense became a solid unit.
The guys got to spend the day and night getting to know each other. We had most of the team over to our cabin for drinks on Saturday night, and Craven took on the role of Fire Marshall as we made new friends and chummed it up with old ones around the fire pit. I can't think of a better way to spend my Saturday night.
On Sunday, we kicked off the first game of the day at 9:00 a.m. against the Palo Alto Ducks, winning 15-4. Finally, we gelled! Next we played the Scallywags, defending Brawl In McCall champs, and gave them a genuine scare. We were neck and neck most of the game, but ended up slumping in the last 10 minutes and lost 8-5. The Scallywags went on to annihilate Bainbridge 8-0 in the title game and take home their 4th consecutive Brawl Championship Trophy.
Playing the Scallywags as well as we did made me wish we'd had the chance to gel a bit earlier. I think Saturday night may have made the difference. On paper, the scores could have been disappointing, but the experience as a whole was more rewarding than any win could ever be. Team satisfaction… +2
Management Experience
As a team organizer, I think it's important that I touch on the management portion of the Brawl In McCall as well. Hosting a post-collegiate lacrosse tournament is no easy task. It takes a ton of planning and preparation to put together a solid product and guarantee participating teams will have an experience they'll want to come back for year after year. Despite the potential for logistical stress, it was a smooth ride.
Without a team organizer there's no team, and without a tournament director there's no tournament. Both are integral parts of operating a lacrosse tournament, and communication is the key to success. James Stewart, Tournament Director, did a great job communicating expectations and delivering information as the tournament approached. Unfortunately there was a team from Montana that backed out of the tournament at the last possible second. Reliability of opponents…  -1
As a bonus this year, James also hosted a tourney BBQ on Saturday afternoon that featured grub and $5 all-you-can-drink beer at Ponderosa State Park on the Payette Lake.
If it weren't for James Stewart and the Scallywag Lacrosse Club, the Brawl would not be what it is today, and I'm thankful that James is putting so much effort into making the Brawl a great experience for participating teams. Event execution… +1
This Is Real
Overall, all I can say is – THIS IS REAL. With 8 years now under its belt, the Brawl In McCall Lacrosse Tournament is the best kept secret event in the US lacrosse community. You heard it here first.
Total Score: 8/10
………………………………………………………………………………………………………………………………………………………………
MORE PHOTOS:
MORE COVERAGE:
Brawl In McCall Photo Blog [Lax All Stars]
Team LAS Takes On The Brawl In McCall [Lax All Stars]
Drofdarb's LAS Helmet Evolution & Brawl In McCall Recap [Drofdarb Sports]
Brawling in McCall with Team LaxAllStars [Bradyboy's Blogger]