Canada beat the US 11-9 to win the Duel in Denver, and while the game didn't have any official meaning above a friendly international match in an off year, the event, and the outcome, are sure to have a major impact on the 2014 World Games, and in a number of ways. I'll get into the deeper meaning of the US-Canada game as the week goes on, but for those that missed the broadcast on ESPN3, below is a full game report! Also check out our captivating Game Notes post.
The first thing that jumped off the page before this games was ever played had to be both teams' rosters. The US brought ten guys from the 2010 World Champion team, including Paul Rabil, Ryan Boyle, Kyle Dixon, and Kyle Sweeney (to name a few), but they also brought along some brand new guys like Steele Stanwick, Drew Adams, Jesse Schwarzman and Greg Gurenlian. Former Team USA players like Kyle Harrison and Joe Walters were also on the roster, and it made for a great mix of youth and experience.
Canada also brought out some proven veterans in Brodie Merrill, John Grant Jr., Geoff Snider and Kevin Crowley, but the majority of their squad was really quite young. Cam Flint, Jordan MacIntosh, Mark Matthews, Curtis Dickson, Evan Kirk, Angus Dineley, and a host of other guys all fit this "younger player" mold. I was sold on this being an "A-Team" for Canada before the game, and it looks like I was 100% right.
The game started out in typical International fashion, with both teams testing each other out, and 5 minutes passed before Canada went up 1-0 on a Kevin Ross goal. 2.5 minutes later, Matt Striebel tied it up after a little more prodding on both sides, and then Curtis Dickson scored his first goal of the night (he would finish with four) off a Kevin Ross assist to put Canada up again. When Ned Crotty scored to tie the game at 2 it looked like we could see a one goal game all night long.
With about 3 minutes left in the first, John Grant Junior put Canada back in the lead with a great unassisted goal. Watching JGJr operate from the sidelines, only 20 feet away, is a really fun experience, and it really hammers home how fantastic of a player he is. He is just very much in control, all the time, and always a couple of steps ahead. I thought Michael Evans actually did an excellent job of covering Grant when they matched up, and I would put him on the 2014 team for a lot of reasons, but that is one of the strongest!
The second period saw a change take place, and the scoring rate took a major dive. Canada pumped in two goals during the 2nd period, and the US pumped in… none. Both teams got some good looks and chances. The Canadians missed a couple of tough shots, Drew Adams made some nice saves, and the US defense really stepped up their pressure and physical presence on dodges and loose balls, but at the end of the period, Curtis Dickson and Mark Matthews had both tallied.
When the US was in possession, they were able to generate some good (but not great) quality shots. Many of these chances came from the midfield, and it was clear that the US team was going to be most effective when dodging the Canadian shorties. But beating one guy doesn't mean you're going to score a lot of goals. To be fair, both Canadian keepers read shots nicely throughout the game, and I want to be sure to give them both credit for playing very well.
As impressed as I was by both Dineley and Kirk, I was also a bit disappointed in Team USA's offense. The general modus operandi seemed to be dodge the shortie (which is totally fine), then shoot the ball.  I'm sure that it was more complicated than that, but overall, the midfield dodge to shot was still the backbone of the US offensive effort, and against Canada, that just doesn't fly.
At halftime, Canada led the US by a score of 5-2, and many were scratching their heads. People weren't shocked that Canada was winning… but did the US really only score 2 goals in the first half? I heard at least 10 people ask that exact question.
The third period saw the US and Canada trade goals within the first five minutes, much like the beginning of the game, and then the US went on a little run of its own to tight the game right back up. The US did score a couple of goals from the midfield during the run, and that speaks to the talent they have there. Canada knew what the US wanted to do, and the US still put on a run even though it was predictable.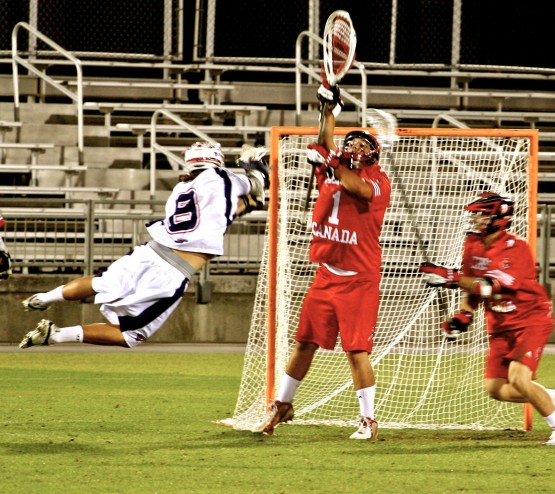 So now the game is tied up at six, and the fourth quarter gets under way. Canada popped one in quickly via Cameron "I have tree trunks for legs" Flint and then Matt Striebel added a second goal to tie it back up at seven apiece. Over the next 12 minutes the game is decided as Canada put up 3 goals, all coming from team oriented play on offense. The US continued to dodge the shorties but the Canadian defense stiffened and few shots hit their mark. The US created chances but didn't score goals, and Dineley only had one save in the quarter.
Down 10-7, Kyle Harrison changed planes and went high to low to finally beat a Canadian keeper. While Harrison didn't have a great night shooting (Kirk and Dineley just didn't bite on the high to high from K18 – nice scouting work, coach Mearns!), he did have a fantastic night dodging. Out of all the US middies, Harrison was probably the most dangerous, and after seeing him play on Saturday, I like his chances for the 2014 team. He almost added another goal on a low to low on the run shot that barely missed.
Two minutes after Harrison's goal, Curtis Dickson scored his fourth goal of the game and the score was 11-8. With no short clock and only 5:32 left, a comeback seemed unlikely. Steven Brooks cut the lead to two goals with 4 minutes left, but Canada was able to hold onto the ball for the most part after that, and the game ended with the US down a man and Canada playing keep away.