I'm Justin Skaggs and welcome to LAX History. Let's talk about the four Canadian major lacrosse championships. Many lacrosse fans in the USA see the NLL as the top of the game, or an NCAA D1 championship as the pinnacle of the sport, but box players see things differently. Canadian lacrosse has four major cups that predate all "major" lacrosse leagues. For many players and fans, these cups are the most prestigious awards you could win.
Canada is box lacrosse through and through. The summer leagues are listed below.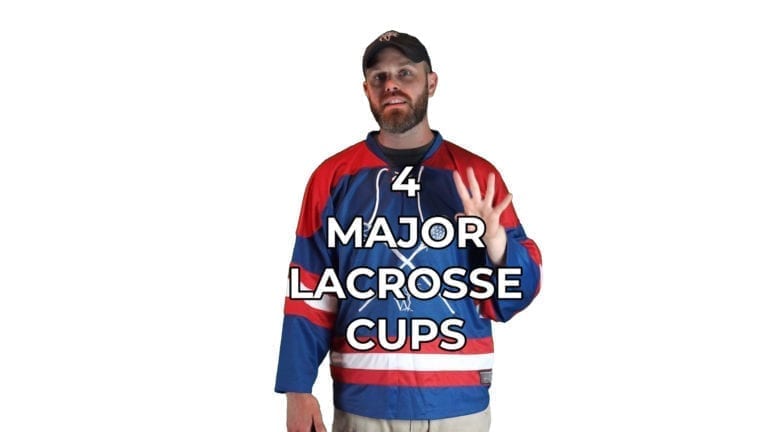 Canadian Major Lacrosse Championships
Mann Cup aka Senior "A"
Presidents aka Cup Senior "B"
Minto Cup aka Junior "A"
Founders aka Cup Junior "B"
Senior vs Junior is pretty self-explanatory for most folks who are a familiar with box lacrosse or similar age bracketing systems like hockey. In the CLA, "Junior" refers to ages 19-21, while "Senior" represents ages 22 and up. There is also a Masters division, but to the best of my understanding players do not have to enter that division. I may be wrong on that.
The notation of the A or B such as in Senior A and Senior B is a little misleading. The Senior B is actually much larger and more representative of an area's talent and skill. There are eight individual leagues that make up the CLA's Senior B program. The winner of each of those leagues comes together to fight for the Presidents Cup. Senior A, while full of amazing talent, is more of an East Coast vs West Coast tournament. There are far less teams, and only two teams end up playing for the Mann Cup.
NLL players are often seen on Senior B teams. In recent years, you could watch the Thompson brothers, Brett Bucktooth and Mark Matthews all playing in Senior B. I really loved Bryan Whitmer's first person account.
"I've played for lower caliber Senior B teams, and you're often finding yourself defending guys (well, trying to) who you were watching play in the NLL just a few short months ago," said Witmer.
There can be a large talent gap, which is something to note, and something I find particularly interesting.
In the weeks to follow I am going to try and break down the history of Canada's Professional Lacrosse Cups. A good amount of these Cups will be played for and awarded in August, so there is a great opportunity to dive into this form of lacrosse. Take care, and keep laxin'.