Editor's Note: Welcome coach Shawn Runyon and the Marietta College men's lacrosse program to LaxAllStars.com. We wish Coach Runyon and the Pioneers didn't have to use our platform to share heart-breaking news about captain Chad Stowell, but we know great things are on the horizon because of this group's effort. We will let Coach share from here.
Chad Stowell took his first trip to Marietta College on move-in day of his freshman year in 2018. He decided to come to Marietta after a FaceTime tour and an opportunity to be a part of building a new program. Chad and his father made the 14-hour drive from Watertown, Minnesota, to come to Marietta, Ohio, a town completely unknown to them with a campus and lacrosse program they knew very little about. Chad was coming into a unique situation at Marietta where the men's lacrosse program hadn't competed in nearly two decades. This was the first year the team would compete at the Division III level since 2002.
Chad's approach and mindset was very apparent from the time people met him on campus.
In the first meeting with our coaching staff outside his dorm, his first questions were wondering when team lifts would start, what other guys on the team have already moved in, and if he could go to the field and shoot. A majority of the nights before fall ball started, he would ask our staff to turn the lights on at the stadium after the football team finished their practice.
As a new program, creating and building the culture is one of the top priorities and was one of the things we worked really hard on in the first year. With a completely new team, it was a challenge at times to establish that culture without having returners to guide the new players and show them what the expectations were. Chad is one of the players who really did all of the right things. He worked as hard as he could every day at practice. He had a positive approach and outlook every single day on the field. He did all of the little things off the field to try and represent the program as best as possible.
After fall ball finished up, we had the team fill out a questionnaire of who they thought represented the program the best. Not surprisingly, Chad ended up being at the top of the list in a majority of the categories we asked about. It was clear, Chad was a captain for the 2018-19 season.
Being a team captain of a new program as a freshman is definitely not an easy task, but he stepped up to the challenge. We know how valuable Chad is and we're lucky to have him at Marietta. His work ethic, attitude, and character he would help make any team, at any level, in the country better.
On the field as a freshman, Chad started off his career with a bang.
In his first game he scored eight goals in a 14-7 victory, the first win of the new era for the program. He continued to be a force on the field and finished up his freshman year with 42 goals, the most of any midfielder in the OAC, earning All-Conference Honorable Mention recognition.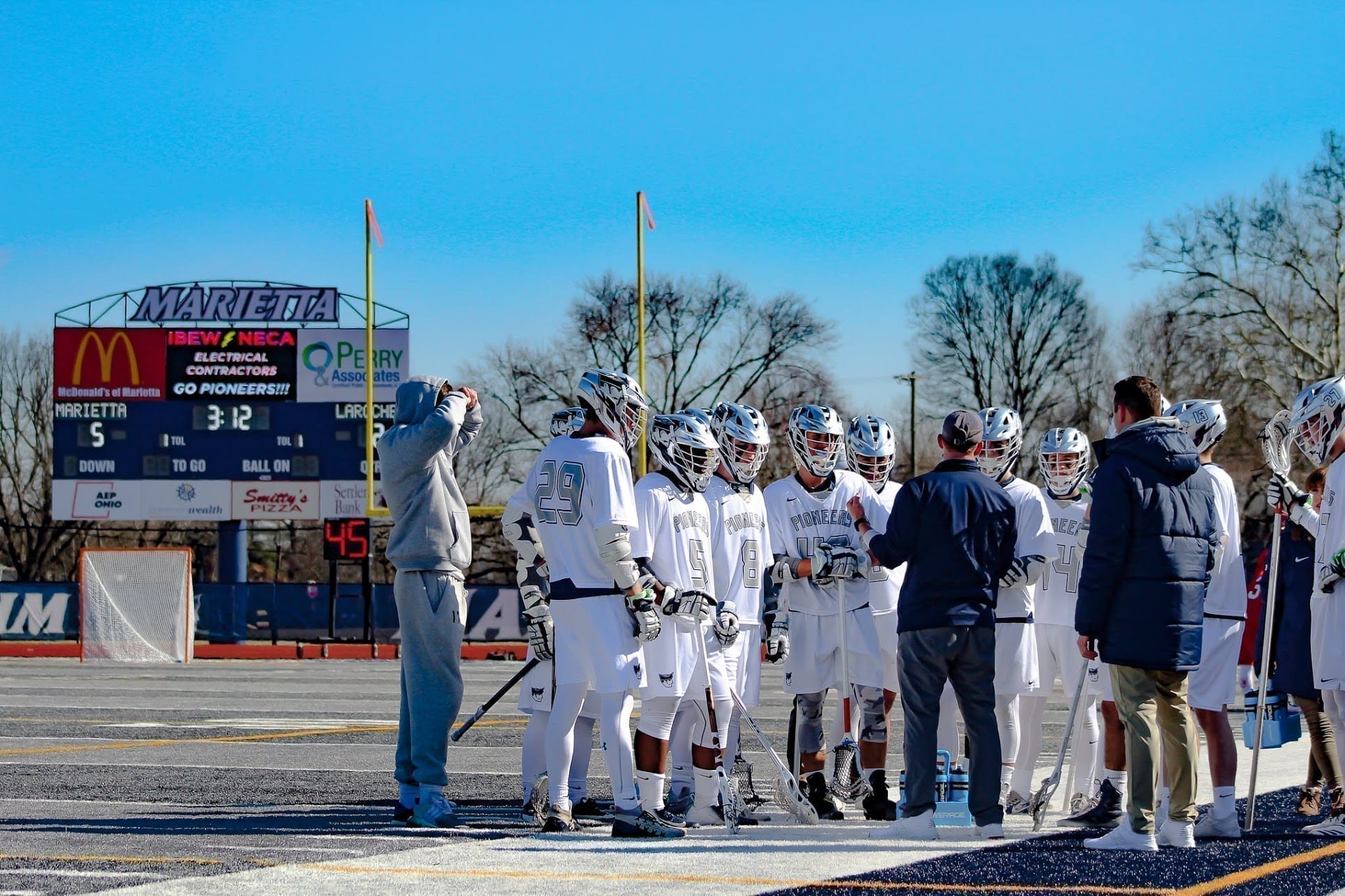 The most memorable game from that season for Chad is one that he didn't play in.
We had a home game against Capital, and Chad hadn't been fully cleared from a concussion but could warm-up. He went through warm-ups with his teammates and once the game started, spent the full 60 minutes pushing the team from the sidelines and doing everything he could. After the game finished up around 9 p.m., he asked if we could keep the lights on for him. He went back into the locker room, put his equipment back on, and went out to the field with the ball bucket and shot for about an hour. You could tell in those moments how much he missed being out there with his team and how much he truly loves the game.
Chad has only missed one team function that I can remember in his time at Marietta.
We had to switch up our film session one day, so we sent out a text to the team a little after 2 p.m. letting everyone know that film would be at 4 p.m. We started film, and he wasn't there, which was surprising. Once we finished and the team started heading to the field, he was already out there. He had been on the turf for more than two hours working on getting better and didn't have his phone with him to see that we had rescheduled.
A captain again in his sophomore season, he was limited by some nagging ankle issues that kept him out of a couple games. Fighting through it, Chad still averaged two points per game before the season was cancelled due to the COVID-19 pandemic.
As talented as Chad is on the field, he is a better person off it. He is a great friend to every single guy on the team. If anyone needs anything, he is usually the one who people go to. When there is a recruit on campus, he makes sure to shake their hand, introduce himself, and make them feel welcome. We also get a lot of positive comments from his professors around campus about our excelling Management major with a 3.0 GPA.
While classes were finishing up online, he started getting headaches and having vision problems. He initially thought it was due to all of the screen time with his online classes, but they continued after the school year ended. He went to get his vision checked, and when there didn't seem to be any issues with his eyes, they decided to get an MRI.
That's when they found the tumor in his brain.
There were several different opinions on what the diagnosis was and what his treatment would look like. The official definition is chondrosarcoma, and after meeting with the neurosurgeons, they put a plan in place to have surgery on June 2.
Chad went through a long day of surgery Tuesday and has been in pain and struggling a little bit in the few days since. We hear that he seems like he is slowly doing a little bit better each day.
One of Chad's goals in coming to Marietta was to build a family-type atmosphere within the program where everyone genuinely cared for each other and had each other's back. Since he has helped lay that foundation within our program for the past two years, now is as good a time as any to have Chad's back. We're asking for the entire community to rally behind him to show that our lacrosse family is here for him through his whole recovery.
On top of the emotional and physical strain, the costs associated with medical treatments can be astronomical.
To help alleviate his family of the cost of the surgery and all of the medical expenses involved, particularly in a global pandemic, Chad set up a Go-Fund-Me account. Right now, he's nearly a quarter of the way to the $100,000 goal.
Our family at Marietta is calling the lacrosse community to action to help bring awareness and get people involved in a challenge that perfectly fits Chad's personality. Since he is always working to improve and has that blue-collar mentality, it's only appropriate that people take the same approach while helping Chad get better too.
Instead of just asking for donations, we want you get to work. Chad can't rip shots right now, so do it for him! Chad has one of the hardest, most accurate shots on the team. We thought it would be fitting to create a shooting challenge.
We started the #48STRONG Challenge on social media.
To The Lacrosse Community: please take a look and see if this #48STRONG Challenge is something you would be willing to join in on to help out a player who is going through a tough time right now: https://t.co/4iBlv56WAA pic.twitter.com/IUGXFIP9K3

— Marietta Lacrosse (@MariettaMlax) June 4, 2020
It doesn't take long and doesn't involve a big setup. All you need is 10 balls and a goal. The challenge is to take 10 shots, aiming for the post or crossbar.
For every shot that hits the post, you donate $10 to Chad's Go-Fund-Me page.
After you finish shooting, challenge three of your friends or teammates to try and beat your score. Our goal is that this challenge continues to spread to teams across the country, because if shooters get stronger, so does Chad. Let's work together to not only help the Stowell family financially, but to also know that they have the support of the entire lacrosse community.
Chad has a long road ahead of him still on his way to recovery. He could use all of the support that he can get as he goes through the toughest challenge of his life.
Let's go shoot for Chad,
Shawn Runyon
Head Coach, Men's Lacrosse
Marietta College