I'm Justin Skaggs. I'm a wood stick maker here in Philadelphia and I made Stickball sticks, or at least I tried to, about 2 years ago, and I… just didn't make them right.
So, enough time has passed, and I did a lot of experimenting. I've identified the areas where I was correct and incorrect in making Stickball sticks. Stickball sticks are just like any other lacrosse stick. There's a ton of variation from each individual group of people who made them, and I was trying to make the Choctaw Stickball sticks.
The sticks in my right hand actually pre-date my First Edition sticks. This is a rough cut of what I thought I was gonna make, so this isn't even as good as the thing I did poorly, if that makes any sense. What I have in my left hand is a rough cut of what I'm going to try to do for my Second Edition Sticks. Now, the cups aren't the right size. There's even a difference in the pockets in the left and right-handed one. These are a lot closer to authentic Choctaw Stickball sticks.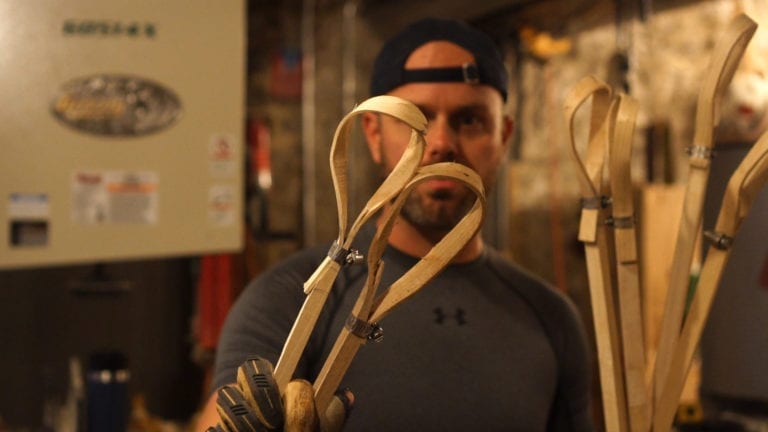 Choctaw Stickball is still alive and well, in fact, the World Series just happened. I've been very fortunate to have some very talented stick makers work with me and tell me where I went wrong. I owe a lot to Clovis Hamilton and Brenner Billy. Instagram friend, Facebook friends. Social Media is bringing us stick makers together. They really showed me what I did incorrectly and took the time to show me their process. You guys are gonna see that I'm actually taking Clovis' stick making and flaring technique, and that's what I'm gonna be building in the next episode, which is my version of that, which I'm sort-of conceptualizing as a spine.
A couple key things to identify that I did incorrectly are: (1) The shaft was way too thick on the original. (2) The cups on the originals were actually made more in the historical Cherokee fashion, which is a circular loop, similar to a Great Lakes-style stick, and a Choctaw Stick Ball stick actually has a lot more shape. It flares out and it bends forward. Also, and this is really important, (3) there are two different sized cups. One cup is meant to fit inside of the other. If you guys aren't familiar with my other videos, a cup is basically the head of one of these Choctaw Stickball sticks.
So, these are the tings that I'm gonna be correcting, and we're gonna do a shot miniseries going from the original First Editions all the way through my process of trying to change how I make these sticks for the Second Edition of my Choctaw Stickball sticks. I look forward to sharing that with you guys. Again, I'm Justin Skaggs, and I'll see you next time.