Some stick collections are better than others and they usually contain at least one Etienne. Colin Flynn's stick collection is one of these collections.
Today we are going to focus on just one part of Colin Flynn's wooden stick collection. After all, you only have so much spare time on any Wood Stick Wednesday, and his stick pile is just too large to show off in one post. Woodlacrossesticks.com presents
The Flynn Collection, Part 1 – JUST The Etienne Sticks
Matthew Waies Etienne was born in 1932, and passed away in 2011, at the age of 78. His earliest sticks can be dated back to the early 1960s. Amongst most wood stick nerds, his creations are generally accepted as an inherent part of any respectable wooden stick collection. They were well sought after by players of the time for their quality, and collectors today love them for their craftsmanship, look, and historical value. They also tend to be pretty tough, and can be found in excellent condition for restoration or appreciation as-is.
The picture below shows the artist standing in front of countless "blanks", each of which would find their way to a competitive field, once finished:
To own an Etienne is to take part in a rich history of stick making. I'll let Colin provide a little color on each of these beautiful sticks:
Here's a stick I restrung ( gut wall too) for my friend Derrick Crough. Derrick taught the basics of re stringing wood sticks. It was pretty cool to re string his stick he used when he was younger for him. The stick is an Etienne – Martin.

Here's a Etienne Deluxe Special and an Etienne-Martin I restrung for a couple buds I played pick up with last winter.

Drove 2 hrs each way for this stick, snapped a leather first time playing with it so tossed a full leather pocket in it. Etienne Deluxe special.



Here's a before and after of an etienne goalie stick I repaired for a local young kid. He picked it up at a yard sale and wanted to use it but it was in pretty rough shape. Derrick Crough ( asst coach of MSL Cobourg kodiaks ) dropped it off and asked if I could do anything with it. After repairing the wood and wrapping it with fibreglass I began pulling string, it took a few nights to complete but I was pretty happy when it was done.

Great condition Etienne-Martin. Original pocket. Found this hanging from the rafters in a sports store.

Thanks to Colin for taking us on a tour of his Etienne stick collection!
Here are a couple more shots of the sticks: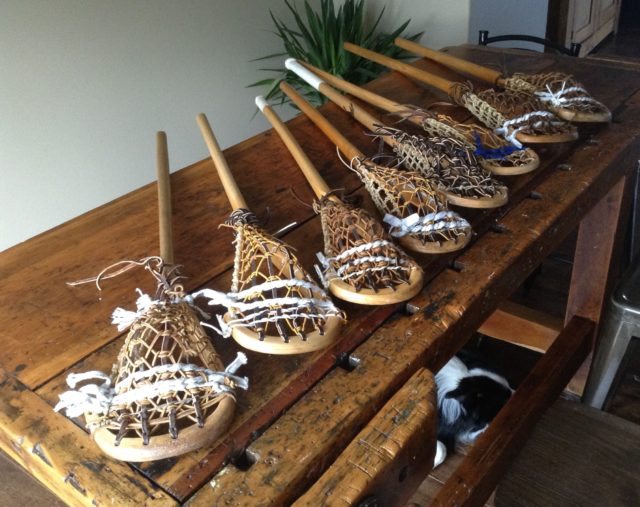 Check out WoodLacrosseSticks.com for all your wood stick needs!