Conference Playoffs are quickly approaching (or here in the case of the ACC!) in the college lacrosse world, and the games being played now mean more than anything!  Seeding, home field advantage and even national tournament bids are all on the line, so let's take a deeper look at this weekend's biggest college lax games.
Want to see what's on TV this weekend?  Our 2012 Lacrosse on TV Schedule has you covered!
NCAA Division 1
Friday night we get treated to a great Colgate Vs. Bucknell match up and I just have to go with Colgate here.  I think the Raiders will score just enough goals to win 7-6.  Maryland Vs. Duke and UNC at Virginia make up the ACCSemifinals, and these games are almost impossible to call.  All 4 teams have looked like contenders at times, but I'll pick Duke and Virginia to win these games.  If I'm right in the Semis, I'll pick UVA to win the ACC, and get a revenge win over the Dookies.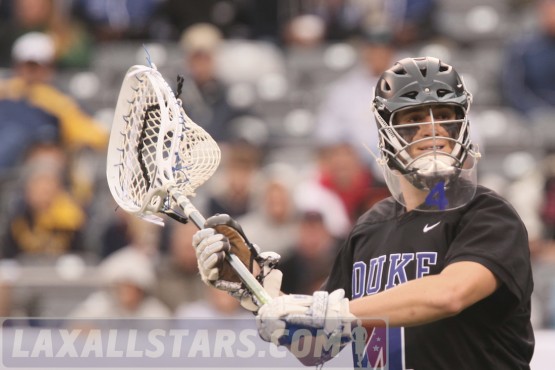 On Saturday Brown at Cornell is going to be big even though I think Cornell will win comfortably.  Brown is good, but Cornell is my eventual National Champion favorite, so I obviously see them winning here.  What is most interesting is, will Rob Pannell dress?  will Pannell play?  My guess is yes, and a little.  IL says he's cleared to practice but won't play.  Cornell by 5 either way.
I'll take Denver over Fairfeild by 1 on the road.  Drexel beats Towson by 3.  Cuse beats Gtown 13-11.  UMass beats Hofstra by 2.  Hop rolls Navy 13-6.  Notre Dame will beat Villanova 10-7.  I like Princeton to beat Harvard 10-8.
NCAA Division 2
There are a number of potentially excellent NCAA D2 games this weekend, and I'll run through them nice and quick!  Dominican College is at CW Post could be good as Post is struggling a bit and Dominican would LOVE to get a win on Long Island here.  I'll take Dominican in the upset!  Dowling at SNHU will be competitive but I think Dowling sneaks away with the win.
Mercy at Seton Hill is a match up of younger powers, and I'll take Mercy by 2.  Mercyhurst faces a tough test in NY Tech on LI, but I'll stick with the Lakers here.  'Hurst by 4.  Merrimack plays Bentley and 'Mack should take it, 12-7.  Molloy at Chestnut Hillwill be good, and I like CHC by 1 at home.  They'll need to bring it to win!
NCAA Division 3
My pick to win D3 this year is actually Cortland, and not Salisbury.  So Cortland's game against a solid Clarkson team this weekend is one to watch.  If Cortland can dominate and win, then watch out.  If it's tight, anyone could still win the North.  Kenyon plays Denison, and if Kenyon wants to make the NCAAs, they need to win this game.  Not going to happen.  Denison wins by 7.  Lynchburg will roll Virginia Wesleyan.
Middlebury has been getting votes in the Coaches Poll, which is INSANE, because before their recent win, they lost SEVEN straight.  I expect Colby to beat Middlebury at home.  Still feels weird writing that but Colby is good and Midd is suspect.  Nazareth is at Stevens, and SIT will win, even though Naz needs the win.  Skidmore at RIT could be good, but I think RIT will pull out the W.  The Liberty League is HIGH quality this year!  St. Lawrence at RPI could be great too.  I like RPI 8-7.
Finally on Saturday, we have Wesleyan at Tufts, and while Tufts is the heavy favorite here, Wesleyan has done very well this year, as long as their opponent isn't in Maine.  Should be a great barometer game for where each team is at as the most important part of the season approaches.  The big game on Sunday is Bowdoin at Endicott, as both of these teams are looking "highly rated also rans" in their conferences, and both teams need OOC win for a shot at a Pool C bid to the tourney.  Bowdoin by 3.
MCLA Division 1 And 2
Friday night gives us an awesome rivalry game in Florida at Florida State.  How important is this game for the SELC?  Check out Scott MacPherson's SELC Blog to find out!  The intrastate rivalry games keep up on Saturday as well as Arizona hosts Arizona State, and Chapman heads to UCSB.  Colorado State plays Colorado in Mile High Stadium, and all these games should be great.  I'll take Florida, ASU, UCSB and Colorado State to win!
Buffalo has a real tough test this weekend as they play BU and then UConn in back to back games.  I'll take Buffalo in game 1, and UConn in game 2.  Cal Poly will roll Stanford.  Liberty plays Coastal Carolina and this should be an epic SELC D2 match up.  I'll go with Coastal by 1.  Oregon State at Oregon is ALWAYS a battle.  Ducks by 2.  Westminster plays BYU and BYU will win, but Westy will gain more valuable experience.  It's why they are my pick to win MCLA D2 this year!
NJCAA
On Friday, Monroe plays at Essex, and this should be a good one.  Essex by 2 at home.  OCC takes on Broome.  OCC rolls. NEXT!  Broome plays Mohawk Valley the next day.  Onondaga hosts Cayuga.  It's another win for OCC.  Nassau travels to Herkimer and Nassau will win this one.  Years ago this could have been the game of the week.  Poor Herkimer.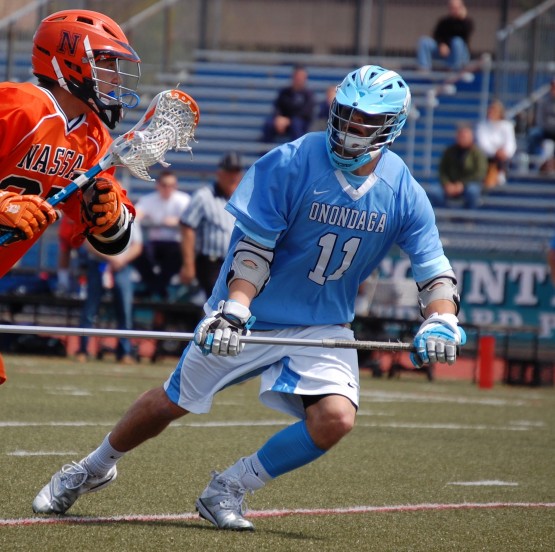 NCLL
The NCLL gave us a shocker of a loss last weekend as Delaware Club beat the Navy Club 11-6.  Navy plays Salisbury Club this weekend, and the Midshipmen need to bounce back!  Navy by 4.  Delaware Club will look to keep rolling against a tough West Chester team.  Delaware by 1.  Rutgers Club has played 19 games (and is 18-1), while St. Joe's Club has played 9 (and is 8-1).  I'll take Rutgers by 3.  The Maryland Club plays Duke Club and UNC Club this weekend to mimic the ACC playoffs a bit.  Maryland Club wins 'em both by 3+!
What a weekend of lacrosse!  Looking for televised games?  look no further than our 2012 Lacrosse on TV Schedule!
Think I missed  a GREAT game?  Let me know in the comments!