EVERY single division in college lacrosse has great games on tap this weekend from the NCAA to the club ranks to the Junior College scene.  For a complete guide to what will be on TV this weekend, check out of Lacrosse On TV 2012 post!  We'll get to the D1 big boys soon, but there is a NJCAA (JuCo) game this weekend that simply HAS to be talked about first:
Onondaga has won 5 of the last 6 National Championships in the NJCAA.  In 2008, OCC didn't win, but you know who did?  Nassau… and since 1970, Nassau has won 21 titles.  That's 50% of the Championships EVER.  OCC is the top team in the JuCo ranks right now, but NCC is looking like a pretty legit number 2!  The game will be played on Saturday on Long Island at noon, and this just might be THEGame of the Week.  It's going to be that good.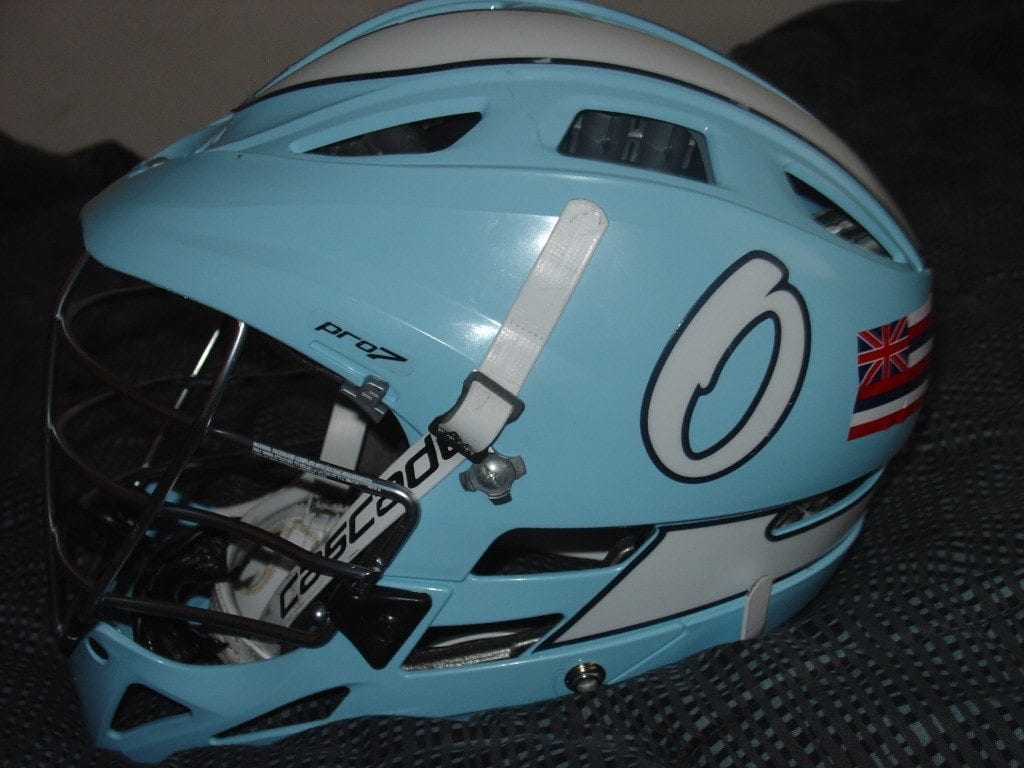 Want to see more OCC gear?  Check out SweetSweetLax!
Nassau CC has long been the place to go for Long Islanders looking to play in the NJCAA.  And Onondaga picked up a couple of Herkimer grads a couple of years back as coaches and these guys have transformed their program into an absolute monster, filled with talented players, some of whom have Native American ties, and many of who will go on to star at the D1 NCAA level.  This is a titanic match up, and if you live on Long Island, you should really try to catch it!
OK, we'll get back to normal now and run through the rest of the college action starting with NCAA D1 and working our way through D2, D3, the MCLA and the NCLL.  Be on the lookout for THREE huge D1 games this weekend.  Epic rivalry games… guaranteed awesomeness.
Friday night we get two good D1 games.  Duke travels to Virginia and Yale plays at Brown.  Duke could use a huge win here, but Virginia is a tall order.  When Duke plays well, they are super tough, but I think Virginia's experience will get them the win here, and not their talent.  I'll go with UVA 14-11.  Brown and Yale are both fighting for their Ivy and NCAA livesand this will definitely be a tight game.  Whoever wins will take it by 1 or 2 goals.  I'll go with Brown by 1 in the "upset" at home.
On Saturday, Bucknell plays Lehigh, and both of these teams have Patriot League dreams, and recent Patriot losses.  I like Lehigh to win by 2 goals, 8-6.  Dartmouth has been challenging teams well and winning here and there, but I like Princeton at home.  Harvard at Penn will be tight, and Penn needs the win.  If Harvard is legit, they will get it.  Big barometer game here.  Hofstra at UNC will be entertaining at the very least.  I like UNC by 3.
UMass plays Drexel, and if UMass wants to keep rolling and get on top of the polls, they need this win.  Winning by a couple wouldn't hurt either!  But I think this one will be close.  11-8 UMass.  Mercer could get another D1 win over VMI, and that game should be even, but it will look like a high level D3 game.  Not a knock, just a reality… for now.  I like Loyola over Denver even though the game is in Colorado.  Loyola just seems to have "it" this year.  They play a complete game.
Now let's get to the THREE huge D1 games:
Maryland at Johns Hopkins?  YUUUUUP!  Red vs Blue, Public vs Private, and a mage that has seen more than its fair share of history and magic.  JHU looks superior to UMD this year, and I do think they'll take this game at home by 3 or 4 goals, but anything could happen here.  It will be THAT good.  Also, you can guarantee there will be brand spanking new gear in this game.  There almost always is!
Navy at Army?  YOU KNOW THIS!  Talk about history and rivalry!  I don't know that anything else at these two academies even comes close.  Sure, Army – Navy football is huge, but let's be honest here… lacrosse is where it's at.  Both schools are located in lacrosse hotbeds, both have a long history of some of the GREATEST players ever, and both teams are actually pretty good this year!  I like Army to win, 9-7, but this one is going to be epic, and records go right out the window.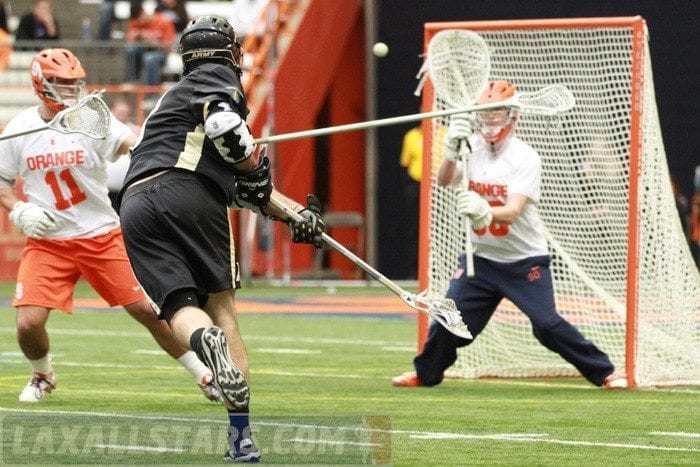 Finally, we get to Ohio State at Michigan.  Neither OSU nor Michigan is looking like a true National Championship contender, but seriously, WHO CARES?  It's the first meeting between Ohio State and Michigan in D1 NCAA lacrosse EVER, and that is worth celebrating.  Want lacrosse to grow and be mainstream?  Then you want this game to be good and get better each year.  OSU – Michigan lacrosse highlights on ESPN?  I could see that for sure!  These are two of the biggest and best state schools in the country.  This game is a potential Tipping Point.
NCAA D2 has its own fair share of good games and Adelphi at SNHU could be good.  Adelphi has been vulnerable and SNHU is looking up.  Crazy pick of the week: SNHU 9 Adelphi 8 in OT.  What?  Chestnut Hill at Dowling and I'm going CHC with the win on the road.  Crazy? Perhaps.  I'll take Mercy over CW Post on the road, and NY Tech over Seton Hill on the road as well.  Saint Rose at Mercyhurst and I'll take the Lakers at home.  I'd take them anywhere.  Legit favorite to win it all.
NCAA D3 lacrosse also has a good number of top level games.  We'll start with the NESCAC and work our way down.  Just kidding, non-NESCAC fans.  Amherst at Tufts was looking killer early on, now it looks like a Tufts rout.  Bowdoin at Wesleyan is a key game for both teams not only in their NESCAC hopes, but in their Pool C hopes, should either team not win the 'CAC.  I'll take Wesleyan at home, but I expect Bowdoin to make the Cardinals pay if they don't come out flying.  Colby will beat Williams, and the White Mules are looking pretty tough.  I'll take Hamilton over Conn College by 1.  Trinity should beat Middlebury convincingly.  It feels weird to write that, but it's the right prediction this year.
The game of the weekend in D3 really has to be down South though, as Salisbury makes the trip to Stevensonfor a huge CAC game.  I am betting both of these teams will make the NCAAs, so the game doesn't mean all that much for playoff hopes, but this is one of those games that doesn't need anything added on to make it amazing.  Salisbury was THE ONE for so long, and then Stevenson popped out of Villa Julie and instant competition was born.  This game has replaced the War on the Shore as the game of the year.  Sorry WAC, tradition only gets you so far.
Clarkson at Skidmore and I want to say Clarkson, so I'll go with Skidmore.  These teams are too hard to predict and I'm usually wrong, so I'm smartly picking against my own gut.  That works, right?  Gettysburg at WAC could be a great game, but I'm not so sure either team is really ready to compete down South.  Ithaca needs to rebound with a win over St. John Fisher.  RPI at Union has turned into an exciting match up as RPI has snapped off a couple good wins recently.  Union looks tough however, and I like them to win 9-8.
Moving on to the MCLA side of things and we get rewarded with a ton of excellent match ups.  Auburn vs Alabama and I'll go Bama.  UConn hosts BC and I'll take the Huskies at home.  Chico State at Cal?  Let's go Chico.  Pitt at Northeastern?  Ohh, tough one.  Let's go Pitt.  Utah at Colorado State might be a good game, but I think CSU wins it by 5+.
Clemson needs a win at Auburn on Saturday, but the game of the day might be in FLA between Florida Gulf Coast and Palm Beach Atlantic.  I'll take PBAU 18-15.  Kentucky at Tennesse should be really good and I'll take the Vols at home but wouldn't be shocked to be wrong on that one.  Pitt plays BC in Massachusetts and I think BC might take this one at home.  Santa Clara could hang with Cal Poly, but I can't see CPU dropping this one.  Utah plays Colorado and the game depends on which Red Hot Buffs team shows up.
Sunday sees more great games as Boise State plays Oregon (I'll take the Ducks by 4+) and BU heads to UNH.  Clemson plays Alabama and Liberty play Elon in D2.  I'll go with UNH at home, Clemson on the road and Elon at home, but who really knows?  All potentially tight games.
In the NCLL, the Navy Club takes on the Delaware Club, and I just don't think the Blue Hens will be the ones to knock off the Midshipmen.  It's a Navy win.  St. Joseph's Club is 6-0 and has 3 games, but should win all three handily.  Rutgers also plays Delaware, and this is a game they should win handily as well.  Cincinatti has three games this weekend and it will be a great chance to see just how good they are.  They play Ohio State's Club, and that should be their biggest challenge.
Phew!  What a weekend of college lacrosse to preview!  If you think I missed a BIG game, let me know in the comments section!
I'll also be down in Hampton, VA at Lacrosse Day this weekend, so if you're in the area, stop by, say hello and check out some lacrosse!