CPR Program Created By Lacrosse Player
After helplessly watching a referee's heart attack, a high school lacrosse player created a new CPR program in Fort Myers, Florida.
Melina Manueldis hopes that every staff member and student is trained to deliver CPR. Manueldis said "You never know when it could happen: anytime, anywhere". The CPR Program has been credited to saving one life so far!
Melina is creating a movement that could potentially save thousands of lives.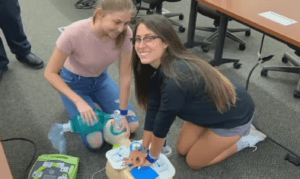 Rewind two years back to the Lake Placid Miracle on Grass.
In 2017, John Sussingham was given CPR and revived not once, but at least twice when he suffered a heart attack after playing with the Olde WU Legends 50+ team. With the help of certified trainers and staff members, John was able to get the help that he needed.
Here's what John had to say about the experience:
Hey, I'm 57 years old. I haven't played lacrosse in four or five years – but I do still play ice hockey. Let's all learn something from this, please. Listen to your bodies. Take care of yourself – eat right, get some regular exercise, and see your doctor for an annual check-up. And let's make sure there is an AED at all ball fields, stadiums, and rinks, too.
These two stories embody what the lacrosse community is all about. People helping people!
Please join us in sharing Melina & John's stories to spread awareness!