10 New Bro Academy Tees Drop Today at 12PM ET (FINALLY)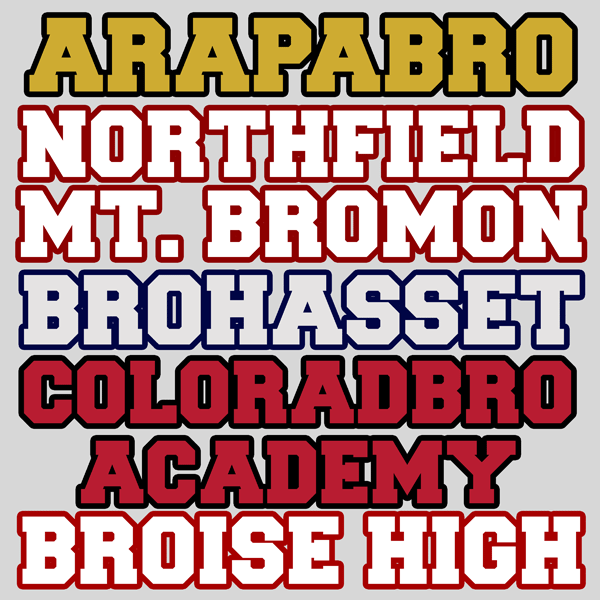 _______________________________________________________________________________________
NEWS & NOTES
– Six Elements Of Mental Toughness | Forbes
via @PenguinLax: "Isnt this the definition of any good lacrosse player?"
– The Athletics Arms Race | The State
– Video: Reebok Increasing Hockey and Lacrosse Stick Speed With O-Technology | NESN
– Easton-Bell Sports expands its line to capitalize on growing hockey and lacrosse trend | SJ Business Journal
– NCAA Coaching Carousel and How It Affects The Recruiting Process | LacrosseRecruits.com
– Red Hot Beats: Remixed | Red Hot Buffs
– National Champion CW Post Receives Rings | CWPostPioneers.com
– Hartford to Take Part in Catamount Classic | HartfordHawks.com
– High Point University adds men's lacrosse as 16th varsity sport | HighPointPanthers.com
– Colorado College Lacrosse Adds Gilmore to Coaching Staff | LaxPower
– Indiana announces incoming class | MCLA Fan
– Coast Guard Academy Announces Incoming Class | LaxPower
– U.Va. honors Yeardley Love with Rotunda draping, 'Day of Dialogue' | Baltimore Sun
– NLL: Recent Coaching Changes and Player Transactions | LaxPower
– CT: Salisbury's Mike Morris to Hopkins | Inside Lacrosse
– PA: Eastern OKs intramural lacrosse | York Dispatch
– PA: Washington Township's Foussadier chooses Penn | Philly.com
_______________________________________________________________________________________
Big meeting in Louisiana over the weekend…
Pics via @CajunCornerKnox
_______________________________________________________________________________________
Women's Game Rule Changes Approved for 2011 Season
BALTIMORE – On Sunday, Sept. 12, the US Lacrosse Board of Directors approved the new women's lacrosse rule changes and clarifications for the 2011 season that were formally recommended by the US Lacrosse Women's Game Committee and Rules Subcommittee. The 2011 US Lacrosse women's rules are endorsed by the National Federation of State High School (NFHS) Associations as the official rules for high school lacrosse. They are also used by the US Lacrosse Women's Division Intercollegiate Associates (WDIA) and in youth play at all levels under the age of 15.
The 14-member Rules Subcommittee met Aug. 6-8 for their annual meeting in Baltimore, led by veteran Rules Subcommittee Chair and national umpire, Pat Dillon. The subcommittee's recommendations for 2011 demonstrate a comprehensive approach to addressing penalties by increasing the severity and accountability for major fouls for the individual player, coach and team. The committee also felt it was important to specifically clarify and emphasize the importance of using at least two US Lacrosse trained umpires on games played at the high school and youth level. US Lacrosse is the only organization in the United States that provides officials with a standardized women's lacrosse certification and rating program for all levels of play.
The major changes in the women's game were made to the Rule 7, Misconduct and Suspensions section; the changes are as follows:
The head coach will be responsible for the behavior of personnel affiliated with her team, including all assistant coaches, and will receive any cards related to lack of bench decorum.
Anyone receiving two yellow cards in a single game must sit out of the team's next game.
Anyone receiving a red card must sit out of the team's next two games. For youth teams using Level FC rules where a check to the head is a mandatory red card, a player will continue to sit out one game if a red card is received.
Once a team receives its third card of the game the team will play shorthanded for the remainder of the game. They will lose an additional player each time another card is received.
"The US Lacrosse Rules Subcommittee should be commended for its leadership in making these significant changes in the women's game this year," said US Lacrosse Women's Division Director, Ann Carpenetti. "While changing the rules to increase penalties for dangerous play and major fouls is not the only way to ensure a safe playing environment, it certainly plays a significant role. We hope that the NCAA Women's Rules Committee in 2012 will follow suit."
"Rather than simply having teams play with fewer players below the restraining line, as many people have proposed, the Rules Subcommittee has chosen to take a more comprehensive approach to penalizing unsafe and dangerous play," said Dillon. "Our hope is that reckless and card-accumulating players and coaches will alter their behavior. We believe the team as a whole will most certainly be impacted by these changes."
For a complete list of the 2011 women's lacrosse rule changes and points of emphasis, please visit https://www.uslacrosse.org/Portals/0/womens_div/2011WomensRuleChanges.pdf. For more information about safety in women's lacrosse and what US Lacrosse is doing to maintain a positive and controlled playing environment, please visit https://www.uslacrosse.org/UtilityNav/AboutTheSport/SportsScienceandSafety.aspx.