Editor's Note: We've been following the Deutschland Adler Lacrosse Club all season long. 2012 was the DALC's first season in the European Lacrosse League, but they fought hard all year, improved, and went on a run near the end which had them finish their inaugural season as CHAMPIONS!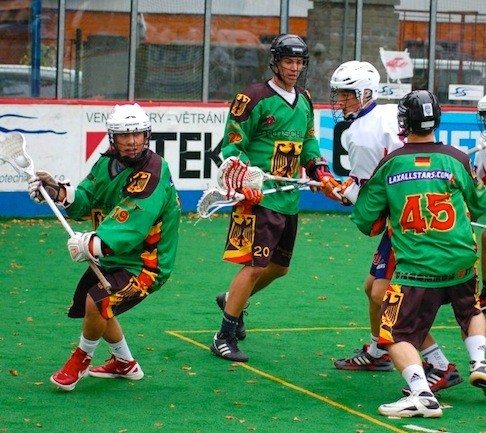 LaxAllStars.com was proud to sponsor the DALC this year, and we're excited to work with them again moving forward! See below for a whole lot more from Jamie Plunkett, co-founder of the team and the man behind Deutschland Adler.
________________________________________________________________________
With the regular season behind us, it was time to prepare for the ELL playoffs. LC Bizon and
Deuscheland Adler placed first and second in the regular season respectively, so we both received a bye, and would have to wait to see who we would be matched up against in the semi-finals.
The quarterfinals were held on Friday evening. Game 1 was Old Dogs Plzen vs Aitcom Pardubice, with Pardubice coming out with a 12-3 win. Game two was of even more interest to us, as we would play the winner. Semifinal 2 saw the Wolves Vs ELL Blue. Blue battled hard, but was without the service of one of the top point-getters in the league, Sean Menz. The Wolves managed to be too much for Blue, as they easliy handled them, winning 16-5.
Now the semi's were set. Aitcom vs LC Bizon, and Deutschand Adler vs Radotin Wolves.
The 1st semi final game was saw LC Bizon take an early lead, which would prove to be too much for Pardubice to overcome. Although they didn't manage to make a complete comeback, it still made for a good game. Bizon finished on top with a 10-8 victory.
With Bizon having already booked their trip to the final, it was up to us to make sure that it wasn't an all Radotin final. The game was back and fourth, as it had been the last time we played the Wolves. During the first 5 minutes, the goaltending match up of Dominik Sika (Wolves) and Neil Tyacke (DALC) was outstanding; both goalies making great saves and holding the teams scoreless.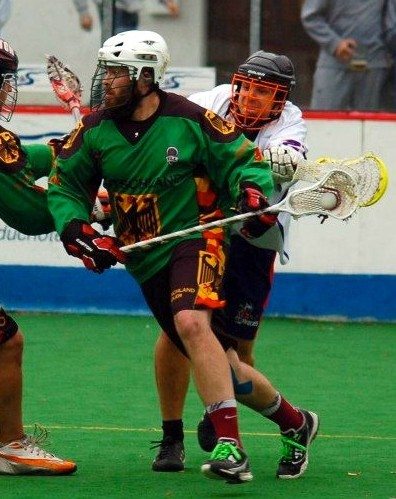 The first goal of the game came in the 6th minute and the Wolves went up 1-0. Pavel Dosly managed to tie the game up, but before we knew it, Wolves went back up by one with a goal from Matek Barak giving them a 2-1 lead after one period of play. Hendrik du bois-Reymond managed to tie the game up just 53 seconds into the the second period on a great shot over the goalie's shoulder.
I managed to give us a brief lead as I put one behind Sika into the net. As I said, the lead was brief, and 4 minutes later the Wolves Jiri Loskot and Jiri Kostal managed to get goals of their own to take a 4-3 lead. With 3 minutes left in the 2nd frame and 5 seconds left on a DALC power play, Brian Tyacke was able to draw his defender low and give me a quick pass leaving me the middle of the floor to walk down and put the ball under Sika's arm tying the game at 4-4.
Alec Tuura put us up by one with a power play goal of his own. Once again the Wolves managed to answer right back. With a 30 second shot clock running down, Dosly took a desperation shot and scored to give us a lead with just 2:05 left to play. Just over 30 seconds after Dosly scored Eric Tuura gave us a the insurance goal that we needed to send us to the finals vs LC Bizon. The final score was 7-5.
The stage was set now for the ELL Final: Deutschland Adler vs LC Bizon Radotin. We knew going into the game that it was going to be tough, and if we wanted to win our offense was going have to perform better. Facing the high-scoring Bizon, 7 goals wouldn't be enough to secure a victory.
Just like in the semis, the goalies stood on their heads early and it wasn't until 4:28 of the first when Dosly gave us the lead, 1-0. Two minutes later Dosly managed to thread the needle and find me breaking to the net where I found the back of the net. Then almost 2 minutes later on almost the exact same play; I scored again. The pass this time came from Wolfgang Grießl, giving us a 3-0 lead.
Bizon managed to get one back when Adam Kostka was left alone on the back door and he doesn't miss when given that much time and space. Dejavi struck again with another mirror image goal for the DALC this time Eric Tuura found me sneaking into the middle and manged to find my stick open. Radek Skala and Kostka found the back of the net for Bizon. Just as we had figured, it wasn't going to be a low scoring game.
After the 1st period we were up 4-3. Du Bois-Reymond made a great play to get his 1st of the game as he backed in his defender then took step back and launched a rocket over the Bizon's goalie's shoulder. Two minutes ticked off the clock before I managed to catch the goalie cheating as I ran behind the net and put ball in from behind the crease. This seemed to motivate the Bizon as they got two goals back from Michal Roubicek and another from Kostka making it 6-5.
Bizon got into penalty trouble taking a 5 minute High Sticking penalty and we would make them pay for it, scoring two goals on the penalty; one being a great outside rip from Philipp Broz, the second being a specatular tic-tac-toe passing play, in which Alec Tuura unselfishly gave the ball back to me with us both being alone in front of the goal. Alec Tuura took a rip of his own and Dominik Pesek got his first of the game with 25 seconds left in the 2nd period. After two periods we were up 9-6.
Pesek got two more goals for Bizon bringing them with in one and securing a hat trick. Our Offense went stagnant and Bizon had all the momentum. With about 7 minutes remaining Kostka manged again to get one past Neil Tyacke tying the game at 9. The last 6:30 minutes were played scorless but not without action, and both teams certainly had their chances. With 30 seconds left, Eric Tuura faught hard for a loose ball and a new 30 second clock.
We called a timeout to get fresh legs on the floor. The play started with 38 seconds left in the game. Our original plan was to hold the ball for as long as possible and eat the clock in hopes of scoring with only seconds left in the game. However, this did not happen, and about 6 seconds in to the play, we managed to catch the Bizon defenders sleeping and like 3 of my previous goals in the game, I was left all alone in the middle. Alec Tuura hit me wide open on my cut across the middle and we were up with a 10-9 lead and 33 seconds left.
Bizon would win the ensuing faceoff and would call a time out of their own. They pulled their goalie to give them a 6 on 5 numbers advantage. Our defense wouldn't give them anything; the most they managed was an outside shot that missed the net and went out of bounds. Wolfgang Grießl got the ball and did an excellent job ragging it and killing the final seconds off the clock…
3, 2, 1, Deutschland Adler are Europische Meister!
The DALC would like to thank all of our sponsors: Uncommon Fit for our fantastic uniforms, and Odor Gladiator for keeping our gear smelling fresh all season long. Ron Telesky Canadian Pizza in Berlin, Steakhouse U Svetobeznika in Radtoin for pre and post game beverages and food. Lacrosse All Stars for all of the support on your website and with the "GROW THE GAME" t-shirts. Everybody from the DALC an the ELL truly appreciate everything from our sponsors. Without your support it wouldn't have been possible.
Final 2012 ELL Standings:
1) Deutschland Adler
2) LC Bizon Radotin
3) Wolves Radotin
4) Aitcom Pardubice
5) Old Dogs Plzen
6) ELL Blue
Stay tuned for more reports from the DALC as they continue to grow box lacrosse in Germany. They aim to send a team to Buffalo at the next World Indoors, so there will be a lot to report back on!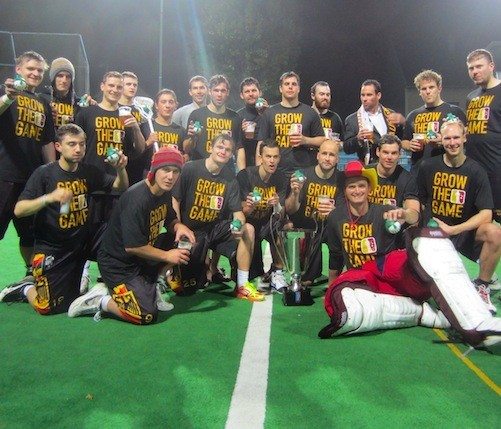 *All photos courtesy of Klaus Hauer