Editor's note: Our chat with Devon Wills is sponsored by SISU Guard, official mouthguard of Team USA. LaxAllStars is proud to be working with SISU and US Lacrosse to cover Team USA any way possible!
There's never been a goaltender like Devon Wills, and I might go as far as saying there's never been an athlete like Devon Wills.
I'd be lying if I said I've followed the women's game closely my entire life. Yet, I have taken great interest in the sport over the past few years (especially this summer at the World Cup), and one person I've kept tabs on is Team USA's historic netminder, Devon Wills.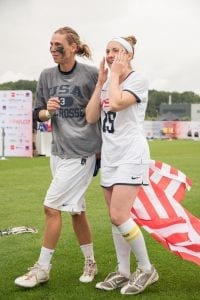 The 2017 Rathbones Women's Lacrosse World Cup was labeled as her last ride, the final chance to sport the Red, White, and Blue between the pipes. Starting back with the Prague Cup Touring Team in 2008, Wills has remained a staple of the women's national program ever since. She's gone on to capture three gold medals in the FIL World Cups (2009, 2013, 2017), with multiple Player of the Match and goaltender honors.
Wills has blazed a trail outside of the international game, famously becoming the first woman to sign an MLL contract when she joined the New York Lizards practice squad. As a 4-time all-Ivy Leaguer, she captained her college team, the Dartmouth Big Green, to their only NCAA final in school history. She's also helped pioneer professional women's lacrosse, starting (and winning) for the Long Island Sound in the first-ever UWLX game.
Before all of this, Devon was a young lady from Colorado with big dreams and a relentless dedication to being the best version of herself she could be. Today, she's focused her talents on coaching, from DI at Southern California, to her own WillsLax program, and beyond.
It was my pleasure to interview one of the most decorated, and well-respected, lacrosse players to ever play the game. I encourage you to read her responses with care and reflect on how you can use her Team USA experiences to become a better you.
Interview with Devon Wills
MD: Watching the team compete in England this summer was electrifying. What led to such a dominating performance from Team USA at the World Cup?
Devon Wills: Every time we stepped on the field during the World Cup, we wanted to be the best versions of ourselves and the best USA Team that we could be.
In some situations that was easy, in others it wasn't. But, we played for each other and wanted to win for each other. That led to a really selfless team and one that was constantly motivated each day.
Personally, I found your game to be one of the most exciting. When you leave the crease to apply pressure on defense, what's going through your head?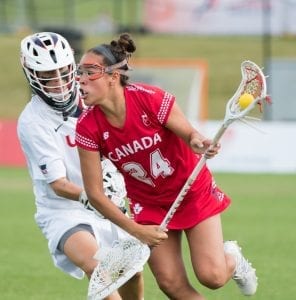 Ha, thanks! The goalies being part of the defense is a really big piece of the defensive game plan. We never wanted to allow our opponent to have the opportunity to rest, so utilizing the goalies to be an extra defender was a way for us to continuously wear down our opponent.
But, there is a lot of trust involved in executing that plan well. I had to trust my defenders, both on ball and off, to do their jobs to allow the cage to be empty. Likewise, they had to trust me and my decision making to go at the right times and to be in control on ball.
It seems that sort of attack is a major part of your game. Is it a style you expect to see more and more of in the women's game as a whole?
I think the game is advancing every year. Players are better and better. Stickwork and vision have become so innovative that it is hard to keep up at times.
But, I think having an attack that is fearless and willing to keep pressure on their opponents is going to a major component in the coming years.
You've faced a lot of rubber over the years, from the best women in the world, to the NY Lizards. What helped you best prepare for facing the best international lacrosse players in the game?
I've had to train differently for each of those experiences. I've tried to always train by finding the hardest shooters or fastest dodgers to shoot on me.
For this World Cup, I did that, but I also did a lot of technique training with tennis balls and a tennis ball machine — it's all about repetition and getting your hands to react as quickly as possible.
As a dominant goalie and an experienced veteran, you led the team in more ways than one. Who do you see coming through the pipeline that could carry the torch for years to come?
I already have "fomo" thinking about the team in the upcoming years and not being a part of it. This was one of not only the most talented teams I have ever been a part of, but also one of the most fun. This group is a great blend of intensity with goofy.
I see a lot of great leadership coming with players like Meg Douty, Alice Mercer, Taylor Cummings, Michelle Tumolo, and Kayla Treanor. Additionally, I see players that do the hard things and make them look so easy, like Becca Block and Marie McCool.
These players are not only great players on the field, but they are the future of lacrosse, both on and off the field. I am so proud that I could have my name next to theirs on a roster sheet.
What did you learn about yourself, and your teammates, during the whole World Cup process?
I learned to rely on my teammates more. I trusted that I had done the work and was ready, but mostly, I felt like I could trust my teammates and I learned to simply enjoy the moment.
Signing to the Lizards, claiming gold(s), and coaching NCAA lacrosse are incredible accomplishments. What's the next major goal for your lacrosse career?
Well we will see, but since I am done playing, I certainly hope to return to the US system one day at some level!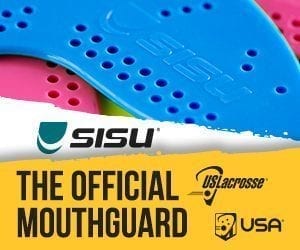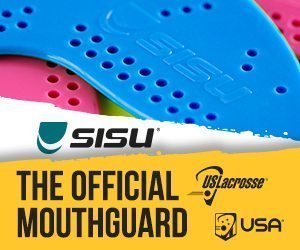 Please name one Team USA athlete we should interview…
Alice Mercer
What is the first question we should ask him or her?
If you could be one person, besides yourself, who would you be?
Thanks for your time, Devon!