I don't want to alarm anyone, but there's a fairly good chance that PPL Park, picturesque home of the 2013 Major League Lacrosse Championship, is haunted. Sure, the Outlaws poke a slight hole in an otherwise airtight hypothesis, but look at the other three teams that made it to Chester, PA last August. First of all, one of them vanished, never to be seen again. Classic horror move.
And what of the other two, the ones that stayed alive long enough to play for the Steinfeld Cup? Currently sharing a room in the cold, dark basement of the league. If you've got another explanation, I'd love to hear it. Otherwise, we'll just move on. Anyone? I didn't think so. Clearly haunted. Anyway, In case you missed anything, here's a closer look at what went down in week five.
New York 11, Boston 10
In this corner, you have a 2-2 squad with an improved defense, an elite face-off man, and poles with absolutely no problem calling their own numbers. In the other corner, you have…the exact same thing, which made it no surprise that this matchup resulted in a one-goal game, complete with nine ties along the way.
Boston head coach John Tucker says Paul Rabil can play anywhere on the field, so it's no surprise that he spent Friday night playing attack, a position where he saw success during limited runs last season as well. Rabil with two goals and four assists, the finest of which was a no-look feed to Ryan Boyle, who had crept up on the doorstep for the easy finish. Between that and a generally effective (whatever the lacrosse equivalent of hockey's slap pass is) at his disposal, Rabil (a league-leading 15 assists) has assembled quite the collection of dishes to his game over the past few seasons.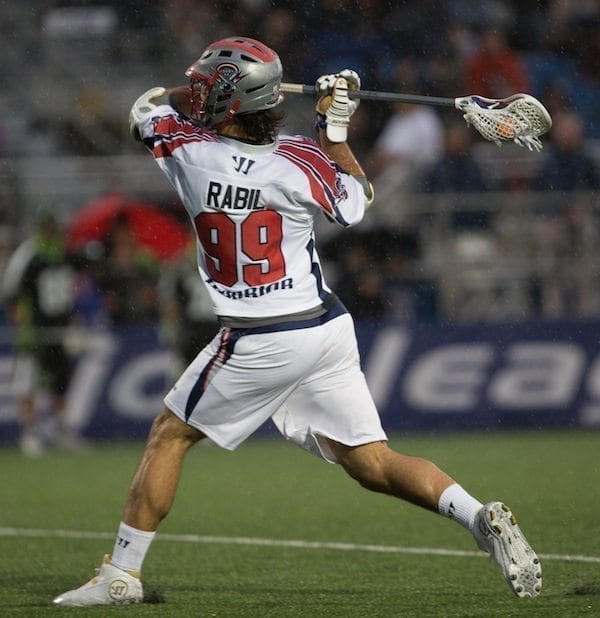 Earlier in the week, LIzards head coach Joe Spallina stressed his team's need to neutralize Boston's transition game, particularly that of their longsticks. The Lizards were successful in their endeavor, and for the first time this season, Brodie Merrill, Scott Ratliff and Kyle Sweeney all refrained from taking a single shot.
Considering the fact that three teams scored eleven goals and lost last weekend, it's tough to point the finger at Boston's defense for losing this one. More specifically, credit the Lizards for a) winning 16-25 of the faceoffs and b) consistently taking advantage of their short stick matchups, especially the ones generated by catching offensive midfielders on defense. Crotty and Pannell got theirs (a combined five goals and three assists), as they're going to do, but New York's close games are likely going to be decided by their supporting cast, pressing and prodding for defensive weaknesses in velociraptor-like fashion.
Denver 13, Charlotte 11
In what's become an annual Hounds tradition, Matt Danowski rejoined the team after coaching Duke to an NCAA championship, and was immediately joined in the lineup by a bunch of guys who'd just graduated from Duke and Loyola.
With Danowski running exclusively at midfield, and Ryan Young (three goals and 16% shooting this season, down from 13 goals and 57% at this time last year) and Dean Gibbons out of the lineup, Charlotte started rookies Justin Ward and Tom DeNapoli alongside Joe Cummings at attack.
Of Charlotte's five rookies being thrown to the wolves (only DeNapoli had previously played in an MLL game), Ward (one goal, three assists) stood the tallest by far, especially when you consider he was immediately matched up against Lee Zink.
Defensively, things went a little something like this: "Guess what, Henry Lobb – you're covering Eric Law today. He averages four points per game and shoots 120%. Welcome to the MLL, kiddo," leaving relative elder stateman (he appeared in one game last season) Jake Smith to take the John Grant Jr assignment. While not all of Grant and Law's seven combined goals were their defender's fault (you're not stopping that Junior behind-the-back, I don't care who you are), most were the result of ball-watching, creeping upfield while anticipating the slide, etc.; once they caught their passes, the damage was good as done.
Despite a vastly improved performance this weekend from Adam Ghitelman, the hounds trailed in the game for over 45 minutes, ultimately converting back to back two-pointers (By the way, Jesse Schwartzman is the toughest two-point get in the league, yet Charlotte has scored at least one two-pointer against him every time they've met; of the five two-pointers he allowed in 2013, four were from Hounds) to take the lead.
Sadly for the Hounds, the celebration didn't last long; less than two minutes and two Bocklet goals later (one for each Bocklet, it's only fair), the Hounds were losing again, this time for good. Fortunately (or unfortunately, it depends entirely on the outcome) for Charlotte, they'll get another shot at the Outlaws in week six.
Rochester 18, Florida 11
The Launch had won three games in a row (their lone loss coming in their first game, and against Denver, so it really only seemed like half a loss, three-quarters, tops), the Rattlers were 2-2 and humbled by those aforementioned and universally humbling Outlaws in week four, and none of that mattered one bit, as nine different scorers teamed up for an offensive clinic against the league's second-hottest team.
Sunday's game displayed the first phase of Rochester's offensive evolution, as Mark Matthews, Mark Cockerton and Miles Thompson (some equally talented people whose names begin with other letters are slated to arrive in the coming weeks) joined the linuep for the first time this season. Of course, rules dictate that only ten guys can play at a time, which meant there were bound to be some lineup casualties: Dan Hardy was shifted from attack to midfield, whereas Sam Bradman and Steven Boyle were scratched from the roster entirely. Kevin Leveille made a strong bid for his job security with a hat trick, but with even more change to come, time will tell how this roster ultimately shakes out.
Florida's defense simply fell apart under the weight of the Rattlers' upgraded roster; their non-sliding defense did Brett Queener no favors, and Queener responded by doing none for them, ultimately being pulled for Adam Fullerton in the fourth quarter.
Regarding Rochester's defense, their pregame meeting likely consisted of someone drawing "Casey Powell" on a chalkboard, crushing the chalk into powder, throwing it on the floor and stomping it out like a cigarette. Shadowed by Mike Manley (although generally slid to and mercilessly beaten by any Rattlers in a two-block radius as well) throughout the afternoon, the back to back offensive player of the week was held to two assists and only two shots, his lowest output of the season.
John Ortoloni won 21 of 33 draws, but it felt even more lopsided, as tends to happen when one team is going on a run, and the other team hardly gets to touch the ball, aside from handing it to the ref when he puts his arms down. The Rattlers went on a six goal run that spanned the second and third quarter, and ended the game scoring four insurance goals in a row.
Ohio 15, Chesapeake 11
During last week's coaches call, Chesapeake's Dave Cottle summed up the growth of the Ohio Machine in what turned out to be a fairly prophetic manner:
"Before, Ohio used to give you games," Cottle said, "now, you have to beat them."
He couldn't have been more right, as the Ohio Machine seized all opportunities, won all aspects of the game and earned their first franchise win against the defending champs.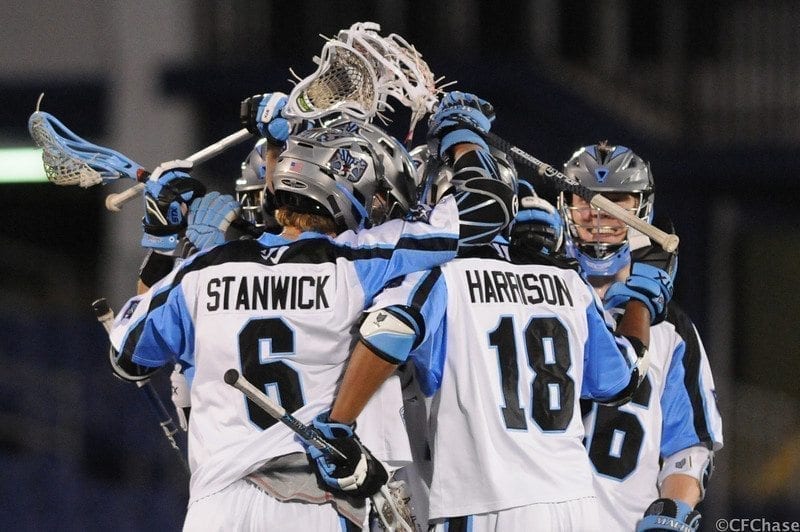 Now, when you're talking about a game like this, it's always important to give one team proper credit while highlighting the other team's collapse. Ohio's trio of Harrison, Schreiber and Baum (a combined six goals and one assist) continues to stake their claim among the most intimidating midfield lines in the league and Marcus Holman was the star of the game, snapping a two–game scoreless streak with a six-point performance.
As you can see, the Machine played very well. But now, we've got to talk Bayhawks, more specifically, a few notes on what a large-scale implosion looks like.
Let's fast forward to the third quarter, where with Brian Spallina out with a broken jaw, Brian Megill possibly saw an opportunity to take a run at that all-time penalty minutes record.
With the Bayhawks leading 9-7, Megill was flagged for a slash and unsportsmanlike conduct (I'm guessing for reacting unfavorably to the highly questionable slash call), leading directly to a Logan Schuss man-up goal. Unsportsmanlike conduct being non-releaseable, Megill had to watch as Ohio won the ensuing faceoff and ran a perfectly-executed hidden ball trick, with Marcus Holman draining a twenty-yarder that Kip Turner literally never saw coming. Just like that, you've got a three-point swing and an Ohio lead, all while Megill is sitting in the penalty box.
If you really want to understand Chesapeake's current state of affairs, but only have, say, five seconds to do so, cue up the faceoff at the beginning of the fourth quarter, where Jesse Bernhardt snags the ball from the wing, comes running down the field and immediately shoots from 12 yards out with no backup, Ohio ball. See what's happening here, people? As of right now, the Bayhawks are completely unable to get out of their own way.
About five minutes later, guess what happens? That's right, Megill heads back to the box, this time on a push call. Schuss capitalizes once again and Ohio's up 12-9. That Schuss goal leads to another Ohio faceoff win, which leads to yet another Schuss goal, then a failed Chesapeake clear attempt leads to a Holman goal in transition. The Bayhawks finally win a faceoff (on a violation) to stop the insanity, and what do they do? Throw the ball out of bounds 21 seconds later, just in time for the camera to cut to Dave Cottle, standing on the sidelines with his head in his hands.
Quick Week 6 Outlook
With all of this in mind, it's already time to move on: week six begins on Thursday, and some of these rosters have already undergone some considerable changes. It's a race to build momentum, and with an especially quick turnaround, team chemistry, short memories and proper hydration are king. Can anyone turn the corner in week six of Major League Lacrosse action? We'll find out very soon.