Last week, it was the America East conference. This week, 'Under the Radar' is diving into the Colonial Athletic Association. If the America East has been NCAA Men's Division I lacrosse's biggest disappointment so far this season, the CAA (along with the southern) might be its biggest pleasant surprise so far. Sporting a former No. 1 team and some underrated depth in the conference, the CAA deserves your love this week! This week, we're featuring Fairfield's Dylan Beckwith as our Under the Radar Player of the Week.
Under the Radar Player of the Week: Dylan Beckwith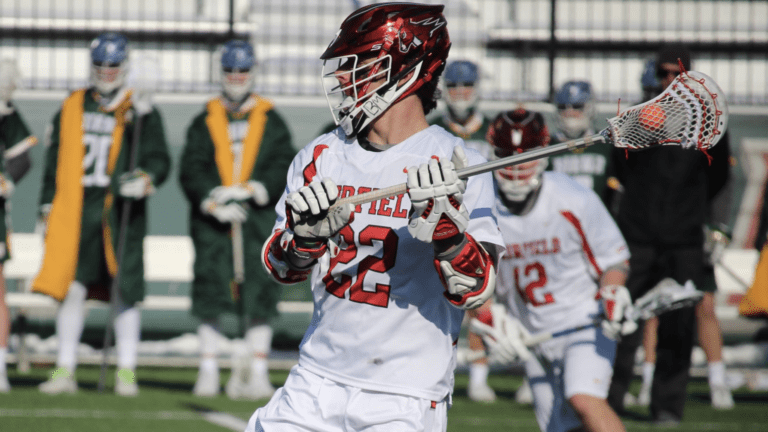 The CAA has had plenty of top-level players this season but it's the Towson boys getting talked about. Brendan Sunday is a stud. Alex Woodall was just drafted No. 1 overall in the MLL draft. A few other Towson players could get mentioned here too. But we're here to talk about under-the-radar players, and Towson is getting plenty of talk this year. So, let's dive deeper, into the murkier waters in the middle of the CAA. This week's Player of the Week is a former Rookie of the Year, who has transformed from a dangerous spot-starter into a full-time force to be reckoned with. Already a goal away from his 2018 total, Dylan Beckwith, the junior attackman from Fairfield University, has been a breakout star for the Stags. After averaging 27.5 points his first two seasons, Beckwith is already sitting pretty at 25 points after just six games this year, putting him on pace to shatter his previous high of 28 from his 2017 freshman campaign.

Fresh off four points in a 12-11 OT win vs Bryant, Beckwith has stepped his game up to a new level in 2019, both as a shooter and a distributor. His assist numbers are already one away from a career high, and he's on page to put up around 70 points. For a guy whose career best was previously 28, that's a huge jump. Dylan Beckwith has got more points solo than the other two starting attackmen combined, and leads the Stags in both goals and assists so far in 2019.

How's it paying off outside of the stat sheet? Well, the Stags (4-11 in 2018) have come out to a 3-3 start, and a win over Utah on Friday would mean they'd tie their previous win total after just seven games. With no ranked teams left on their schedule, Fairfield looks poised to grow and move on from a rough 2018, and it's hard not to argue that Beckwith is a huge part of that momentum so far in 2019. In the Stags' 12-11 comeback win over Sacred Heart, he put up seven points, including three straight assists on Fairfield's final three goals to take the late lead. It's been a hell of a start for him, and Dylan Beckwith has a chance to shatter his own career highs with plenty of season to go.