Today we are excited to announce that Easton Lacrosse has partnered with Lacrosse All Stars for the Grow The Game Tour. Before we get into the details, check out this special announcement video:
In order to fill everyone in on what this means for the tour and provide the best update possible, we've put things into a Q&A format below.
So, what does Easton's involvement mean for the Grow The Game Tour?
It means each tour stop is going to be better than we originally planned! The team at Easton has committed to helping us enhance and execute each GTG Tour event we hold. We'll be able to offer a FREE skills clinic put on by Easton athlete Mike Powell, fastest shot and accuracy competitions, new gear demos and there will even be loads of free Easton equipment up for grabs at each location.
It doesn't get much better than that! We're thrilled to call Easton Lacrosse a partner, and we can't wait to hit the pavement with the Grow The Game Tour later this month.
What's the Grow The Game Tour schedule look like so far?
We've locked in three stops so far.
Denver, CO; September 8
Missoula, MT; October 5-6
San Francisco, CA; October 20-21
Our Denver stop was a predetermined location based on our plan to attend the Duel In Denver, a US Lacrosse event taking place the same day (Saturday, 9/8). This will be a smaller GTG Tour event focused on one particular group in the Denver area, and we also hope to have a pre-game presence at the US Lacrosse event. Our other two stops were secured thanks to generous contributions from passionate lacrosse fans in the local Missoula and San Francisco Bay Area lacrosse communities.
How will you determine the other Grow The Game Tour event locations?
The other locations we visit are completely up to YOU! With just FOUR DAYS LEFT in our fundraising campaign, we still need your help in order to make more stops a reality. As soon as we reach our fundraising goal, we'll be able to finalize the Fall 2012 GTG Tour schedule and make an official announcement.
As of today, here's the GTG Tour Leaderboard: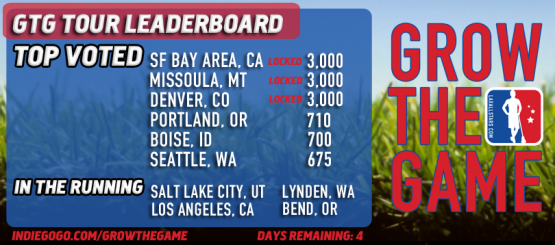 ——
Thank you in advance for helping us Grow The Game!