New York City has now claimed their second straight Empire Cup title, and after years of being the doormat of the Empire Games (the EC's predecessor), the City's region team rise is definitely something worth noting. I got to catch up with NYC's coach, Ben Kaminow (a Syracuse club player in the 80s), to discuss the team, and how the New York City lacrosse landscape is rapidly changing, and improving.
Photo Credit: Larry Palumbo – Coyote Magic Action Shots
In the past, NYC had always struggled in the Empire Games. Since the start of the Empire Cup, the NYC team has flourished. How do the two teams, and their selection processes, differ?
The two teams are different due to the different rules between ESG and the ESC. For the Empire Cup they allow graduated seniors to play, so boys that are 2013 grads were eligible this year. 2014s and younger will be eligible next year. The Empire State Games' oldest eligible kids were rising seniors.
Another reason for the differences in teams in the Empire Cup is the allowance of players to try out for any region, regardless of where they live, or go to school. We have been able to select LI boys if we chose to, where in the ESG you had to be a resident in the region you played for.
While there are some Long Island players on the team, the championship NYC squad still pulled a good deal of its talent directly from NYC. How has the lacrosse scene changed in the City over the last 5-10 years, to make this possible?
Just so it's clear, last year we had 6 (out of 23 total) non-NYC kids on the team, and this year we had another 6 (out of 21), so we do have a vast majority of NYC players.
The lacrosse scene has drastically changed in NYC in the last 5-10 years. Mat Levine started Doc's Lacrosse with 20 kids on a patch of dirt in Central Park in 1996, and today we have over 700 boys and girls enrolled in the program. This gives us a great base to work with. Also, many boys in the City go off to boarding school, so their level of play, and lacrosse IQs, grow. Playing in the Founders league for some of the best coaches in the country, the boys really develop.
Quite a few boys are also playing summer travel for the top programs around LI, Westchester, and Connecticut, which has raised their level of play as well. Also in the last 5-10 years you have seen many new PSAL programs start up. At some point, with proper coaching, these boys will truly develop and really improve their skills, but I feel we need to get to them at an earlier age to compete with the best of NY State.
Manhattan, the Bronx, and Queens all have Doc's programs, and Dan Sheff does a great job with the Brooklyn Crescents, and getting the younger guys involved. I believe Staten Island is trying to do a youth program as well. If the effort to grow these programs continues you will see the talent level increase.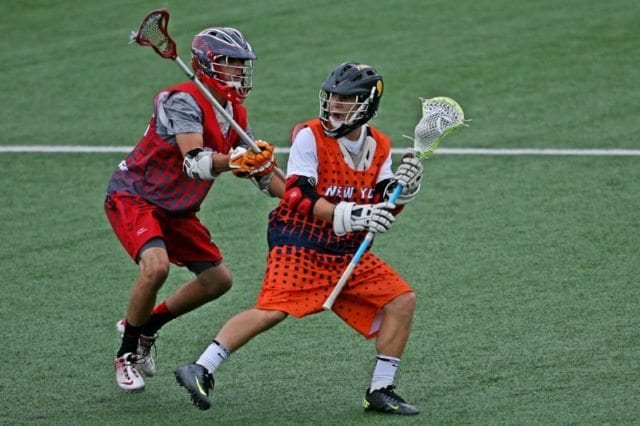 Is there a day in the near future where a team of 20 kids, ALL directly from NYC could compete, and win, the Empire Cup?
I could definitely see a point soon where the entire team is made up of NYC kids and we could win it all. We had four injuries and at least five 2016 boys that unfortunately couldn't play this year. The future looks great as the 2015 and 2016 boys especially are very strong. There are also some very good players coming up through our Doc's program. I know the Crescents have some players as well, and I do speak to Dan and we work together well.
All the boroughs need to help each other out, so we can obtain the goal of growing the game here in NYC. CityLax, with the help of fantastic volunteers like yourself, has made a huge difference both on and off the field. Being with Citylax from the inception, it is amazing to see how it has grown for both boys and girls. So I think the future is bright.
Did you have any NYC public school players on the team? How did they fare?
We had two public school boys on the team this year. Kevin Goshorn, who went to FDA, but is now at boarding school at New Hampton, and Noah Kramer from Stuyvesant, who unfortunately got hurt right before we were set to leave. Kevin played extremely well up in Syracuse contributing 3-4 goals and showing some ankle breaking dodges and hustle on defense.
Noah was definitely missed, he is a good dodger with great hands and vision. He will take his talents to Hamilton College after he graduates next year.
What is the biggest advantage that the NYC players have? How about the biggest disadvantage?
The biggest disadvantage NYC kids have is the ability to practice. While there are many fields on Randall's Island and Pier 40 and Lower Manhattan, access to the fields is tough. Soccer owns the permits. It is absurd how many fields they get. Mat Levine does yeoman's work to get what he can, but our Doc's teams average one practice a week. Not enough at all.
Suburban kids have goals and pitch backs in their yards, not to mention they practice together several days a week. Our kids are throwing balls against the walls in their apartments. One big advantage the kids have here is access to some of the best ex-college talent out there. There are many of these guys working in Manhattan that, when available, like to work with kids.
How did you go about changing expectations for the NYC region?
I think the kids changed the expectations for the NYC region. They are getting better and have raised the bar for the younger kids coming up. They see their peers going off to play in college and they want the same thing.
Who were the other coaches for the team? What did they bring to the table?
NYC couldn't do what we did the past two Cups with out my partner in crime Joe Fowler. Joe is the architect of our defense and knows how to get the best out of a player and make him better. His 30+ years of experience as a player and a coach have raised the level of play for many NYC players. A former all American defenseman from Hofstra, he has played for some of the best coaching minds in the game. Our goalies are a huge example for one. He has personally coached and mentored them on and off the field. Joe's lacrosse Rolodex is extensive along with his IQ. Our defense and LSMs were unreal. We were missing three boys as well. Joe and I have been coaching together for at least 10 years now.
Also roaming the sidelines was John Moser, who has helped run practices and works the box during the game. John brings his passion with him everyday along with son Chris a former empire player who helps warmup the goalies and leads the team through pregame stretching. This year I was lucky enough to add former Syracuse attackman, Kenny Nims who more than helped me with the offense and the overall aspect of our schemes. Great group if guys to work with.
What does next year hold for NYC? Will you be involved again?
I will be back next year! Games will be down in the NYC area and hope to get the dates out early for tryouts as well. Hopefully with an early announcement we will be able to draw more kids.