"Jim Brown was one of the greatest football players to ever grace the gridiron. But many say he was better at lacrosse."
That is the first line of a new article by Alisha Ricardi on ESPN.com. The article is about diversifying the sport of lacrosse. Exploring the growth of lacrosse in inner cities and the numerous implications of what it means to be a professional lacrosse player, Ricardi delivers some valuable information about the current state of our sport.
Throughout the article, Chazz Woodson's voice resonates as genuine representative of the game.
On finding success within the sport:
"Professional lacrosse is not very lucrative, so … everybody wants to be successful — black, white, other; it's hard to make that [monetary] connection with lacrosse," said Woodson, 28, who coaches lacrosse at Ransom Everglades in Coconut Grove, Fla. "The connection is you can get a great education and you can tap into a great network, and you can be successful in other arenas because of playing lacrosse. And that's a difficult concept for certain young people to wrap their minds around, especially when they don't see anyone like them doing it."
On the prestige of Jim Brown and Kyle Harrison:
"For whatever reason, you hear Jim Brown, and then you hear Kyle Harrison, and there's a big, big, big gap in between those two players," Woodson said. "So what we want to kind of do is take that gap and bridge it."
It is interesting to note that there actually have been a number of African-American collegiate lacrosse stars between Brown and Harrison, including Kyle's father, Dr. Miles Harrison, Rick Sowell, Brian Silcott, Billy Daye, Dr. Fred Opie, Bobby Horsey and many others, but the point that participation overall has remained low still stands.
(Editor's Note: One of the programs' mentioned in the article is CityLax, Inc. based out of New York City.  And Mat Levine provided some great quotes.  CityLax has its annual gala coming up on March 10th in NYC, so if you want to be actively involved in bridging the gap moving forward, consider getting involved, going to the gala or donating to CityLax!)
Head on over to ESPN.com and check it out. Well worth the read!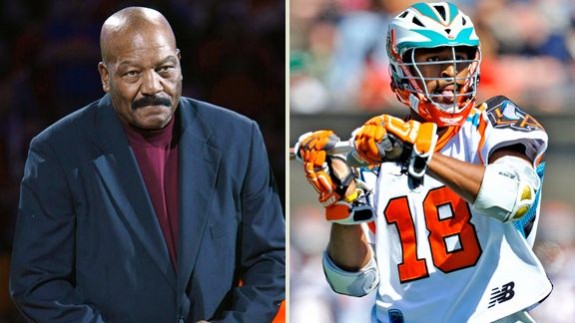 (Photos courtesy of ESPN.com)