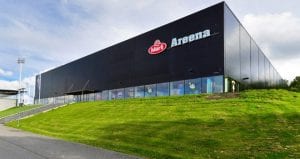 "The European Box Lacrosse Championships are a natural progression in the development of the indoor game throughout Europe. The European Lacrosse Federation saw nine European nations competing in the 2015 FIL World Indoor Lacrosse Championships and felt it was time to push to host our own quadrennial event.
With six European nations currently ranked inside the top 10 in the world, we are expecting that the first ever EBLC will be fiercely contested. Combine this with the anticipated number as many as 16 competing nations in EBLC2017, we are expecting this to be the biggest and most competitive international box lacrosse tournament to date.
Turku has a positive history of hosting large scale events, most recently the successful 2012 FIL World U-19 Lacrosse Championships. We are confident that Turku and Kaarina will host an event that everyone will be proud of and an event that will that help generate further growth and development of our sport in Finland and throughout Europe.
On behalf of both the European Lacrosse Federation and the host organising committee, we hope to see in you in Turku July 8th to the 15th in 2017.
Nähdään pian!
Sean Gibson"
[td_block_text_with_title custom_title="Groupings"]14 teams will compete for the first ever European Box Lacrosse Championships in Turku. Teams are divided to three groups, two of them being top groups based of current ranking, Karelia and Kalevala, and Granite group.[/td_block_text_with_title]
[td_block_text_with_title custom_title="Teams"]
Kalevala Group:
Israel, Ireland, Turkey, Serbia
Karelia Group:
England, Czech Republic, Finland, Germany
Granite Group:
Sweden, Poland, Switzerland, Netherlands, Austria, Slovakia[/td_block_text_with_title]
[td_block_text_with_title custom_title="Location"]Turku, Finland[/td_block_text_with_title]
We hope to see you at the European Box Lacrosse Championships!
[social_warfare]