Editor's Note: Welcome to Ryan Conwell's new series focusing on "Examining", well, whatever he finds most interesting each week in the NLL. Mark Donahue will jump in time to time, providing his thoughts and analysis from other matchups. We start with the defending champs slip up to New England in week one.
Going into the opening weekend of any sport's season, there are always questions. Often, there is a single contest that is used to mark this occasion and the hype machine is thrown into action for that game. While the league is full of compelling storylines, the default going into any given season is how the defending champs are going to fare.
As one successful NLL GM once told me, "Winning consecutive championships is the hardest thing in sports." For the record, that GM did not repeat that year.
Even though this NLL #FaceoffWknd did not have a standalone signature game, the defending champs did get to take the floor in one of the two openers. Fortunately for me, that meant they were up in New England where I would be able to catch it in person. I was actually most excited for the Swarm to open against New England for the main reason that they have turned into a great rivalry.
Examining: New England Black Wolves Knock Off Georgia Swarm
Last year, the Swarm beat the Black Wolves in three of their four meetings. This was actually a complete reversal from the 2016 regular season where New England won three of their four meetings. New England then capped these wins off with a one point win at home for a playoff win. So, out of five tries, the Georgia Swarm have only beaten the Black Wolves once in the Mohegan Sun Arena.
Examining: Roster Moves
With that as the backdrop, the Swarm's one road win in New England was also their most recent, a nine point drubbing towards the end of last season. But they were not going to be the same teams. Georgia was down Joel White to start the season again, who was integral to their playoff push, and they wouldn't have Jordan Hall, either. They also saw Mitch Belisle retire and they traded away Reid Acton. So while their highly potent front end was still mostly intact, how their defense and transition would hold up became a huge question mark.
Offensively, their biggest addition by far was getting Jesse King back in the lineup. So we knew Georgia was ready to score some goals, but how many would they let in?
On the other side, the Black Wolves completely rebuilt their defense and they tried experimenting a bit with their lefty side in camp. We knew their righties were solid with Shawn Evans, Kevin Crowley, Kyle Buchanan, and Seth Oakes.
Everything else seems up for debate.
Chad Culp retired, opening up a lefty spot. Brett Bucktooth also retired, which gave an opening on the D/transition side of the ball. They wound up letting go fan favorite Bill O'Brien, followed by Zac Reid and Derek Searle. 2016 Goalie of the Year Evan Kirk was then traded up to Saskatchewan for Aaron Bold. All this was done while they were already transitioning from Jim Veltman as their defensive coordinator.
This setup a game where the arguably most dangerous offense in the league was going up against a defense that was, for all intents and purposes, brand new. Georgia had some changes defensively and a few rookies to work in, but was still in a much better spot on paper. Seeing how all this shook out had me more than interested going into the game.
Examining: The Jets
So what came out of it? New England is FAST.
The floor speed of the Black Wolves' new defense was something that you could not help but notice. In years past, anyone not named Sheldon Burns was usually content to get the ball up to Shawn Evans and then let them take over.
And to be honest, who isn't going to say that's a good plan? It's not far off from what they are still doing. The difference is Georgia's forwards were on their heels every time Aaron Bold had the ball.
Bold even said after the game that in his opinion, the Black Wolves may be a little more athletic than his old team, the Rush, who have epitomized a defense that knows how to use transition effectively. New England's first few goals were because of this, but it will be interesting to see how this works through the season.
Examining: Two-Man Game
Georgia's offense did start fairly rusty, but by the end of the first quarter, things were clicking. Black Wolves coach Glenn Clark noted after the game how much they struggled containing the two-man game from Georgia.
Most of the time, this meant Randy Staats and Lyle Thompson.
To be fair, that's one of the toughest duos to defend in the world. But Staats routinely was getting inside and hitting posts, which created some second chances for the Swarm. With all the attention their righties get, Georgia still does a great job keeping their lefties as a major threat through the game.
King partnering with Shayne Jackson was a great combination all game long.
Their defense fell victim to matchup problems more than anything. They kept Kyle Buchanan quiet, but had no answer for Crowley or Evans once they could force a switch from the original assignments.
Surprise Results
On the Lacrosse All Stars twitter account, this game was actually noted as the biggest surprise to our followers. I still think Calgary's anemic offense intrigues me a little more, but Georgia falling in Week 1 was not expected.
I do not think the Swarm are far from hitting their stride and will be extremely dangerous this year. I think people are also going to be taking New England a little more seriously, too. If their defense can keep building on this first outing, while Shawn Evans turns in nine points nights, this could be a special year for the Black Wolves.
Week TWO!
Up next this weekend are only two games. Vancouver and Calgary will dive back into their classic rivalry, while the Rush and Rock open up the Air Canada Centre for business. As much as I want to see how the Rush handle their first game against a bitter Rock team (who lost their opener), Calgary and Vancouver has my attention right now.
Curtis Dickson, Dane Dobbie, Wes Berg, and now Zach Currier should be lighting up the score sheet every night they take the floor.
They right up there with last year's New York Lizards (MLL) for the "HOW ARE THEY NOT WINNING MORE GAMES?!?" category of teams. These two have been more or less trying to avoid the Western basement and this game absolutely matters for both of them right out of the gate.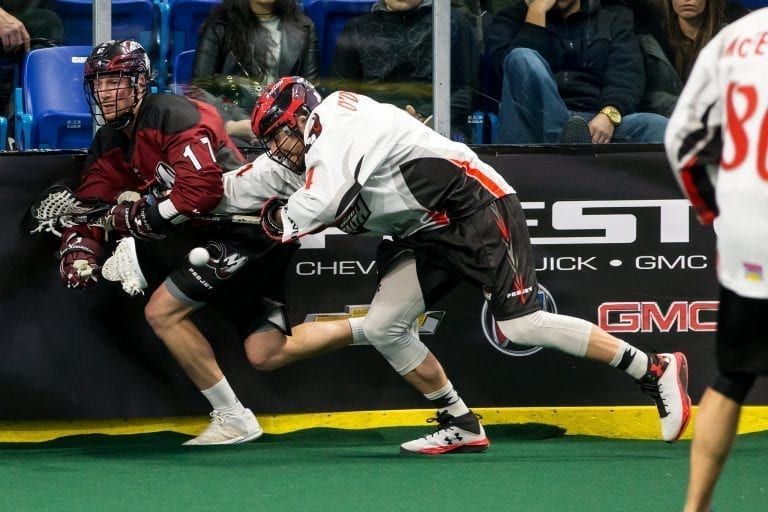 Vancouver lost their opener big to Colorado, so they are already down a game in the division. Starting 0-2 is not a good trajectory.
Both teams are also trying to cement a true goaltender for years to come.
Each has keepers that have shown starting ability, but they need to keep it up all season long. Also, how can you not want to watch a game that will have Duch and Dickson going back and forth?
There WILL be highlights coming out of this one.
More from Week One!
Authored by Mark Donahue
Mammoth Find 1st Win Without Govett, to No Surprise
Not that notable, really, but it looks like the Mammoth are moving just forward without Steve Govett, the man who built the Loud House and recently left to run the ship in San Diego.
As Ryan mentioned, we took a poll on LaxAllStars twitter asking people what they were most surprised about from the week. Colorado taking down Vancouver was dead last. The Stealth made no big moves in the offseason to improve the offense. While I love Schuss, Small, Duch, and McCready, for whatever reason they fail to produce together and run the offense with the flow expected of such wily vets.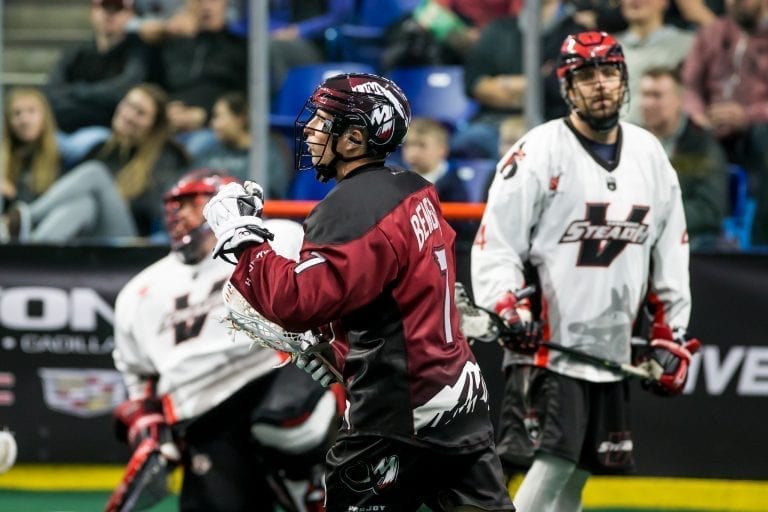 I liked what we saw out of Chris Wardle (4+1), a guy continuing to really make a name for himself at this level. Lone rookie Ryan Lee made himself at home early and came out with a 2 goal, 2 assist night. Ryan Benesch is such a great fit to quarterback the offense and we saw just about everyone out the front gate, except Stephen Keogh, collect goals or a handful of apples.
Dillon Ward had their number. Rhys Duch put 11 shots on goal, without a single stroke of success. Ward made a staggering 48 saves, including 18 in the second quarter.
The Stealth went with Tye Belanger to start and was able to only turn away 23 of the 37 he faced, before Brodie MacDonald came into to clean up. MacDonald took on slightly over a quarter of action and kept the Mammoth to a lone score in the entire fourth quarter. He's got to be the look this weekend for facing arch-nemesis Calgary, hot off a brutal beatdown in the East.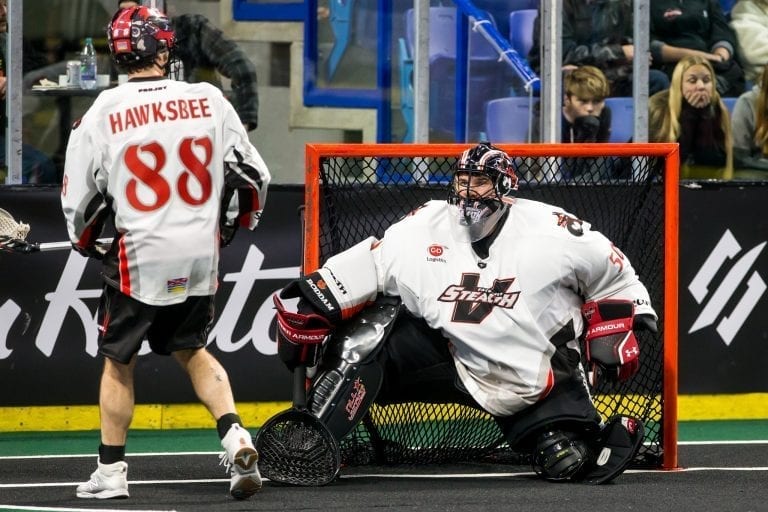 Reloaded Rochester Lays the Boots to Calgary
It is an absolute honor to have Cody Jamieson back in the lineup after working so hard to rehab the leg injuries. He may have only scored once, but he's like a shark in the water and steals so much of the defenses attention.
Speaking of getting in their heads, Matt Vinc gave Calgary nothing to work with all night. An absolute world-class performance, Vino made 40 saves, shutting out the likes of Dickson, Digby, Dobbie, and Berg, and only allowing 6 total.
A pair of Buckeye rookies made a strong case for themselves in their debut. Jake Withers owned the draw circle, losing only 4 of 22 attempts to a trio of Roughnecks. Eric Fannell filled in just perfectly in that lefty gap, collecting 3 assists in his start. Their college rival turned teammate, Kyle Jackson, came into the season absolutely explosive, going straight at the rack multiple times in the first period to quickly collect his only two goals.
Having weapons including the pair of field generals in Dan Dawson and Jamieson out the front gate, backed by a close-out defense and Vinc's signature goaltending makes the Knighthawks look a whole lot more like they did in the 3-peat days. I hope, for the sake of lacrosse, they don't lose the momentum or catch the injury bug. Rochester might be the team to keep an eye on this year.
No one took it easy on Dane Dobbie. Every chance anyone on the defense had to touch him up early, they took it. It worked, on just about everyone. I just mention Dobbie because to me he looked banged up already and on the wrong end of plenty of aggressive checks. Any real opportunities were through transition goals and not a single play put up double-digits. The Knighthawk offense allowed to play contained in and confident, pretty much keeping the house clean and clear.
Christian Del Bianco looked strong enough in cage, but only really got the chance after the game was already gone. Based on Malawsky's post-game comments, I expect they'll stick with Frankie Scigliano for a while, but these problems are nothing new for them
Better to take that kind of whooping early in the season so you know what to fix.