For this installment of our Fireside Chat Interview Series, CW sits down to talk lacrosse and life with Jordan MacIntosh. JMac plays for the Minnesota Swarm in the NLL, Rochester Rattlers in the MLL, and played his collegiate ball at NCAA D3 RIT. MacIntosh is a Canadian national team baller as well, and he can do it all!
The Minnesota Swarm are looking strong so far in 2013. What is this team capable of this season? Who is one new player you couldnt' wait to play in games with, and why?
I think we have a championship contender this year in Minnesota. We have a great young group of players, solid goaltending, and a top notch coaching staff. I think if we play to our strengths throughout the season we will be able to build on our success from last year.
I'm excited to play with all of the new rookies. I've always played against Brock Sorenson so I'm excited to be on his team for a change. Shayne Jackson is a great player with some of the nicest hands I have seen and Kiel Matisz and Alex Crepinsek are two guys I have played with quite a bit, so I'm excited to be back on the floor with them. The entire rookie class is solid I'm honestly excited to see them all out there.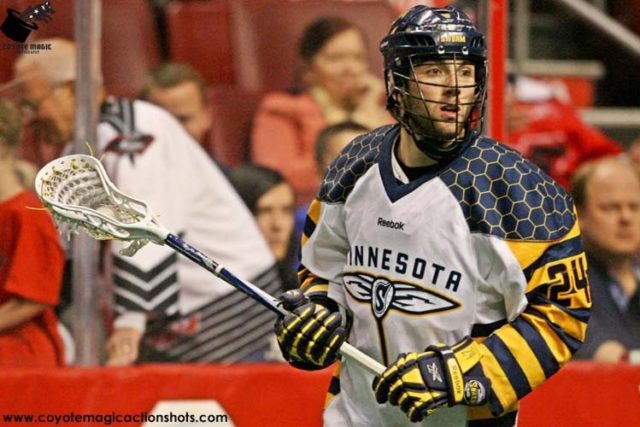 Having played a lot of box lacrosse in your life, what advice would you give to an American college player who has never played the game before, but might want to play after college? What would you have said to your teammates at RIT if they had asked you this question?
I would probably tell them to be patient. Most people don't understand that the difference between indoor and outdoor lacrosse is pretty substantial. It's difficult to transition smoothly from one to another. I struggled adjusting to the field game, but all it takes is patience. In order to make the jump from field to box I think an American player needs to use there strengths and adapt to the flow of the box game.
I've noticed a lot of American players have excelled by playing the transition position which allows them to use there athleticism to there benefit. I think with the new collegiate rules it will help American players adapt to the fast pace of box lacrosse. I see a lot more run and gun in the college game which translates well to box.
You're a mesh guy, and renowned for restringing your stick before every game, but I'm trying to convince you to get on the traditional train. What are some of the differences you've noticed between leather and mesh? Any motivation to learn traditional yourself?
I wouldn't say I restring my stick before every game, but it's very close, as I am always playing around with my sticks. The leather has been great so far, I find it holds the ball far better than a mesh stick and really Allows for great control in tight areas. As for stringing them, I'd love to learn but it looks like a lot of work!
How has the experience with Under Armour lacrosse equipment and Team 22 been so far? Thoughts on their new face masks for box? What was the Bahamas trip all about?
The team 22 experience has been pretty outstanding thus far. They have treated me very well and I believe the product they are putting out is some of the best on the market. The design team has done a great job at keeping things simple, yet very effective. The box face mask is great, I'm using one right now and it allows for very clear vision without sacrificing safety.
The Bahamas trip was kind of a team 22 retreat put on by Curt Styres, and it allowed us to meet all of the people involved on the company, get all of the athletes on board, and get to see new product and ideas for the new line. We also did a lot of work on how to grow the brand through appearances and camps, along with a couple photo shoots throughout the week.
Will you be playing with Team Canada in any more events in the near future?
I sure hope so. I'm not certain what events they have planned for the upcoming months but I look forward to try outs and hopefully getting another chance to wear the red and white.
Are you coaching at all? What do you do when you're not playing lacrosse?
Right now I am very involved in the game. I currently live in Minnesota where I am a varsity coach for East Ridge high school. I also do some clinics out here in Minnesota through the Swarm. In the summer I am traveling all over doing camps, playing MLL and playing MSL. When lacrosse season is over I am usually doing private lessons and clinics with local players. When I do get some free time I like to hit the links and go on vacation.
Who was your lacrosse idol growing up? Who taught you the most about the game directly?
I had a lot of great mentors as I have grown up in the game. When I was young my coach, Rob MacDougall, got me into the game and taught me a lot for a young kid. Growing up I had a coach named Stu Brown who is a great friend of mine that was a great coach and helped to get me to the next level. Throughout junior lacrosse I had the same coaching staff ( Shawn Cardy, Craig Hedley, Mark Baldini and Glen Little) they were some of the best coaches I could have asked for they taught me so much and really helped my game.
When I got to RIT the whole coaching staff was brand new and I was pretty nervous because they didn't know much about me. They turned out to be the best field lacrosse coaches I have ever had and some of the best in the game if you ask me. If you look at there record since arriving at RIT I think it speaks volumes about how good of a job they have been doing.
Lastly, my friend Merrick Thomson has always been a great mentor for me. He was an amazing player that unfortunately had to retire because of concussions. He is someone I can call or text anytime and he usually will help me out with any questions I have. As you can see I have had some great people influence me in my career. In terms of lacrosse idols, it has always been the usual suspects, JT, John Grant Jr, the Gait brothers, Tom Marechek and Brodie Merrill are all guys that I have looked up to.
What do you think of the NALL? Are Canadians excited that more Americans are showing an interest in box?
I think it is great that the game of box lacrosse is becoming more prevalent in the states. I think that the skills you can learn in box translate really well to field lacrosse and make players far more dangerous when they get back to field. It's always exciting to hear the game growing, especially the game I grew up on. I hope the league continues to succeed and players take more of an interest in box lacrosse.
What's the single most exciting thing about being a pro in the NLL and MLL? Are there any moments where you catch yourself thinking, "Do I really get to do THIS, and get paid?"
I think the first time I had that feeling it was my first NLL game in Colorado. I remember coming out of the tunnel onto the floor in front of 18000 people. It was one of the best experiences of my life, that's when I really thought wow I've made it.
Now that I have finished a year in the NLL and MLL I think my favorite thing is traveling to the different cities and stadiums. I love playing in the big stadiums and checking out cities I would have never been able to see.
If you could make one of your "lacrosse wishes" come true this year, what would it be?
I would have 3 wishes, and all would be for 3 championships: 1 NLL, 1 MLL and 1 MSL. That would be the perfect year in my opinion.