Editor's Note: In our newest Fireside Chat (that series has been HOT lately!) Connor Wilson sits down with Chris Meade of Lacrosse Recruits to talk about blue chip recruit signings, box lacrosse, the MCLA, summer plans for Lacrosse Recruits, how the game has changed and SO MUCH MORE!  Chris is an absolute expert when it comes to getting recruited as a lacrosse player and student, so listen up and take notes!  As an interesting side note, both Connor and Chris played lacrosse at Wesleyan University in Connecticut.
Sounds like Lacrosse Recruits has some BIG things in store for the Summer recruiting camp circuit!  Tell us a little bit more about how Super Sophs is going, and if you're adding anything new this year!?!?!  I love those Vineyard Vines shirts from the Super Sophs event!
Over 50 2014s have already verbally committed to colleges.  Man, the recruiting process is starting earlier and earlier each year!  The chaotic recruiting atmosphere has created a need for straightforward high quality events that benefit the college coach and the high school player. We feel like Super Sophs has filled this role over the past three summers. In our first year of Super Sophs, we pushed the envelope by creating a showcase that focused on Rising Juniors. Now, it is a respected stop on the recruiting trail.
This summer we are adding Super Sophs Girls and Fab Frosh Boys. These two events are natural progressions. Both days will draw top talent and draw top D1 assistant coaches to run the teams, give instruction, and of course, recruit.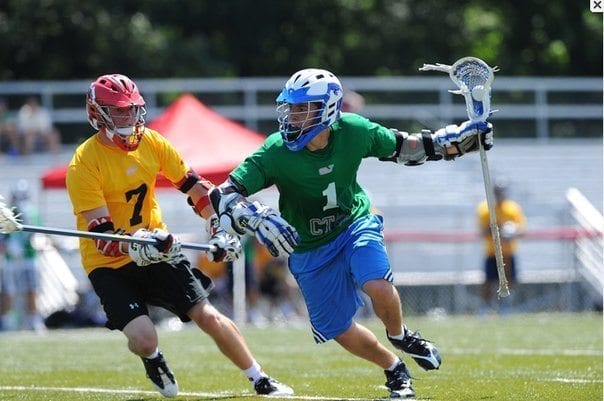 For more photos of Super Sophs, check out Lacrosse Magazine.
Have any of the LR users committed to, or been accepted to, any notable schools? Where are some of your top players headed?
Chris Meade: At this point, I can't even give you an, "oh, we have some players here, and we have some players there…" because our players are going to top tier D1 programs (like some of the earliest 2014 commits), to the Ivies or NESCACs (there are recruiting classes where we have over 50% of their recruits) and to brand new programs like Centre, Mercer or Albright.
We are exceptionally lucky to have such an active group of members who have separated themselves from the rest of the pack by their hard work and diligence in the recruiting process.
With more and more HS players coming out every year looking to play in college, how competitive has it become for those top 20 D1 roster spots? Are we going to see a greater concentration of talent at the top? Or will the talent spread out more? Basically, will the gap between D1 and D3 increase or decrease? (this is all assuming NCAA growth at the D1 level will remain slow, which is a big assumption)
Chris Meade: We are following a few trends right now:
1) Stud Athletes are being picked up early – Lacrosse players who are in the top 1% athletically are going to be recruited during their freshman spring, summer after freshman year and then their sophomore fall. There is a very small group of players that have matured physically and they are anomalies in the recruiting process.
They are being picked up earlier and earlier. We are one year away from a freshman verbally committing.
2) The Ivies are getting put in a tough spot. (Immediately a reader can point to the recent Harvard recruiting class with Jahelka and Fischer and say, "oh no… that isn't true…") The reality is that if players like Jahelka or Fischer were going through the recruiting process today, they would have had offers from Duke, Hopkins and UVA in fall of their sophomore year that they might not have been able to pass up. If you are a parent, are you really in a position to roll the dice and say you are going to take your chance a year down the road?
Probably not. You are going to take the sure thing with Duke.
3) More and more smart kids are playing lacrosse.  And… more and more of them want to go to great schools. The pool of players interested in Ivy, Patriot and NESCAC schools has never been larger. When I go back and watch Wesleyan (my alma mater and Connor's) play lacrosse, I am in amazement. 8 years ago we were fighting to fill roster spots. Today they have a full roster of 45 players. The same at Amherst or Tufts. The funnel of SMART kids who want to play college lacrosse has never been this competitive.
I was accepted into Wesleyan in 2001. This is a shot in the dark, but the kids in my recruiting class would have needed an extra 100 points on their SAT Math & Verbal as well as an extra 3-5 points on their GPA to get into the school in 2011.
Marty McFly: Wait a minute, Doc. Ah… Are you telling me that you built a time machine… out of a DeLorean?
Dr. Emmett Brown: The way I see it, if you're gonna build a time machine into a car, why not do it with some style?
4) The growth of NCAA programs means that more kids can play college lacrosse. There are more great options to play a sport that you love at the college level than ever before. University of Tampa? Yes please (they get an A+ for nightlife). Or how about High Point University? Yes please (amazing golf and the best deals on furniture).
Seriously though… The growth is giving more kids than ever a chance to play lacrosse in college and enjoy what I often say was the best time in my life.
What role can or will the MCLA play in the growth of the sport?
Chris Meade: I think it is one of the best things for the game of lacrosse. It is a proving ground for the game at a college level that, hopefully, will make colleges and universities realize the need to add more NCAA programs. The game is 12-15 years away from being a national sport on the collegiate level.  The MCLA will be the place where skeptics are won.
Do college coaches want to see film of a player playing box lacrosse if they played in that arena?
Chris Meade: Yes of course. Coaches really want to see players who "wow" them in one of the following areas:
1. Athleticism
2. Lacrosse IQ
3. Pure Skill
4. Grit.
A coach can see all of that (or not) when a player is playing box.
Will we start to see more European players playing at US colleges?
Chris Meade: At some point. There are just so many barriers that keep that from occurring – Visa issues, American private education costs, deciding to steer clear of national education programs in home countries, etc.
Generally, the quality of play in Europe is low compared to high school lacrosse in the US. This isn't a knock, it is just where the game is at this point. It is traditionally a women's sport and there aren't too many men's players who can play at the NCAA level (besides on the National Team levels).
You will gradually see more European players in the US. I think the majority will fall into two categories; truly exceptional athletes or extremely wealthy.
What is the biggest change in lacrosse that you have noticed since your college career ended?
Chris Meade: Travel club lacrosse. It has changed the face of the recruiting process and pushed the envelope of playing for your high school in many areas.
There has also been an evolving professionalism that has never been seen before in lacrosse.
Thanks for the frank and informed answers, Chris!  I think I learned as much as anyone!