Everyone knows Matt Danowski… Duke legend, Long Island Lizard MLL star and Warrior rep.  This guy has as bright a future as anyone in pro lacrosse, so let's learn a little more about how he got there, what he's been up to and how things are looking down the road.
LAS: When you played for your father, John, at Duke was that a weird dynamic at all?  How was your relationship in a player-coach sense?
Matt Danowski: When I played for my father at Duke it was really natural and there was no real weird dynamic at all.  I think, given the circumstances that we were under, we had too much else to worry about than our relationship.  It was player-coach on the field and father-son off the field.  That's what we told the team it was going to be and that's how it was.  If anything, I think I was able to bridge the gap between what he wanted out of the guys and how the guys took it.   Any time a new coach steps into a program he has to implement his way of doing things and his culture, so I think I was able to bridge that gap between him and the guys.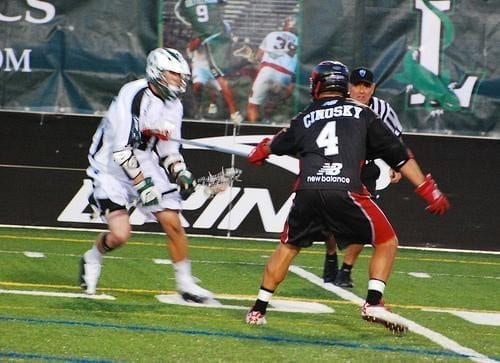 You wore the #40 while at Duke and now with the Lizards.  What special meaning does your number have for you?  or is it just something that "stuck"?
I wear number 40 to honor the late John Krumenacker.  John was the best lacrosse player in the history of Farmingdale High School and went on to be a 4x All American at Johns Hopkins, who sadly succumbed to a bout with cancer that caught everybody off guard.   John's brother, Buddy, is one of my father's best friends, my godfather, and a legendary football and lacrosse coach at Farmingdale so instead of retiring John's number 40 they would give it out to a senior that resembled John's characteristics both on and off the field.  After being lucky enough to wear 40 as a senior in high school, I brought it with me to Duke and now on to the Lizards.
As a Daler, you played with some pretty unreal players in HS.  What was it like growing up on Long Island playing against the best day in and day out?  How important do you think growing up in a hot bed area is towards success on the field?
I was really lucky in the sense that I grew up with a core group of friends that wanted to excel in a number of sports, not just lacrosse.  We all played football in the fall, basketball in the winter, and lacrosse in the spring.  It wasn't like it is now with kids playing lacrosse year round as their only sport, and I attribute a lot of our success to playing those other sports together.  There's no way you can compare a lacrosse fall tournament to being in a locker room during halftime of a championship football game, and that bond that we shared through times like those made us better on the lacrosse field.
When we did play lacrosse the competition on Long Island was always great but it wasn't just that.  We competed within our own team at practices more than anything.  I think that helped us separate ourselves as we got older.  We used to have battles in practices; offense vs. defense.  No one wanted to lose in any drill and that was a big part of how we played.
Luckily we did grow up in a hot bed of lacrosse but I don't think you have to be from Long Island or Maryland to get to the next level.  Yeah, a lot of lacrosse players come from Long Island but lacrosse is everywhere now and there are better coaches across the country now, more than there has ever been, so I don't think the hot bed concept is a key to getting to the next level anymore.
You describe your pocket as having a lot of "power," not whip. I like that. Mind if I start using the expression?  But really, explain why you like to have a lot of power in your wand. How does it complement your shooting motion and could anybody pick up your stick and throw with it? Or would it be foot-level pass City?
Absolutely you can take the power expression, let's leave whip in the past and continue on our "power movement."
I actually started stringing my sticks the way I do because in high school I used to hate when kids would pick up my stick and mess with it so I started stringing it so only I could play with it, in turn the kids on my team stopped messing with it.  It's changed a little over the years but I like to string my sticks with what I call a "transitional pocket," meaning that when I protect my stick with one hand the balls sits at the bottom but when I go to shoot the ball sits under the U of my shooting strings.
It also helps me with quick release feeds.  Playing so long with Zack Greer, you never know when he's going to be open so I have to be ready to feed at all times.  So to answer your last question, I'm pretty sure it would be foot-level city, just as planned.
Are you trying to play more box lacrosse? Some Americans graduate from college and go boxla crazy. Are you one of those guys? Casey Powell got into the box game later on, so you probably can't rule it out, right?
I am actually trying to play in the NLL this year but it's not easy.  I was originally with the Mammoth but between finishing my Master's from Duke and traveling back and forth to Colorado, while not playing very much, I just couldn't do it anymore and getting my Master's took precedent over indoor lacrosse.  Subsequently, I got traded to Orlando and then Orlando traded me to Rochester where I am currently under contract.
Unfortunately, Rochester practices during the week outside Toronto and I live and work full time on Long Island so it's impossible for me to get to practices which doesn't bode well for my playing time.
I think box lacrosse is a great game and I think Americans like it so much because it's so fast paced and the league is run very professionally so I think you'll see more and more Americans try their hand at it as the years go on.  You look at Casey Powell, he got into the game a couple of years ago and is now one of the top 5 players in the league so I'm hoping that even though I've never really played I can make the transition in to the NLL eventually.
What did you think of Duke's uniforms last year? Are you praying for a murdered out all black (or maybe Matte green) Lizards helmet next summer? The all black LI lids a couple years back were something special!
The black Duke uniforms last year were a lot to take in, I personally prefer a more simple style, but it worked for them so who am I to judge?  I would love a matte black Lizards helmet but sadly I don't think I'll ever see that unless I get Liver to make one for me in the warehouse out in Michigan.
I think it's time for a uniform change in the MLL, I think teams need to take a little more ownership of their style and create uniforms that aren't cookie cutter across the board.  I'll take control of the Lizards uniform and make something fresh!
What's the experience been like working with Warrior so far?  Those Warrior guys eat, breathe and sleep lax. We all pretty much do the same thing, but do you ever get tired of that kind of lifestyle? Do you ever need to get away from the game? Spend a week without a stick in your hands?
Working for Warrior so far has been unbelievable.  I work for the newly developed Sports Marketing team with Chris Fiore in the tri-state area and I think we have had a huge impact for Warrior/Brine.  I mean my job is to get out in front of kids and talk to them about the world's greatest lacrosse company, how hard could it be? But seriously, they have done so much for me and I am so grateful for Warrior not only allowing me to work in lacrosse but to also be a part of the Player's Club, it's been awesome so far.
I definitely need to get away from the game; after the summer ended I put my stuff in the basement and didn't pick up a stick for a month or two.  You need some time off to re-energize and step away from it all.  Not just because it's a long season and you're beat up but to regain that spark for truly wanting to play for the simple fact that you love to play.
What are your favorite sports teams? One team per sport, major sports (NFL, NBA, NHL) only, and baseball… I guess.
My favorite sports teams go as follows: Giants, Knicks, Islanders, and Yankees.  Tough one for me G-Men this past weekend, what was with Eli's stumble dive, slide my man.  No doubt he would have led the Giants to a TD if he didn't fumble.
You a video game player? Current game of choice?
I honestly haven't played a video game since college.  I bought a PS3 last year and it's just collecting dust in my room.   I used to be a big college football video game guy, now I guess everybody loves to play Call of Duty but I haven't gotten into it yet.  Maybe I'll make that my New Year's resolution.