Our latest #LASGiveaway features a brand-new gold Flight 22 lacrosse shaft from Powell Lacrosse. Retailing at $95.00, here's the scoop on the Flight 22 according to Powell:
The Flight 22™ is among the lightest handles on the market. Made from our 7U1™ custom advanced alloy, this shaft flat out feels like it floats in your hands.  But this thing's not just feather light and lightning fast, it's stiff.  Flex isn't for everyone. Some players prefer an unbending handle because it provides an unrivaled feel and a more consistent release point on shots and passes.  The Flight 22™ was created for the stick wizards that like to play fast and need something that plays true and is always reliable in the clutch.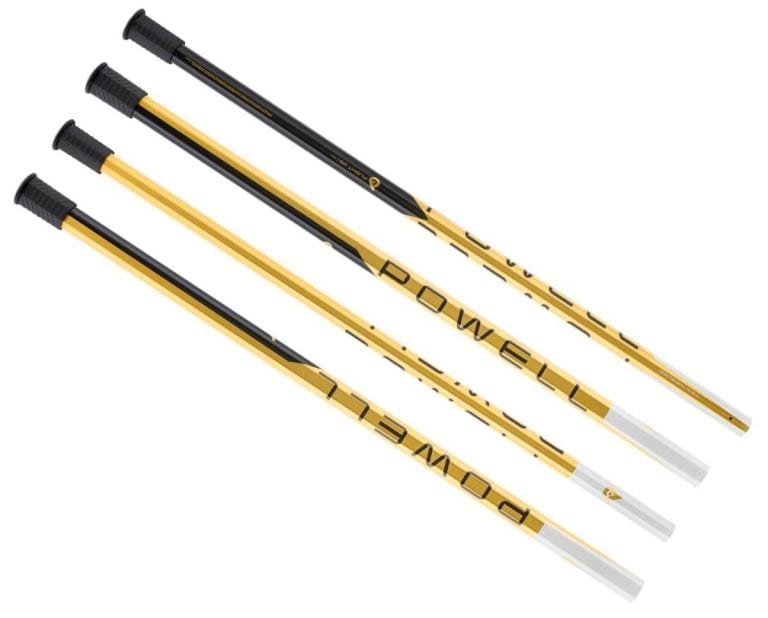 The deadline to enter is Wednesday, September 9th at 12AM EST. Go get it!
[mks_col]
[mks_one_half]
Here's a closer look at this week's prizes:
(1) GRAND PRIZE WINNER wins a Gold Flight 22 Shaft from Powell Lacrosse

(5) RUNNERS UP receive $10 to spend in the LaxAllStars.com Shop

How to win an #LASGiveaway:
1. SIGN UP using the handy-dandy form on this page
2. EARN more entries by following the instructions on-screen
3. STAY TUNED for our next giveaway announcement to find out if you won
Frequently Asked Questions
When does the giveaway end? Our giveaways always end when the clock strikes midnight, but be sure to check the #LASGiveaway announcement for details on which day.
When will the winners announced? Winners are announced when we launch the next #LASGiveaway the following week.
I can't see the form– is something wrong? It is best to access the entry form from a Windows, Android, or iOS device using Chrome or Safari as your browser. Try clearing your cache and cookies if it still doesn't work, and if all else fails, you know where to find us.
Will you pick me? Sorry, we don't play favorites. Every winner is selected at random!
When will I receive my prize? Winners can expect to their prizes to arrive within 10 business days once they've provided a mailing address.
[/mks_one_half]
[mks_one_half]

[/mks_one_half]
[/mks_col]
[mks_separator style="solid" height="4″]
LAST #LASGIVEAWAY RESULTS
[mks_col]
[mks_one_half]
Our last #LASGiveaway featured a Burn Lacrosse Head as the grand prize and 10 bucks in the LaxAllStars.com Shop for 5 lucky 2nd place winners.
Special thanks to Warrior for hooking it up!
[/mks_one_half]
[mks_one_half]
It's time to find out if you won!
Grand Prize
Burn Lacrosse Head and Burn Mesh

Jameson Matinho

2nd Prize


LaxAllStars.com Shop Credit

Carson Boyle, Antonio Zelaya, Donald Byers, Michael Hughes, Brad Boyle


Congratulations to our winners, and a big thank you to all who participated!

[/mks_one_half]
[/mks_col]
[mks_separator style="solid" height="4″]
Spread the word about this week's #LASGiveaway!