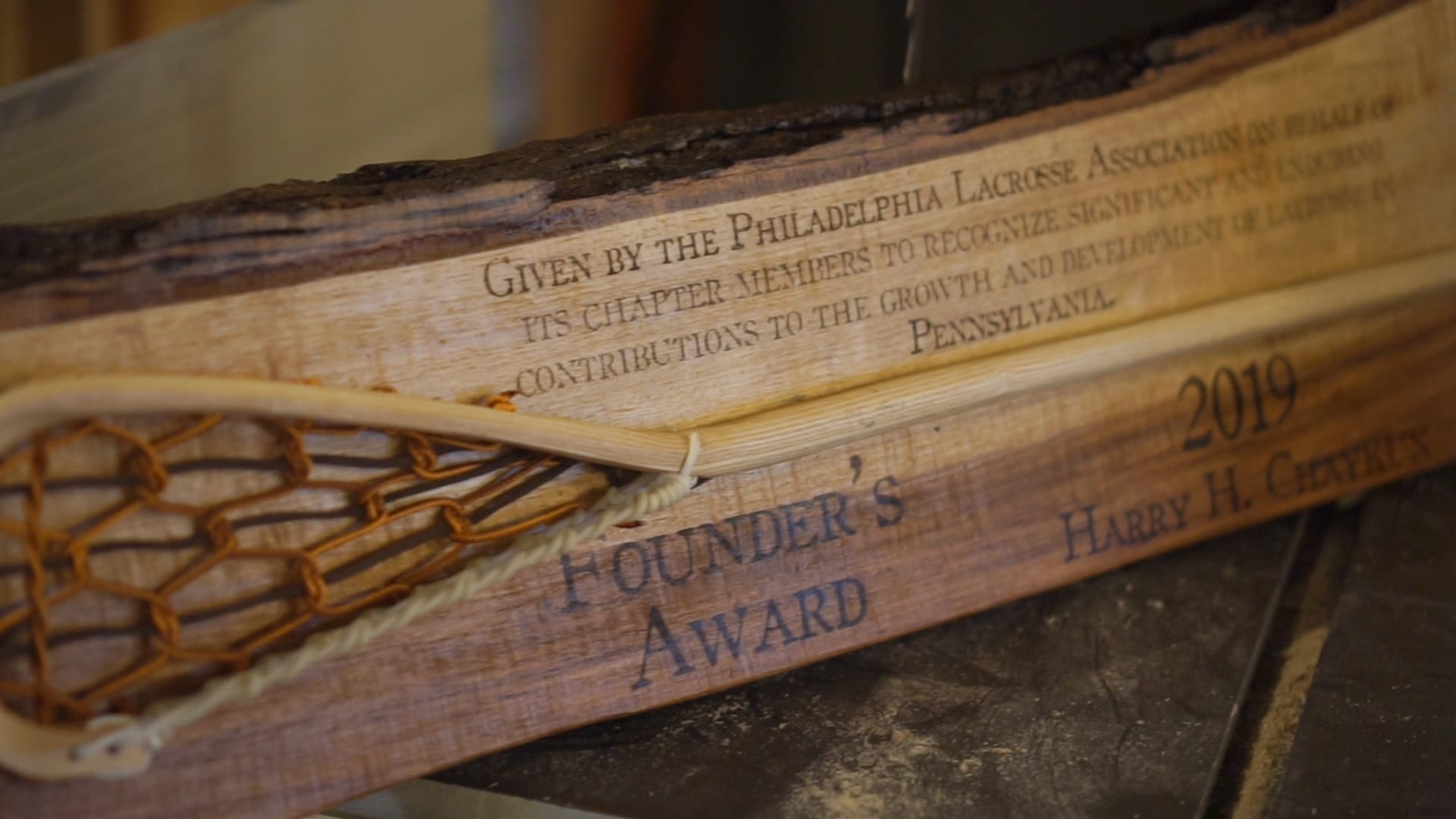 Hello, everybody. Welcome to the wood shop. My name is Justin Skaggs, I'm the lead stick maker at Skaggs Wood Works and curator of Wood Lacrosse Sticks. Today, I want to show you guys a project that I did for the Philadelphia chapter of US Lacrosse involving the Founders Award.
Founders Award Plaques: US Lacrosse (Philly Chapter)
First of all, a special shout-out to Traditional Lacrosse, who actually provided the small, 24-inch mini stick that is a really special thing that they make. Evan and Lawrence over there, they're just exceptional. They crank them out and the detail is ridiculous for how small it is. So, we took one of those and we mounted that to a large piece of live edge hickory. How large? This thing is actually an inch and a half thick. It's rough cut, and the way that we kind of gave it a polished look while still keeping all its rustic charm was to give it countless, countless and many more countless coats of polyurethane. And then, we actually used the laser engraver to burn through all of that, creating a contrast between the glossy, smooth finish that you would get from so many coats of poly back down into the rustic nature of just the burnt and exposed wood.
We then mounted the stick from Traditional Lacrosse. Obviously, we took some time for pencil work to figure out where everything was going to go before, but once that whole thing goes together, it really is a very imposing thing for someone to hold in front of a crowd. It's not light weight, and it's meant to be something that you actually have to hoist up. Anything I make, I really want it to be substantial, and I think we really nailed it with that one.
These are only available for the Philly Chapter of US Lacrosse. I don't even have that wood here, so please don't blow me up for requests, but if you've guys ever want anything special and unique, we'll make something special and unique for you. Visit Wood Lacrosse Sticks to check out some of our other products. Until next time, take care. Keep LAXin'.