With a huge save in the finals seconds, the Syracuse Orange defeated Army 10-9 in a great NCAA Division 1 men's lacrosse match-up inside the Carrier Dome on Sunday afternoon. It was a physical game with an entertaining up and down rhythm that kept fans on the edge of their seats until the final buzzer.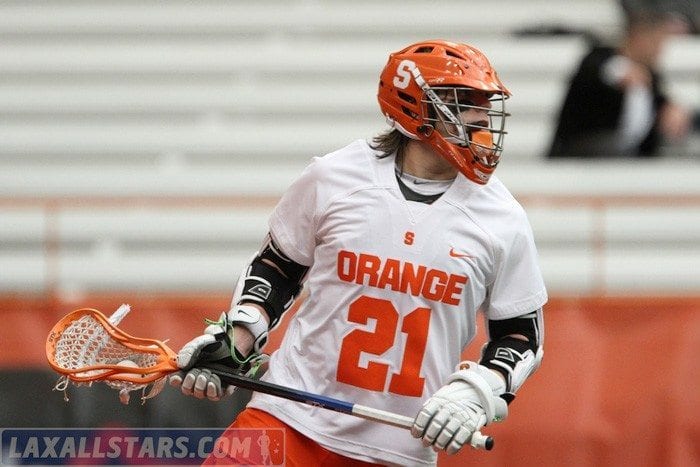 Throughout the game, the Black Knights created transition and played smart, aggressive lacrosse. Garrett Thul was impressive for Amry, especially when he was shooting with a little time and room. Meanwhile, Syracuse's Tim Desko was creative, as always, and managed a one-handed goal I'm sure we'll see highlights of soon.
The biggest features of the game had to be the shooting and physical play by both teams.  There were one or two big hits (especially the one in the 4th quarter) from which I thought someone might be seriously injured, but players seemed to pop up just fine.
Army looked like a Top 10 team for much of the game, and Cuse just looked fun.  Early on the Orange weren't quite clicking, but as the game sped up, so did their offense.
Towards the end of the game, Cuse was controlling the ball in their offensive box and, down by one goal, Army pressed out hard. The SNY TV announcers remarked at how there were a lot of pretty obvious penalties during this time, and I have to say I agree. However, the save  Cuse's goalie, Dominic Lamolinara, made with his head with just seconds left to seal the win made for some great television!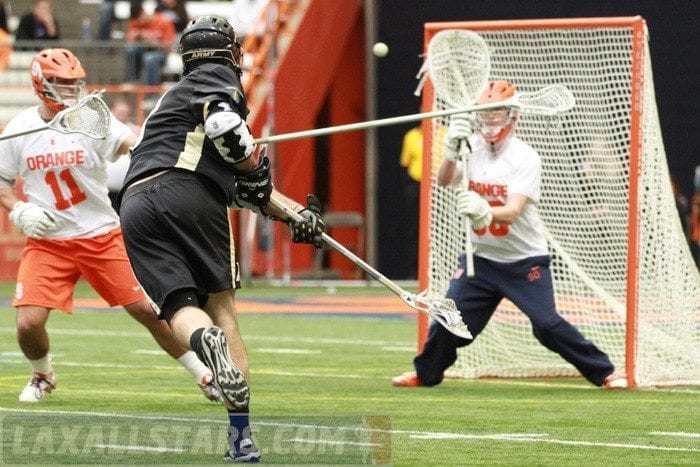 All-in-all, it was just a great game. Definitely an "edge of your seat" affair, and probably a game that should have been broadcast nationally!  Basketball is over soon, right?  It isn't?  Ug.
If the Syracuse Orange get going this year, watch out.  This team has a lot potential!  I don't think they're there yet, but it's still early so we'll see. The big question mark for Cuse right now has to be in goal, but Lamolinara, who subbed into the game in the 3rd quarter, made some big saves when he needed to, and initiated transition well off the save.  Is Dominic Lamolinara the answer?  I guess we'll find out. Matt Lerman may get another shot at it too.
Over all, it was an AWESOME game to watch.  Big hits, big goals, some unreal defensive plays and a ton of action.  Army against Cuse is almost always guaranteed to be a great game!
All photos by Tommy Gilligan, LAS Staff Photographer