Crosse Studios is back with another lacrosse video game! This time it's Lacrosse Arcade 2014, a mobile game available both in the Google Play store for Android devices and the iTunes store for iOS devices. I've been playing the game the last few weeks on both iPhone and iPad, and now I'm giving you a look into the newest lacrosse video game, including direct screen shots from my own devices.
[mks_separator style="solid" height="4″]
Game Description: Dodge, pass, shoot, and defend like never before on your mobile device. Lacrosse Arcade 2014 is a simulation lacrosse video game featuring five lacrosse game modes, worldwide leaderboards, and intense lacrosse action! Download Lacrosse Arcade 2014 today and be part of the lacrosse revolution! #laxvideogame
Setup/Navigation… +9/10
Setup and navigation and really as simple as it can be in Lacrosse Arcade 2014. The main menu, pictured below, lists out all the different game modes, links to the Lacrosse Video Game Facebook and Twitter pages. You can even connect your game to Apple's Game Center to compare scores with other iOS users.
So why then am I taking some points off here?
Because I believe that the real reason you buy this game is for the Fours (4v4) mode, something that you can't get to until you beat all the previous modes.
Now I have now problem with this model for the game, but I do find the fact that you have to score 20 goals in the 1 on 0 mode way too tedious – you can get a feel for the game less than 10 goals, and I think 5 would have been better.
As it is with 20 is just a little too long for me, and since this mode is essentially the "learn how to play the game" mode, I'm taking the points off here in Setup.

Gameplay & Controls: +17/20
Now on to what matters most: Gameplay.
I've decided to put the controls category in this section as well because the controls really have a strong influence on the gameplay, and ultimately the can make or break a game. In this game, there are two control options, traditional (with buttons as shown in the screenshot below) and touch.
I tried using the touch controls, but really could not get the hang of it, so I switched immediately to traditional controls and didn't look back.
For Lacrosse Arcade 2014, the traditional control scheme certainly helps make it, though there are three control flaws that I've experienced.
The first is that running can often be jerky.
What I mean by this is that the player sometimes makes rigid cuts when you switch players or try to change directions, and sometimes those cuts are in the wrong direction. This doesn't happen so much that it interferes with gameplay overall, but it could cost you a goal on either end of the field.
The second flaw is in the sprint feature.
You activate sprinting by holding down anywhere on the screen, however this is only possible to do with your right hand since your left hand is used to "steer" your player. This is a problem because it lead me to often accidentally hit the shoot/check or pass/swap buttons.
The third control flaw is that the defensive check button doesn't work well.
This goes back to the rigid cut problem, as checks usually aren't effective and cause you to overrun the player you're guarding.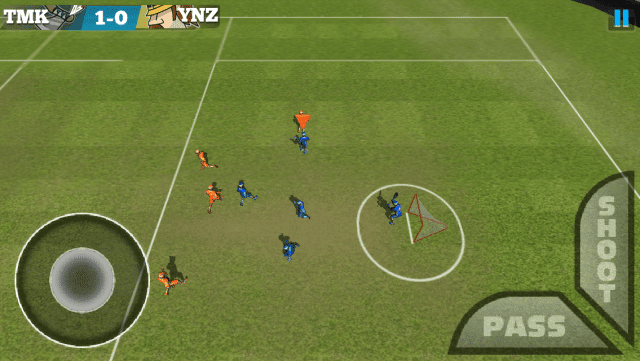 Moving on to the gameplay itself. I originally played the game using the "behind cam," but once I got to Fours I realized that it was much easier to see the whole field and therefore play better in the "field cam."
I think that you could effectively play with the behind cam, but for me it was it was the field cam, as seen above.
Offense is flat out fun in this game. The players themselves are absolute ballers on offense. They can pick corners 8 times out of 10 on the run, and besides the fun of splitting and sniping like Paul Rabil, it's also very fun to turn the corner and finish or work on your question mark.
Often the shots absolutely paint the corners, but they also have great high to low shots as well. Unless deflected by a defender, passes are always on the money, even when that pass is almost full field.
Defense, however, is the game's overall biggest flaw. It is pretty much impossible to play good defense in this game if you are relying on the check button. You can "charge up" your check by holding down the check button before releasing, making it a body check rather than a stick check, but this doesn't work well and you will rarely dislodge the ball this way. The better way is to just run into the front side of the opposing player with the ball.
This method either leads to a direct steal à la a basketball swipe (note: not sure how this is possible in lacrosse, but it's sweet), or it knocks the ball free for a ground ball.
Which brings me to my final gripe with the field players: ground balls are somewhat unreliable. I have run over a ground ball countless times when it seemed to me that I was running right over the ball and should have picked it up.
In a game where there isn't a button to pick up the ball when it's on the ground and you rather just need to run over the ball with your player (which I think is the best way to do it in a mobile game), it needs to be more consistent.
My last few comments on gameplay are about assorted issues that I've experienced while playing the game. First off, the goalies do not hold their pipe at all, and get beat nearside way too often. Case and point: opposing teams often score from GLE with seemingly no angle because the goalies are so far off their pipe, and you can see it in the replays how poor their positioning is.
Next, offensive players run in the crease all the time (like in the 1 on 0 photo above), and this also can be seen clearly on replays. Both of these things are not too important to the gameplay itself though.
A few other issues that are more significant are glitches in the game. One is the "rag-doll" glitch, when a player who is knocked down after being checked cannot get up and remains on the ground essentially in a seizure. This usually requires you to restart the game. Another glitch is when the ball gets stuck on the back of the net, and is stuck there for a long while before anyone picks it up. The third glitch is that the Practice mode crashes before it starts if you change the settings too much.
These glitches have been somewhat addressed in the game's first update, and I expect future updates to fix them even more, but I thought they should be mentioned so you know to look out for them in the game's current version.
Visuals… +6.5/10
This game has overall decent visuals, but at times the kinesthetics (or in other words, body motions) of the players is very awkward. There is good detail in the way the helmets and sticks look, and the replays (like that coast to coast goalie goal replay below) look pretty cool, but in general this game doesn't do much to wow me in terms of graphics. But then again, I don't think it takes much away from the game, it just doesn't provide any extra wow factor in the visuals department.
Value… +7.5/10
Priced at $2.99, this game is on the more expensive side as far as apps go. As a guy who doesn't usually get apps unless they're free, I was hesitant about buying this game. It does provide five different game modes – although I'd argue again that Fours is really the mode that makes this game – and it is the best (almost) full field lacrosse game for mobile devices.
I would say that I definitely enjoyed playing on the iPhone much more than on the iPad, because it just kind of felt heavy and awkward to control on the iPad.
But all in all, at least for smart phones, I think it's a good buy for lacrosse fans.
Overall… 8/10
I have pointed out a lot of issues with Lacrosse Arcade 2014, but this in no way means I do not enjoy the game.
Rather, I'm just trying to show you all the good and bad sides of the game so you can make a decision about whether or not to spend that three dollars.
So does Lacrosse Arcade have some kinks here and there?
Yes. But in the end, what #LaxArcade does well is provide a fun, scrimmage-based lacrosse game that you can take with you on the go and play just about anywhere.
What more can you ask for?