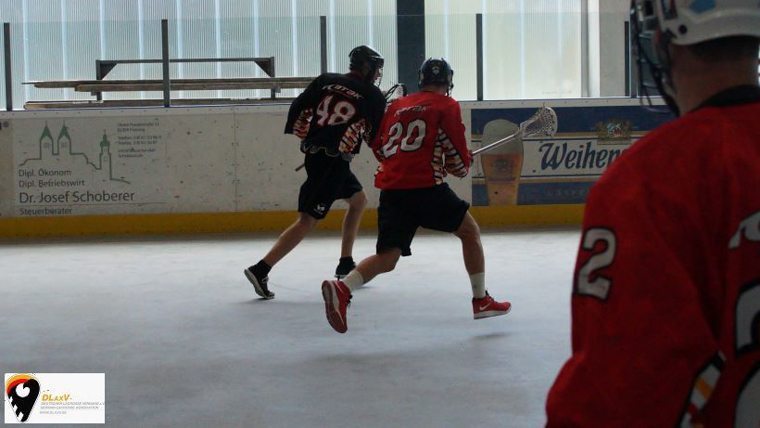 Editor's Note: Join us to welcome long-time friend of LaxAllStars.com, and lefty forward for the Germany lacrosse national teams, Artjom "Artie" Merjasch to the stage. Artie is going to keep us up on all things Germany through the World Indoor Lacrosse Championships 2015.
[mks_separator style="solid" height="2″]
After my grandiose piece last time was met with hardly any reactions, why not return for another installment of "Team Germany prepares for the WILC" and just like last time, we start with a recap of our online conference call with JC and the team.
Social Media, What?
This time we waded into the murky waters that are live streaming apps and tried our luck with something called Periscope, an app that apparently needs a Twitter account, which meant I had to spend some time remembering my password before admitting defeat and requesting a re-set of said password.
While getting myself re-acquainted with Twitter, I realized that my account had been hacked and several rogue tweets with links to shady sites were sent in my name. I apologize to all my 7 twitter follower who are not robots! Sorry!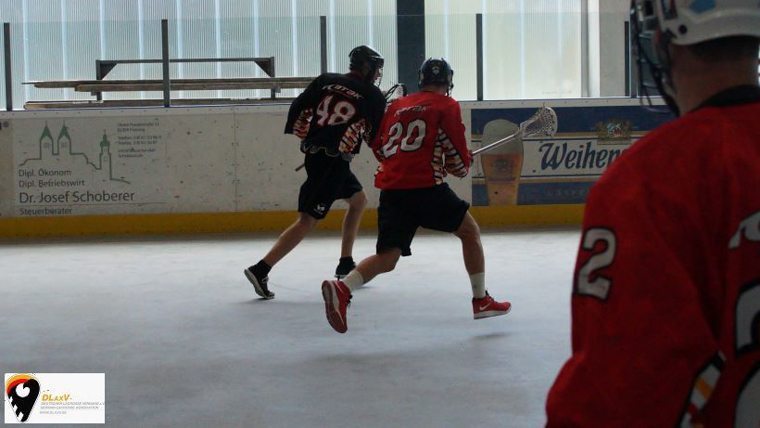 In the end, and and to my surprise, Periscope did what we wanted us to do: it streamed coach and his whiteboard for all 23+ something people.
Since I can't really go into detail, I will leave you with some words and phrases that might or might not be play calls or set-ups: 24-Blue, Oktoberfest, Omaha, Showtech, Pfannkuchen, Schlurpi.
Is Box Lacrosse That Complicated? Yes…
In general, I had always assumed that field lacrosse was tactically more complex than box lacrosse, because the former has more moving pieces (6 on 6 vs 5 on 5 in settled situations) and also more time to set up complex formations, whereas box lacrosse are just endless combinations of pick and rolls.
The more I learn about the game, the more I get to revisit this idea of complexity. Right now the hypothesis I am working from is that the complexity of defense dictates the overall complexity. So if I have 6 defenders (and a mobile goalie!), 3 to 4 of which carry longsticks (or big sticks as I have heard several Canadians call them adorably) and no shot clock to hurry the offense, I can get more creative than with 5 short stick defenders and an immobilized transformer for a goalie. In reaction, the offense also needs to be more complex to beat a creative approach to team defense.
Countless words have been written about the differences, advantages or disadvantages of box vs field lacrosse and I don't feel I have anything more to add right now, but in lieu of giving away our tactical specifics, I can tell you how much amazed I am about the focus we put on offball … somethings.
Finishing Up in Freising
While the camp in Radotin was a very personal affair, everybody and their dogs had been invited to our camp in Freising (a settlement near Munich, owing fealty to the King of Bavaria, Utmost Brewer of Beers and Destroyer of Schnitzel. I think). From the very first time Jamie Plunkett had pitched the idea of a box lacrosse program in Germany to the members and the leadership of the DLaxV, he had always stressed the importance of creating a foundation which would allow to spread box lacrosse concepts and skills across all of German lacrosse and not just to a select few members of the national team.
Without getting into the politics of it all (that could fill an entire small book with large letters and big spaces between lines and paragraphs), this concept has been executed only in part.
Let me briefly sketch out the try-out process for the national team so far:
Two open camps in February of 2015
A first cut was made and people were put on two teams to participate at the AHM.
After the AHM, another two teams were formed to compete at the ENC in Dresden.
Finally, a 23-man roster (+alternates) was announced in May.
Overall, the program had reached about 40-50 players in that period and taught or re-inforced some basic box lacrosse skills. Alas, the camp in Freising managed to only draw one non-national team player. This can mostly be explained with the fact that two of the larger summer tournaments in Germany took place at the exact same date, but it also shows a lack of either effort or expertise on the association's part to promote its events and make them attractive. I don't want to cry over spilled milk or assign any blame; I do hope, however, that we will learn the right lessons from this event.
With the entire coaching staff unavailable, the onus of running the camp fell to General Manager Simon Krause and our captains Wolfgang Griessl (aka the Griebl), Max Bieber (aka Biebs) and Moritz Klett (aka Moe. Yeah, I am sort of disappointed with this nickname too). The four rose to the challenge and it was interesting to see a certain hierarchy crystallize over the weekend. We were very focused throughout the camp, never really questioning the authority of the captains or the GM, everybody united and driven to surprise people at the WILC. Everyone of us has seen the rosters of the other teams in our group at this point and we realize that it is going to be a challenge to get into the championship bracket. This weekend we showed the resolve to practice hard to win enough games to be able to face one of the blue division teams during the tournament.
We played on the concrete floor of an European-sized hockey rink without the ice, so all drills also served as excellent sprinting drills, especially since once again we worked extensively on our transition game. Because we already had established our offensive patterns in Radotin, we got to go through plenty of 5 on 5 situations as well. Interestingly enough, the offense and defense fell into an arms race: after a particularly dominant offensive performance, for example, the defense regrouped and came back with a vengeance, only to inspire the offense to new heights of attacking prowess next drill.
The first three sessions on Saturday were followed by a group outing to the local Brauhaus. There, everybody enjoyed their healthy paleo salads and rhubarb juices (Hi coach!).
On Sunday, we started sluggishly (probably because we forgot to have hyphy mud) and had to overcome plenty of fatigue from the day before. Simon surprised us with our new excellent shooting shirts during the lunch break and was able to lift everybody's spirits again for two more exhausting sessions. After those, it was already time to leave.
Next Stop for Germany: Syracuse
This was our last camp on German soil and the next time this group will get together will be in Syracuse. I cannot wait to have the entire roster there and put the finishing touches on the way we want to play.
I have no idea what to expect from the WILC 2015 and can only hope that I have sufficiently prepared mind and body for the rigors of 8 games in 9 days.