Editor's Note: A long requested how to string gut wall tutorial is finally here, and we have Justin Skaggs to thank! Not a lot people string gut wall, so this tutorial should be super popular, by helping everyone else who has been a little too intimidated to try it on their own!
A customer recently asked if we would remake the gut wall on his old wooden lacrosse stick. The process is incredibly tedious and time consuming but it is one of the most rewarding stringing projects that one can take on. It tests all of one's skills to construct the proper structure, and the unusual materials used add an extra level of difficulty. We have Stylin Strings do all of our stringing for our customers.
I started Woodlacrossesticks.com a while back and the decision to involve my other firm, Stylin Strings, was a no brainer. The collective knowledge between both firms allows us to take on any restring any project that may present itself. This happens to be one of the more difficult ones.
Wood Lacrosse Stick Gut Wall Basics
If you were to get Raw Hide from our supply page, as with most vendors, you will receive a hard coil of material. I have never seen it where it is pre-soaked. I would find it hard to believe it would last very long that way.
My target time is to soak the hide in water for 10 minutes. If you let it go for too long you will ruin the piece. If it seems stiff, I leave it in for additional minutes at a time until it is the malleable.
Here is our subject. Dry rot and age has taken it beyond the point of repair, and it must be replaced.
While the hide soaks I remove the old gut wall. I always take my time because this material is no joke. It hardens like a rock. It is more like snapping branches than cutting string. I only ever use clippers or industrial scissors (Wiss Poultry Cutting Scissors).
This is one of my own inventions. I call it a staged traditional bottom. It makes working with the wet raw hide much easier.
I map everything out with a rough blue print in my work book. Every stick I repair is a little different, and it saves hours to map it out a little bit beforehand.
When you drain the water from the hide it will feel like meat spaghetti. That's right… meat spaghetti. The lacrosse community welcomes the creation of less a gross explanation, but for now, I am sticking with my example.
There really is no choice in where one begins and ends the gut wall. The frame must be built first in order to coil the support structure. This becomes apparent in the planning process.
I usually choose to stand when working with larger sticks. I like the view point I get when I look down the stick towards the butt. I find it easy to work with.
This is a twisted gut wall frame. The final image is actually a coiled design. This stick went out the door to the customer before I was able to shoot it. They make no difference.
The false bottoms stop one from having to use the leather to tie the hide to the frame. This method allows the stringer to string one full piece, ending the structure with the rawhide being tied to the leather rather than the other way around. Trust me. Just trust me.
The support structure is far less difficult than the other parts of this construction. Separate pieces can be used to make the supports, or if the raw hide is long enough, the stringer can make it with the same piece of hide.
I set paper in the base and let it dry overnight. Sadly, this one was strung early the next morning and put out. I grabbed the next one in line for a structural example. Making a pocket is a cake walk once you've made the gut wall. Things are pretty standard after raw hide is installed.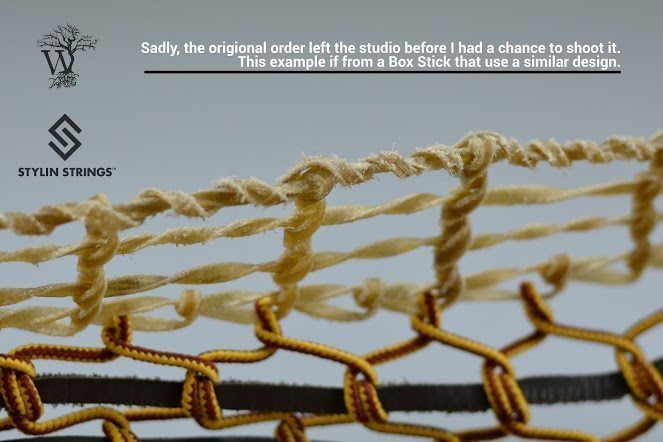 www.Woodlacrossesticks.com offers supplies for the do-it-yourselfer, and also offers professional restringing processes from Stylin' Strings.