Editor's Note: While I wrote my own Ode to Wesleyan Lacrosse, it's even better when you can hear about a championship team and program from one of the guys on the field, and boy oh boy do we have a good one in this case! Harry Stanton, one of the best players in D3 lacrosse over the last 4 years, reflects on his career as a student-athlete, the teams he was a part of, and what made the Wesleyan Lacrosse national title run possible.
If you're a fan of Wesleyan Lacrosse (it's cool if you were not, jump on the bandwagon now!) or if you're hungry to take your team to the next level, or to win it all, this a must read article. There is so much that goes into a highly successful season and career, but don't take my word for it – listen to Harry Stanton, and learn a thing or two!
Harry Stanton's Ode to Wesleyan Lacrosse
To everybody that cares, we did it! We won it all. I decided to write this so we will always be able to look back at this 2018 season, and hopefully it elicits in you some of the same emotions that we felt in the end zone of Gillette Stadium on May 27, 2018.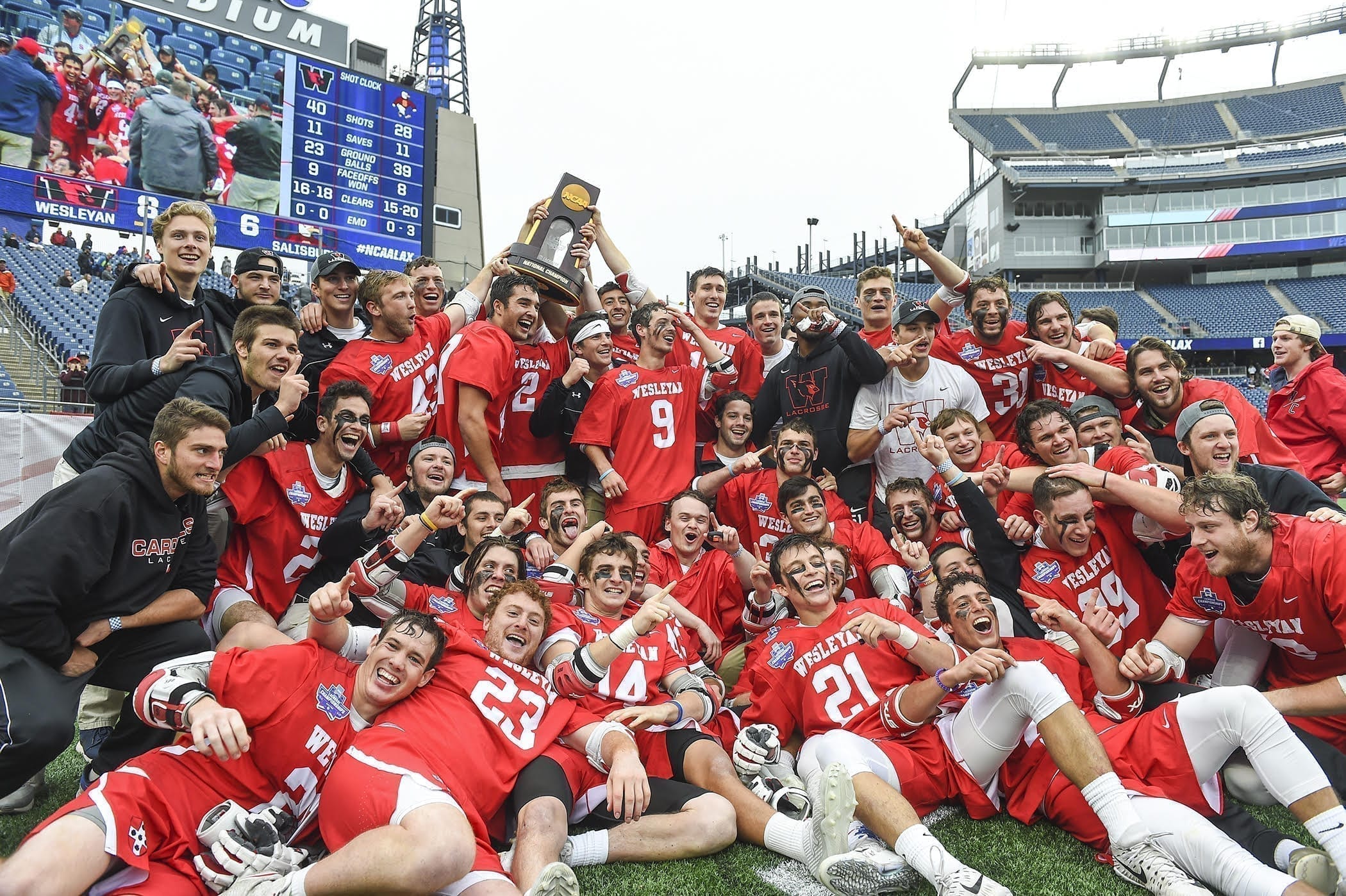 For our 2018 class and teammates, my fellow champions, it started with a belief.
It was a real, deeply-held belief, not only in each other, but also for the common goals of excitement, camaraderie and ultimately, victory. It wasn't an easy road, there were many speed bumps, roadblocks, tragedies, and heartaches but this group of young men leaned on each other in the face of adversity and played for those who really needed a win.
2018 was not the easiest year but ultimately it proved to be the most rewarding. We stayed the course, we trusted each other, we found time to goof around, and we enjoyed the game. The GAME. We remembered that it is a game and while that does not diminish its importance, it allowed us sometimes to sit back, take a deep breath and crack a smile knowing that we were consistently participating in something fun. So we were loose, but tight enough to understand nothing was going to be given last year. Everything had to be earned.
The 2018 season crept up quickly. From morning conditioning with strength coach Drew Black, to team lifts, to fall ball captain's practices, our days were packed. When February 15th arrived, and NESCAC rules allow the coaches to step in with us, we were ready to hit the ground running. Flash forward a couple weeks to March 5th, and we are playing our first game at Williams. Fans are cheering, the whistle blows – this is the starting point where expectations meet reality. And yet, something didn't feel completely right. We resorted to playing worried.
Coach Raba always says there are two ways you can deal with pressure. You either feel it or you apply it, and we were definitely feeling the preseason number-one-ranked pressure. This was unchartered territory for the program, and for all of us as players. We played well enough, I got all sorts of jacked up on a sideline hit (that's all we'll say about that for now) and we squeak out a win.
2018 Wesleyan Lacrosse. 1 and 0. It wasn't pretty, but we did it.
Then the Coast Guard disaster.
What could have actually been a disaster turned out to be a defining moment for our team. The game was messy and raw, a perfect example of how a team can not just show up and expect to win. People kept asking what went wrong, why I didn't play, how could we lose to Coast Guard? First, Coast Guard was a very proud and gritty team, playing with an energy that surpassed ours. They wanted it and went out and took it. For us, I now chalk it up to a team still in search of its own identity. We had all this talent, all of this firepower and experience, so what should we do with it? Early in a season these questions aren't always answered right away. We found that out against the USCGA.
But then it all started to really sink in for us – Seniors had one last shot at this thing, so how much were we willing to give? How bad did we really want to win?
A little soul searching and we rebounded against a scrappy Bates team and started to come into our own. We handled Vassar and then Middlebury. We enjoyed an inspiring, complete game win against a very good Roanoke team on Spring Break, and finished the trip with a grind of a win versus Skidmore. We started to feel comfortable with any type of game. We weren't necessarily blowing teams out but we didn't need to, that wasn't our style.
We went on to win a tight one versus Amherst and celebrated a Little Three title (the Little Three is the oldest three-way rivalry in the country). It was a cool feeling winning the Little Three again but that feeling faded almost immediately as we had bigger goals in mind. Looking back, it was a crazy transformation from freshman year to senior year, where a Little Three went from almost unattainable to being expected.
We were on a roll, feeling good, and winning tough games… then tragedy struck.
Our big time LSM, Ben Shively, lost his dad on March 29th and it was just heart wrenching news. Ben was usually quiet about his dad's illness but always welcomed a shoulder to lean on. He handled the most difficult aspect of life in the most graceful and honorable way possible. But he needed our help and it was incredible to see this Wesleyan Lacrosse community surround the Shively family with love and support, making it clear to them that they were not alone in this struggle.
Ben persevered all year and for him to hold up that trophy in Gillette Stadium, smiling ear to ear, you knew his biggest fan up there was smiling even harder. But That Saturday, April 7th we had Tufts, and emotions were raw. It was a hotly contested game, but we just couldn't overcome the obstacles in our way. Boom, another loss. All of a sudden we only have one really good win so far, and doubt creeped in. The doubt remained only for a brief moment, because I vividly remember looking around our locker room at Tufts thinking, "this is too good of a team to not do big things. We'll be okay."
On to the next one.
We take care of business against Trinity and have a memorable Senior Day win versus Bowdoin, as the Bird Cage (the grass field Wesleyan Lacrosse has used for decades) was rocking for the first team all season. We didn't have our greatest game against Hamilton but we won and knew we needed to step it up again. So we did just that against Conn College and wrapped up a very solid regular season. 12-2. One bad loss, and one acceptable loss ( and that was only acceptable because we knew we'd see them again).
As it turns out, the NESCAC was once again a fire pit of competition and tight games. With three teams finishing with one loss in conference (all to each other) home field would be decided by the old coin toss. While our 2001 team lost a similar coin toss, this time we won home field advantage. Jackson Field AKA the Bird Cage.
By winning this 3-team tiebreaker, it was the first time for our school to host the NESCAC Men's Lacrosse tourney. And last year it was only fitting. We were doing all of this for those who consistently attended, our families, friends, alumni and fans; home field just made it an easier trip for them.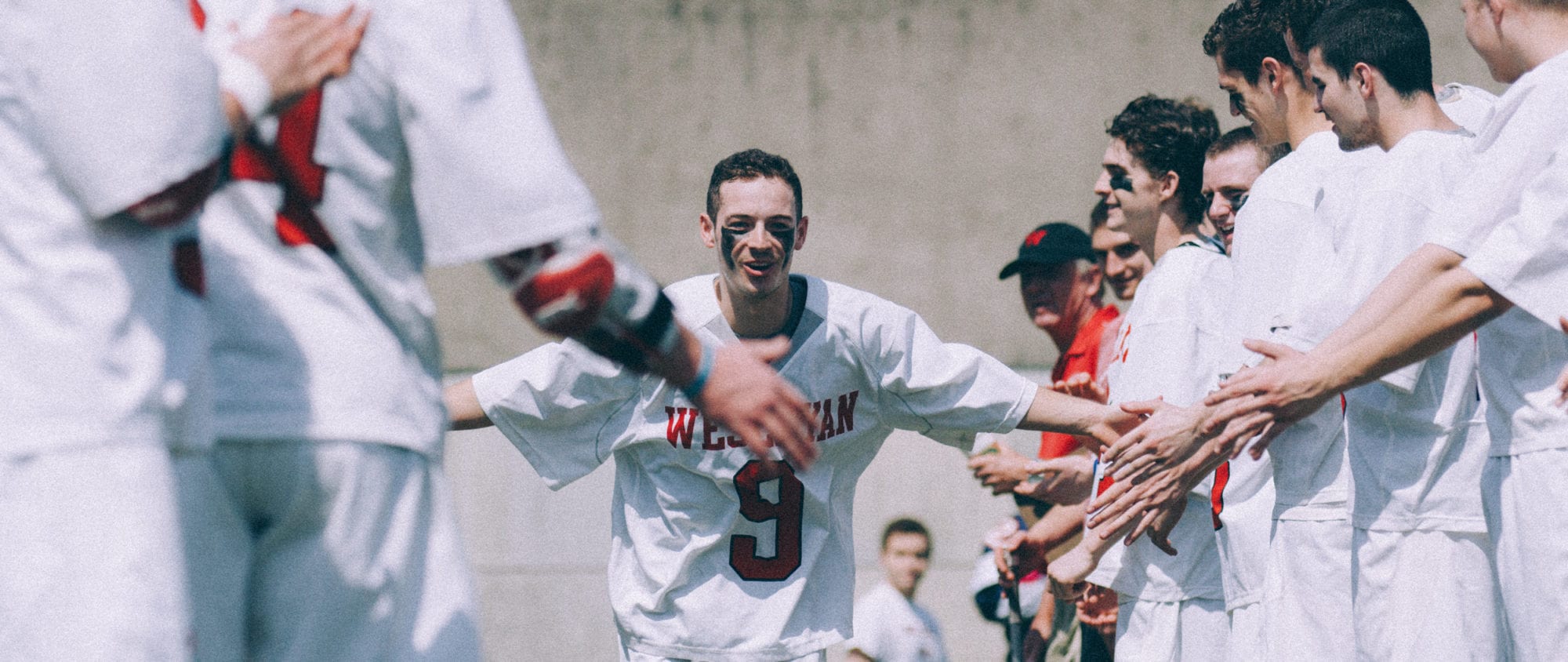 I asked my fellow captain Eric Meyreles if I could give the NESCAC finals locker room speech. I had been a captain for two years and I was pretty confident in my ability to lead, but I had never actually given the pregame speech. Part of it was because Quinn Mendelson was so good in 2017 at them and Eric was phenomenal in 2018 but the other part was I wanted to wait until there was a massive opportunity in front of us. I wanted to wait until I thought the stage was the biggest and the focus was the sharpest. That my teammates would want to truly listen to what I had to say. I wanted to let my teammates know how proud I was to be able to stand in front of them and represent not only the 55 young men in that locker room but the hundreds of others who came before us. I talked in my speech about how it starts with yourself and controlling how hard YOU wanted to work, how bad YOU wanted to win. But with this common goal and endless support from our loved ones, WE can come together and shine bright for those who believe in us.
It was one of those years, where everyone could use a little pick-me-up and a second consecutive NESCAC ring, especially on our home field, and it would have been perfect timing. But we lost, and it was absolutely crushing. There was that little voice of doubt again, why aren't we getting it done? I remember feeling so defeated as we watched the Tufts parents celebrate with their team.
Then my brother Sam approached me with the perfect perspective as an optimistic alumnus. I remember him saying how surreal it is to hear all of the parents talking about how we'll bounce back in NCAAs. NCAAs unfortunately was never a thing for Sam when he was here from 2011-2014 but just as the teams before him, they helped lay the foundation and watch Wesleyan lacrosse build itself back into a team that expected to make the big tournament. That was truly a cool moment of perspective for me, realizing how high our senior class raised the bar since we arrived on campus in fall 2014. But now what? We watched the draw and were excited for the opportunity to play out of conference teams on our road to Gillette. We had always talked about Gillette, but now we were starting to see it.
Our new, 5 game season started now.
The Cortland game was exciting, fast paced and overall it was a lot of fun. Some unbelievable saves by Otto Bohan set the tone for the D while our offense seemed to score at will. It was incredible to see the emergence of a true superstar in Scott Irwin as he erupted for his first career hat trick. Scott is the epitome of the Wesleyan Lacrosse work ethic: work hard, be consistent and Coach Raba will give you a shot. 16-12 Wes.
Up next was Cabrini, an interesting team that none of us knew much about. What a weird game. We didn't touch the ball on offense for the majority of the first quarter as our stifling zone forced them to take wild, off-cage shots. The crowd was electric in this one, as they always are, but this Saturday was poppin' in the Bird Cage. Shoutout to John Michael Ransel and the Nine.
If you are a follower of Wesleyan Lacrosse than you know about Andres Rodriguez. He is an animal, relentless in his pursuit of the ball while graceful in control with his stick. He is a quiet leader on the defense and always seemed to make a massive play when we needed it the most. I have always been so proud of Andres because it wasn't easy being a takeaway defenseman in a zone, knowing that he could have had all the individual accolades if we were a man-to-man defense. He was a beast all season and it was just so obvious in this Cabrini game. Our offense took care of business in the second half; we gave a little scare to the parents, but ultimately prevailed. 12-7 Wes.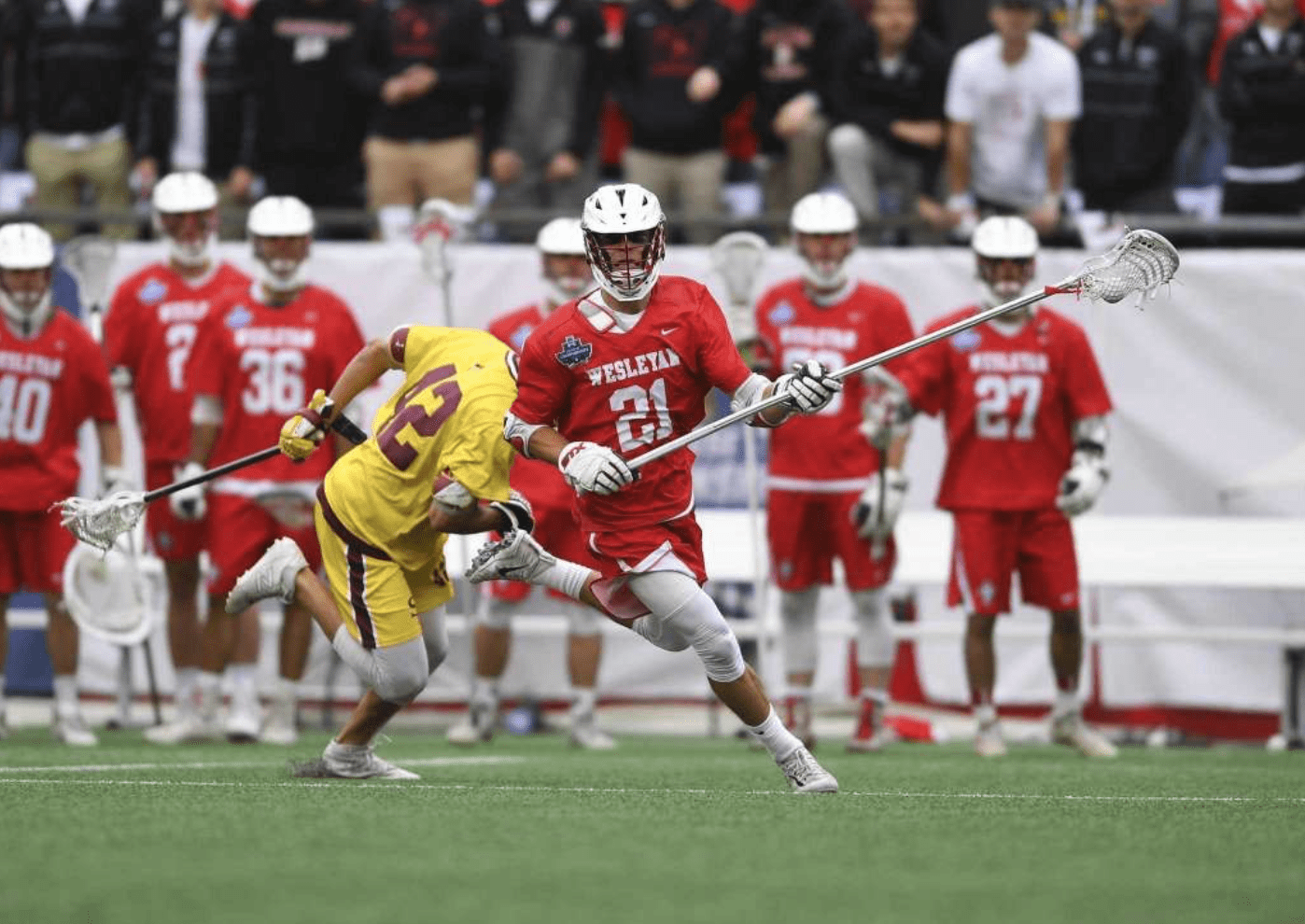 On to Tufts… for the third time this year.
It was a Wednesday night NCAA game during the chaos of finals week and other distractions, but we were absolutely locked in. We were all over Tufts from the beginning and it just felt like we were the more dominant team. We go into half with a 7-5 lead. While we know Tufts is going to push back hard, our own Big T is heating up, and Taylor Ghesquiere is a force to be reckoned with. When Taylor is dodging downhill, fired up and doing his Superman celebrations after his goals, the other team is in for a long day. T got us going in the Tufts game and lead with contagious energy. So it was only fitting that T scores the game winner with 20 seconds left. Wes 12 Tufts 11.
Revenge, redemption, on a mission… whatever you want to call it, we were Final Four bound! Nuts.
Different year, same Rochester.
We were going back to RIT to avenge the 2017 loss that had bloggers and doubters claim that we didn't deserve to be there. Of course we deserved to be there, we were a team with wise leadership and youthful energy and we won our games! This is where I want to say my thanks to the class of 2017, as we will always be connected through not only our NESCAC championship but also the journey we lived.
It was one game at a time in 2017, shocking the lacrosse community each and every game. We were never respected in articles or blogs but that is not where the belief of winning came from. It came from Ted Bergman, Quinn Mendelson and Cory Ekstrom. I learned so much from my fellow captains, not only about lacrosse but about how to cultivate a winning attitude and motivate 50 young men. These guys mean the world to me and shaped my idea of what a leader should look like. This 2018 National Championship piggy-backed off 2017's NESCAC championship and I want the 2017 guys to understand that. So to the 2017 seniors, Hank, Teddy B, Grey, Evan, Gibby, Tommy D, Gus, Cory, Brendo and Quinn. Thank you for getting us to RIT the first time because there is no Rochester Redemption without you guys.
The stage was set for the 2018 Final Four. RIT vs Wesleyan. It felt like the championship game. We knew that RIT's style was to come out firing, go up 5 or 6 goals and kind of coast their way to victory. They had snipers on O and a D that could shut teams down and score themselves. Coaches Raba, Parker, Pilat, Martone, Weeks, and McCarthy truly prepared us this time versus a #1 ranked RIT team. But we knew how to handle them, and we came out FIRING.
It was so exciting to click on offense and see the team lock it down on defense. I am still so proud of my best friend Jake Cresta for everything he's done for the program but in particular I was just so in awe of his meticulous aggression during the RIT game. He is the smartest defenseman I have ever played with and it is no surprise that he will be a doctor one day (but no way will he be my kids doctor! LOL) Anyways, our defense shut them down in the first half while we were having fun on offense. With leadership from Cole Turpin and Carter Hawthorne, we were able to come up with a concise plan to give each other room on dodges, especially when Taylor had a shortstick matchup.
For me personally, this game meant a lot. I scored 6 goals on 10 shots and while I normally don't boast, I feel like I have to pat myself on the back just a little for this one, but only because of how difficult of a year it truly was for me. I tore my left shoulder in the first game of 2018 and felt it both physically and mentally throughout the entire season. But my family kept encouraging me that I could get back to the level I normally play at and my teammates kept trusting me to take a lot of shots.
I shoot a lot because I have a lot of confidence, I have developed that confidence through years of hard work and practice, but for some reason I just wasn't feeling like myself most of the season. It was a lacrosse field and it was the place where I was most comfortable, but it was starting to feel weirdly unfamiliar. I was shooting 1 for 11, 1 for 14, but my linemates never stopped believing in me. Carter and Ronan picked up the slack and we kept chugging along. I am forever thankful for those guys… now back to Rochester.
We are up 11-5 at the half, and things are going very well, but all of a sudden it's 11-9. Damn this RIT team is good. We had woken a beast of an offense, so we did what we did all year. When this team came out in the second half and punched us, we punched right back. We went on a 6-0 run to go up 17-9 and feeling good again. Props to this team from the North because they did not quit. They went on an 8-1 run and again all of a sudden its 18- 17 with 2 minutes to go. These guys wouldn't go away. 19-17 with 1 minute to go. They score with four seconds left. I couldn't even watch the last four seconds as I turned to the scoreboard, begging for the clock to hit zero. And it did. Destiny!
I couldn't help but run around screaming, "We're going. We're going. I can't believe we're going!" We were going to the NATIONAL CHAMPIONSHIP game in Gillette Stadium, what a feeling that was. The exhilaration is something I will never forget. We won that RIT game because of coaching, we won because of grit, and we won because of Zach Zavalick. I have never played with a guy with so much heart. He was up against the FOGO of the year and he ground out every single draw. He plays with so much passion and a unique nose for the ball that every faceoff guy should mimic. If he doesn't win the clamp he wins the GB.
We were all so proud of that win, and our parents literally could not have been happier. What an electric group of people. Book your tickets; we're going to Gillette. Now, as much as anything, it was about legacy, and setting a new standard.
I asked Connor to do a follow-up on his incredible Ode to Wesleyan Lacrosse because I wanted to reflect and give my insight on the 2018 season while paying homage to those that came before us. I wanted to thank the parents and everybody involved in this program in order to make this special season happen. As Connor stressed in his article, this Championship did not happen overnight, but rather it happened a little bit every day since Coach Raba arrived here, and this is evident in Connor's unbelievable tribute.
When I was first introduced to the Wesleyan lacrosse team through my big brother Sam at alumni on Homecoming weekend 2014, I just felt this overwhelming sense of pride and identity. Being a Wesleyan lacrosse player is like being chosen for an elite mission. You've got to be versatile and more than just an athlete. In a sport where demographics and stereotypes pin it in a corner, Coach Raba's Wesleyan breaks through this wall to find itself producing the highest level of young men, outperforming their peers both on the field and in the classroom.
The first time I threw on that 'W', it hugged my chest, welcoming me into Coach Raba's proud camaraderie of hard workers. The alumni understand what I'm talking about and I've only been an alumni for 5 months, but it feels so gratifying to think back to Wesleyan lacrosse and everything that it brought with it. So many friends and stupid jokes, so many parents and their lavish tailgates, so much competition and game. Just so much game. And I can only imagine getting together 20 years later and reminiscing about all the good memories. Wesleyan Lacrosse is truly the gift that keeps on giving. Although it is just a Division 3 lacrosse team on the surface, its impact is widespread across all the alumni, helping propel young men of high character into the real world. Both players past and present – these are some of the best guys you'll ever meet.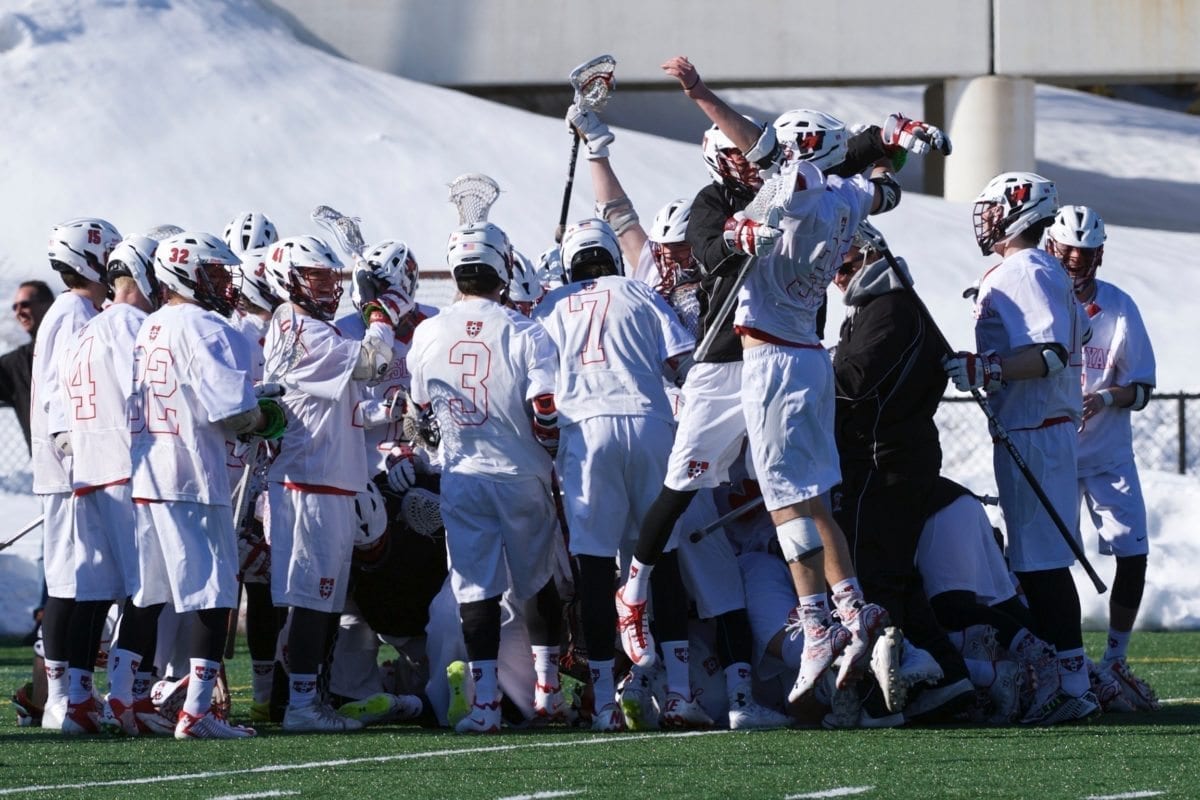 Now we were going to the National Championship game, and as much as it was for ourselves, it was for everyone around us as well.
CHAMPIONSHIP WEEK
Senior week, graduation, 3am on Foss Hill saying heartfelt goodbyes… we were missing all of that in order to ship up to Boston. The timing was a bummer as all of us seniors probably wished we could get that week of closure at Wes, but the more we thought about it, the more it served to fire us up.
We talked about making sacrifices, giving up nights of partying and hanging out on Saturdays in order to accomplish a more meaningful goal. This time we meant it like never before. Everyone bought in 100%. And who were we kidding anyway? Most of our college experience was shaped around Wesleyan Lacrosse and it wouldn't make any sense not to finish this journey with our best friends, with our biggest fans, and on the biggest stage. This was somehow bigger than graduation. We were ready to rock.
Media day, autographs, interviews and green screens. They really did a good job of making us feel like celebrities. We were signing autographs for young lacrosse players; as a kid, I used to practice my #16 signature all the time, half-heartedly believing anyone would actually ever want it. It was really cool and the parents were having as much fun as we were, maybe more! I think the coolest part was watching how proud our parents were of us. Countless years of driving to practices and games, buying equipment, sacrificing time, giving everything to us… our parents deserved a weekend to watch it all pay off.
Before we knew it, it was time for the game.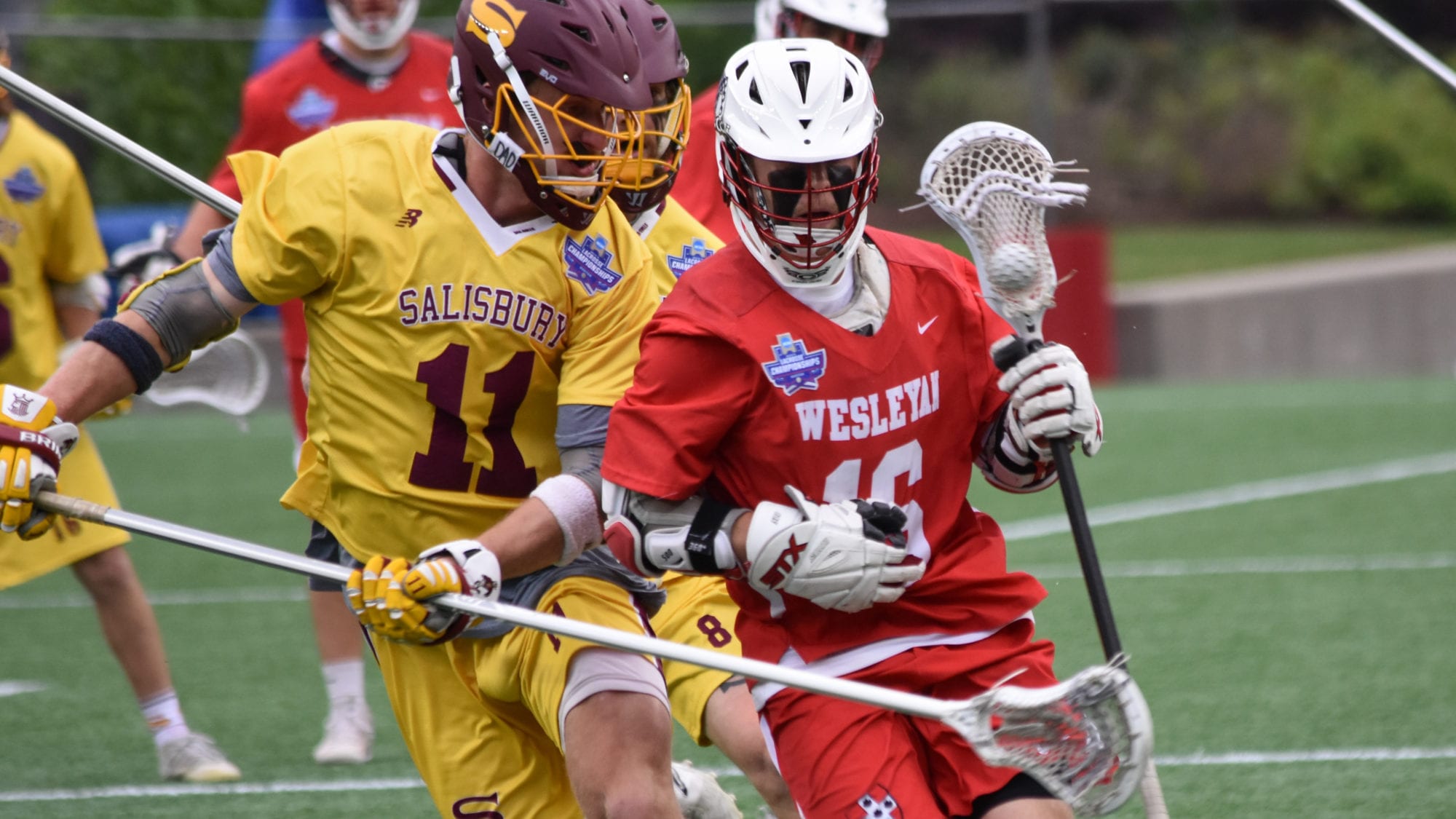 The feeling in the locker room before the game was unlike anything I have ever experienced. Not many people are privileged enough to experience so many different feelings all at once. I was excited, nervous, anxious, optimistic, and hopeful, but I was very much ready.
It was a melting pot of emotions and the air was thick with anticipation. I have an inkling that I'll never forget how it felt to stand in that locker room. On the cusp of greatness, of history, with my absolute best friends in the world. Life is good. Coach Raba tells us he believes in us, just like he did the night before when he delivered the best speech I have ever heard him give. He was honest and raw, inspiring and real, if you didn't want to win it all for this man then I don't know if you were ever supposed to join in athletics. He is a top of the class coach and an even better mentor, and he had us ready.
We walked out on to that field and just tried to soak it all in. My inner monologue repeated itself again and again, "this is cool, this is sooo cool". I turn to the crowd and I smile and wave. I saw the people who I was doing all of this for. I believed in them and they believed in me. The first face off was about to ensue and I remember having that feeling of watching Miracle on Ice, specifically the fac eoff where it's tense and in slow motion. The US won the draw in that game and so did Zach. Once Zach won that draw I knew we were in business. Big T took it to the rack immediately and did what he does best. Superman celebration. Ut oh Salisbury!
Then Christian Barker, the smoothest and silkiest who plays with Colorado ease, found the back of the net. Now it's 2-0. Wow. I personally found Salisbury's plan to put a shortstick on me a little offensive, so I had to take them to the rack. 3-0. My adrenaline is absolutely pumping. Cole Turpin, hands down the shiftiest middie in D3 lax, sliced and diced at X and found Carter adjacent for a nice low shot. 4-0 and Salisbury hadn't touched the ball. The place was rocking! Gillette was a sea of red and our fans outnumbered theirs at least 3 to 1. THIS IS FUN!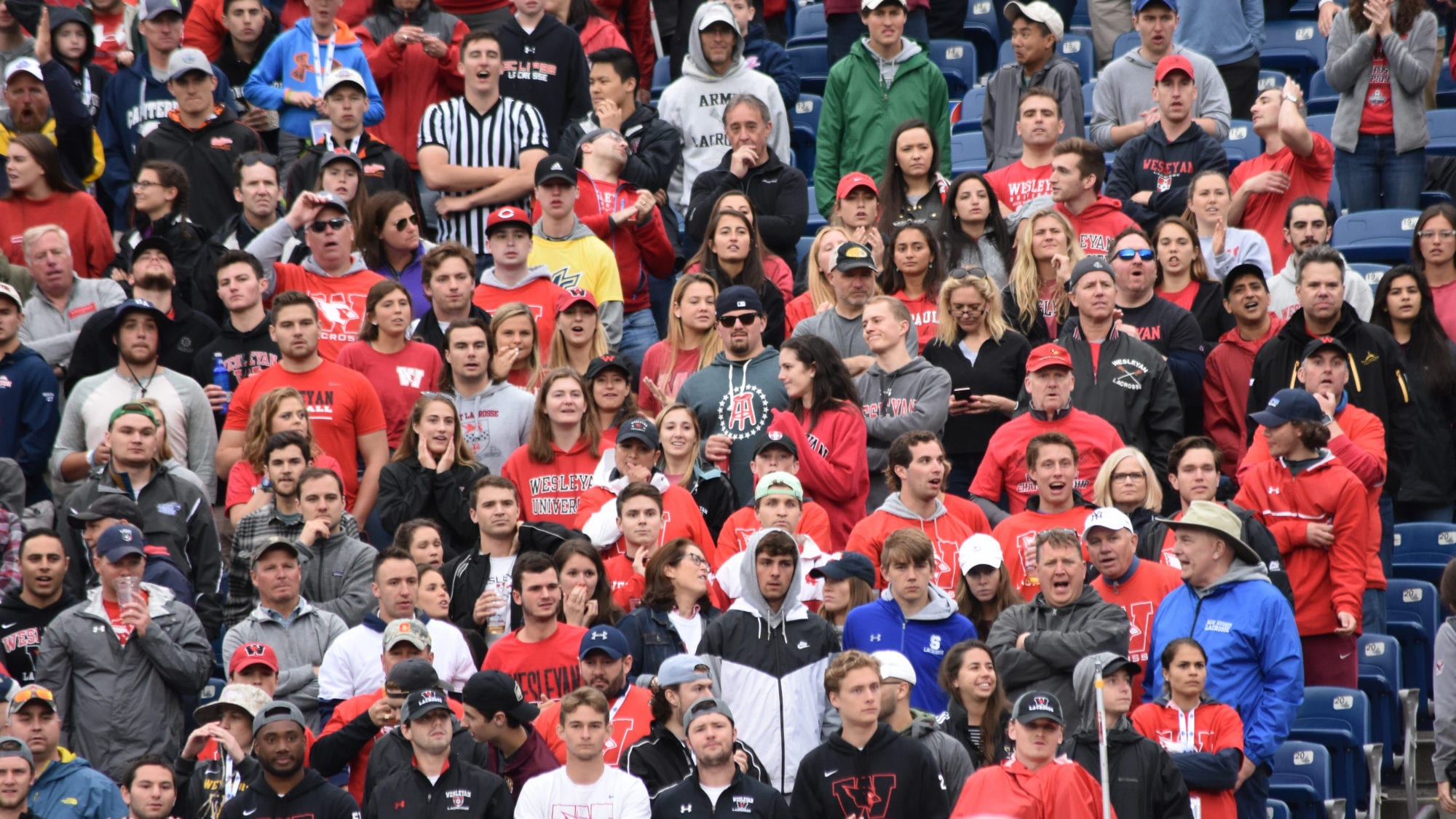 Once Otto Bohan made a save on Salisbury's first or second possession, I knew he was locked in. Otto is incredible. There are not enough adjectives to describe how good I think he is and I am proud to have been one of the first to tell him that early on in the year, when we weren't sure who our starting goalie would be. We had so many talented goalies and it was such a good fight for the starting job. But Otto raised his game to a new level and sometimes I thought he was just unconscious, making kick saves he had no business making.
Colin Malarchuck and Tom Clejan were feeling themselves and Benny Shively was knocking down passes left and right. Andres and Jake are always locked in and this first half was no different. Colin Hitter, Sean Penney, and Eric Meyreles are beasts and were unstoppable forces and unmovable objects. Of course as I say all this it went from 4-0 to 4-3. Okay. Salisbury can definitely ball. These guys are going to fight back, and fight back hard. We really need the next goal.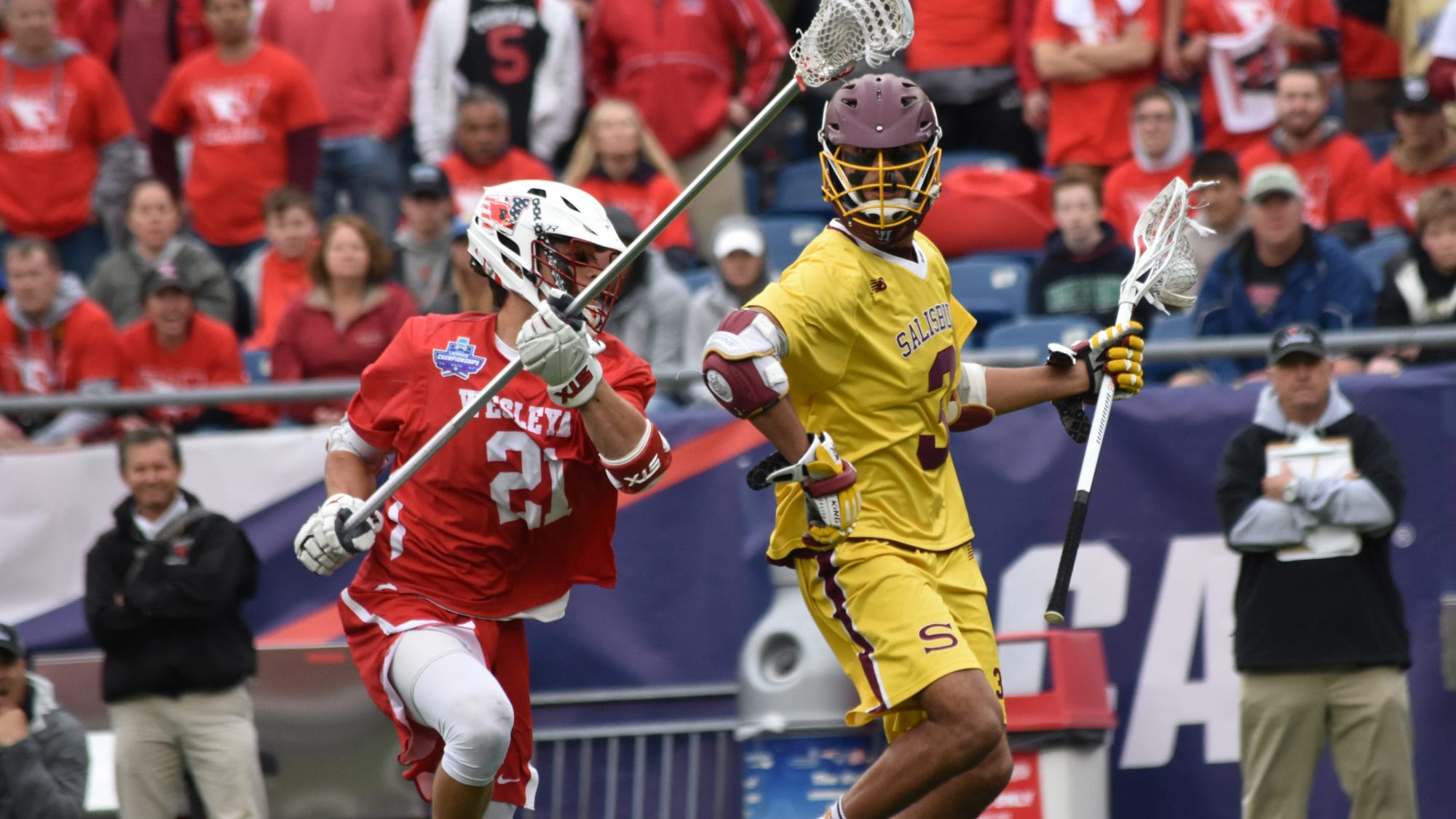 To anyone that has watched Carter and I do our hidden ball trick over the course of the last season, I'd guess you are a little confused when it happens but always ecstatic that it did. The National Championship hidden ball trick is a moment I will never forget. Carter and I called the play "hoka hey", a Lakota war cry where we try to honor the roots of the game. We always know we are going to do it in either 2nd or 4th quarters, as we are closest to our own bench, but the look on Carter's face when I said "hoka hey" in the chaos of the National Championship with 2 mins left in the half was priceless. He definitely had an "oh %#$&" moment, and after he looked up to the scoreboard, he looked back at me and smiled big through his facemask, ready to fool the lacrosse community once again.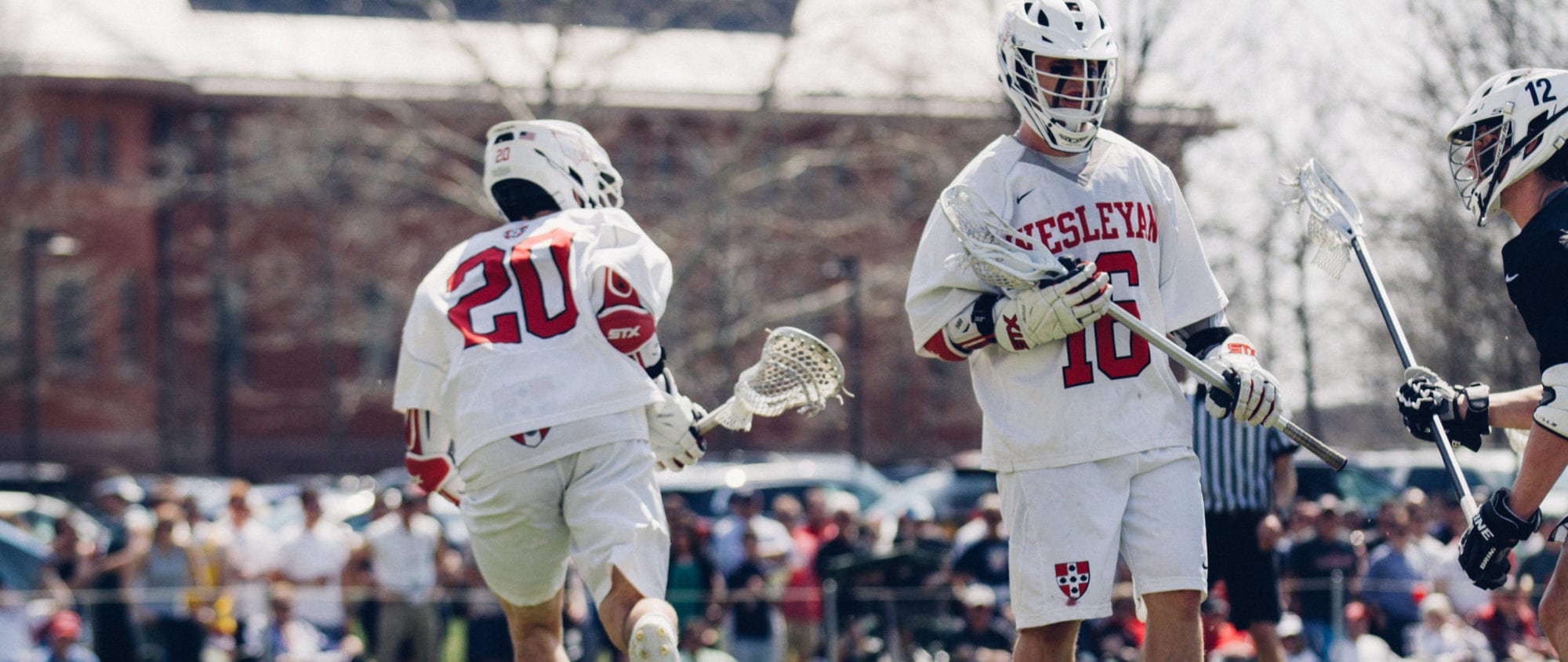 We pulled it off, #25 on Salisbury had a feeling it was coming, but it gave me just enough of a head start to wrap around the net lefty and tuck one away. Hoka hey. It's 5-3 at halftime and we're headed back into the locker room. The nerves are gone and it feels like any other lacrosse halftime. Eric Meyreles, our naturally-born fearless leader pumps us up again and got us ready to make history. 30 minutes, he preached, 30 minutes for each other, 30 minutes for Coach Raba, 30 minutes for all of those alumni who came before us. Just 30 minutes. Everything you got.
Salisbury was a truly great team, and in the second half they punched first. But we threw a haymaker of our own right back. Ryan Lynch, who was asked to take just three face offs in the National Championship, because that's what the team needed of him, won all three. Then Corey Aviles, who got his first opportunity in the National Championship game, dodges down the right alley, oozing with confidence, he froze the defenseman with a hitch and stuck a beauty in the bottom left corner. Holy moly, Cor! You are the man. Talk about a big time goal in a big time game!
I felt energized as I hugged the second line mids, who were all an absolute cornerstone of our team. Ryan Flippin is the leader on that line and they have answered in the biggest of ways every time their numbers are called. The 2s are the only reason we got this far. Without Flips goal in a 12-11 Tufts quarterfinal game, we wouldn't be bear hugging in Gronk's endzone. That was a sick goal by Corey, and another by Carter and were up 8-4. It was this moment where I knew we were going to win it all. We tried not to get complacent as we knew that Salisbury would throw everything they had on us with their two first team all-American D poles, but in my heart I knew that our defense was going to finish the job.
People say defense wins championships. Our offense was as good as they come, arguably the best, but are you kidding me? 6 goals against in the NATIONAL CHAMPIONSHIP game? That is gritty. The absolute best. Benny Shively was amazing, flawless in his takeaways and groundballs. Collin Hitter was a rock, nobody was getting by him. Mitch Patton was our man down specialist, hopping in the game cold just to do his job. Chad Malinowski is a beast. He was a man on a mission this year and was 100% the X factor to our defense. Every groundball was his, and if he rarely couldn't pick it up, you knew his guy wasn't going to either. I am so proud of him, he is a great leader and the epitome of how a good attitude and work ethic can land you at the top. He didn't always get playing time but he stuck the course and kept proving his worth. Our defense was the reason we were still winning 8-6 with a minute to go.
20 seconds. We were 20 seconds away.
I'm looking around Gillette, I see our parents crying, our coaches hugging, our sideline juiced. We are really going to do this. This wasn't easy. There were injuries and tragedies, feelings of doubt and mental exhaustion, and plenty of haters and naysayers. But we rallied behind a common goal. And that goal was not just the actual Championship hardware. That goal was the aspiration to provide so much joy for the people who have given their entire lives to us.
10 seconds left.
I thought of Coach Raba and his family. The sacrifices that they have made for 22 years because they believed that he could seek out this dream. 5 seconds left. I thought of our alumni who are going insane in the crowd. They are so proud of young men that they see so much of themselves in, and we aim to live up to their standard in our lives moving forward.
With just 0.5 seconds left on the clock, the ball goes out of bounds. We collectively release a tightly held last breath. And as we breathe we exhale any last sliver of doubt and inhale nothing but pure gratification. We are the champions. This was our destiny. This is our story.
THANK YOU!
It is very important to me to give out a number of big "thank yous" for past seasons and beyond. It's time that I make some very long overdue public acknowledgments.
First and foremost I have to thank my family.
Dad, you are the reason I am the young man I am today. I have looked up to you in more ways than you know. Athletically, you pushed me in the most positive and encouraging ways; you always knew I could do great things on a field or on the ice. You have always been my biggest fan and this National Championship was for you and mom.
Mom, you are the epitome of the heart and soul of Wesleyan Lacrosse. You cheer the loudest; you sit in the same spot because your superstitions, and you never stop believing in me. You are the best. Not to mention you were an All-American lacrosse player too.
To my big brothers Charlie, Sam and Jack, I am not the athlete or competitor I am today and I was that Sunday without you guys. You guys pushed me to be the best and you are all incredible role models. You were always so proud of me and bragged to your friends about me. I owe you guys everything.
To my roommates, best friends and biggest fans, Win Smith and Ian Chabot… you guys are family and we share this trophy. To Uncle Teddy your speech in Stratton made it happen! To Luke Verrochi, keep smiling we're Natty Champs! To Biscuit, my pup who just recently passed, you deserve a good boy shoutout. To Grammy, who always used to say with a bit of confusion, "that Wes sure has a lot of fans!" she was the best and is looking down on all of us with a great big smile doing the New York Times crossword.
To ALL of the parents involved with this team in any way, you guys are the greatest. The endless support, the amazing tailgates, the money, time, and effort all of you have put into this program does not go unappreciated. You guys are absolutely our biggest fans and we do it for you. To Mrs. Turpin, thank you for your tireless work you put in as the Team Mom, we know you ran so much of the logistics from behind the scenes. To Greg and Randy Kessler of GKess, thank you for your tireless hours of work putting together the most amazing highlight videos that we will cherish and relive for ever. You guys are the best at what you do! And to Bob Chiapetta. You are a great man. You do amazing work behind the season and the best Wesleyan athletics could ask for. You get so fired up for us and it's amazing. Best of luck in your war on Tufts parents.
To Coach Parker, thank you for your relentless effort for over 20 years. You always show up to work ready to go and have mastered the backer zone in a way that leaves lacrosse junkies in awe. I hope you heard Rolling Stones songs on the way to practice every day this year. To Coach Pilat, you were an awesome addition to the staff over the last two years and we appreciate your positivity and high lax IQ. Thanks for working with the attack, helping us better our craft. Coach Martone and Coach Els, you guys are the lucky charms! To Coach McCarthy, thank you. Really. For your wisdom and advice. You were truly an essential piece to my lacrosse game and this championship team. I am forever grateful. And I know this win makes those trips from 85 & sunny Florida to 55 degrees in Middletown worth it. You deserve this. Coach Weeks, we admire you so much for your ability to push us to work hard and motivate us to become champions. And Coach Congleton, please understand you have a very big part in this Championship. You have given so much time and effort into this program as both a coach and a player and we just hope to make you a proud alum and friend. This is your win too. Ken Dompier, you deserve a medal. You have become a great friend and have put years and years of hard work making sure Wesleyan lacrosse stays healthy. You truly cared for us. Best of luck to you and your family. A lot of alum in Lot 5 were fired up for Ken, and it's well deserved! To our athletic director and fearless leader of sports at Wesleyan, Coach Mike Whalen, we say thank you for your belief in athletics at Wesleyan. You are the catalyst of a winning culture in Wes athletics and you were always our biggest fan. We hope this makes you proud!
To Coach Raba, there are a million things I would love to say about you but I would simply run out of time. On behalf of everyone who's ever had the fortune to have you as a coach, you are the best. There is nobody better. Plain and simple. You are inspiring and honest, you care about your players on a level that I have never even heard about. You are there for us outside of lacrosse and provide all the opportunity for us to grow. You give us respect but you make us earn it in a way that teaches us important life lessons. And on behalf of the 2018 Wesleyan Lacrosse team, we are overjoyed in knowing that we were able to finish the job that you started with a dream and a full heart 22 years ago.
To the alumni, thank you. Thank you for your unwavering confidence and support in our mission to win it all. But it wasn't just about winning it all and I think the alumni who still follow us embody what it means to be a Wesleyan Lacrosse player, and that's understanding that all of this is bigger than yourself. Please sit back and enjoy this one knowing that we wouldn't be here without you. And when I had the pleasure of talking with a bunch of alum in the infamous Lot 5 after the game, I saw something in their eyes that I will never forget. I saw 30, 40 and 50 year olds living the dream again, but this time through us. That was really cool.
Thank you to all of the guys that this 2018 class played with. Classes of 2015, 2016 and 2017. We took the best parts of those years and the leadership that you guys provided and we built on it to keep pushing forward. I hope that you guys feel, as former teammates, that you had a part in this Championship as well because you truly did.
This next thank you means a whole lot to me. This is for the 1A guys. 1A is our scout team, led by guys like Curran Sullivan, Nick Annitto and Tasso Karras who pushed the 1s to be better each and every day. 1A took pride in what they did every single day. I know sometimes it is not the easiest to be asked to mimic a guy on Amherst or Tufts all week, all while trying to prove that YOU should be in the starting line up. They never complained. 1A truly represents the heart and soul of Wesleyan Lacrosse. There are 55 guys on the team and the unfortunate reality is about only 20 truly play in games. That leaves 35 guys who were the best on their high school squad and all of a sudden are asked to play a different role. So, thank you to all of my teammates, because we know it took every single person on our roster to give everything they had in order for this season to be a reality. Each and every person on this roster in 2018 did their part to ensure that we will always be connected as champions. Love all of you boys. Especially you LG.
Quick award announcement: 2018 Party Time Award goes to Bryan Irwin. Walker, keep your head up and your feet moving. Marty, I know you can be a stud, start believing it. Whaddup Owen!? A special shoutout to Sean Regan and Andrew Huizenga who were asked to be a part of the team in handyman roles, helping out in every way they could. Hey Reegs, can I get two claps and a Rick Flair?!?
This next thanks is to someone who has grown into the best leader this Wesleyan team could ask for. I have had the privilege to play with Carter Hawthorne 3 of my 4 years at Wes. I am so proud of Carter. What an incredible player but an even better person. I had to give him a specific shoutout because of all the work he did so I could score. Hands down the best passer I've ever seen in college lacrosse. (20 is a shooter too!) We developed so much chemistry and were a one-two punch, a nightmare for opposing NESCAC defenseman. Excited for you Carter, you deserve all the success and accolades in the world. Love you buddy. Carter made my job easy and Ronan Jacoby made it even easier this year. Ron you were a superstar this year because you put the extra hours in. You got so much more confident and it was amazing to have a part in it. You were asked to do a lot as only a freshman and you had 80 points to help lead this offense. 80 points as a freshman! Incredible. Ronan the future is bright for you and the squad and you're in good hands with Coach Raba, Carter and Barks leading the way next season.
To those still on the team, don't put too much pressure on yourselves, yes this is now the new standard of Wesleyan Lacrosse, but remember to have fun, keep it loose and please somebody pull off hidden ball tricks with Carter. To Cole Turpin, my partner in crime since 5th grade – we did it bro. From middle school lax tournaments to high school rivalries with Darien to college at Wesleyan, we've always been in it together. It's always been us. So proud of the player Cole turned into as I watched this unbelievably quick athlete grow into a confident and sharp shooting midfielder. Cole was a quarterback of our offense and never complained about stats even though he must have had 1000 hockey assists. Cole we did it, we're National Champions.
To my fellow captains Eric Meyreles, Jake Cresta and Taylor Ghesquiere, thank you for being incredible leaders. You guys are an inspiration and I am proud to say that we lead our team to become champions all while being very good people. You guys taught me so many valuable lessons.
Finally to the rest of my brothers. This senior class. Guys, we will go down in history as THE BEST. We always knew we were a program elevating class and we were the ones that willed us to victory. But outside of lacrosse, we became best friends and brothers. We had endless fun on the field or just hanging out. To Turp, Shives, Hitter, Huizenga, Dres, Moose, Tass, Flip, T, Lynch, Metros, Jake, Steve, Sully and Rick, we are legends. We did it.
Thank You Wesleyan Lacrosse, You've Given Me So Much,
– Harry Stanton #16
Thanks to Steve McLaughlin for the great photos, and to GKess Films for great photos and video! See more at www.wesleyanathleticstv.com!