This week's Hot Pot is a celebration of Growing The Game: Birmingham-Southern College has won the SCAC for the first time ever and is going to their first NCAA D3 Tournament.  A HUGE congratulations goes out to Head Coach, Andy Bonasera, and the Panthers on this historic season!  Bonasera is a Roanoke (VA) graduate and had been leading the program since its inception in 2008-9.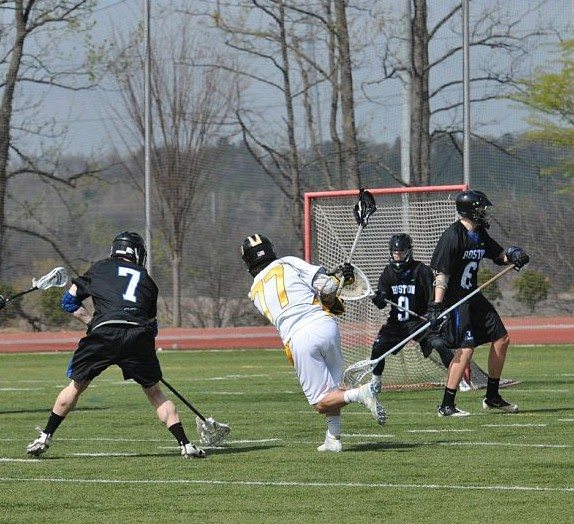 Photo Credit: BSC Lacrosse on Shutterfly
B-SC is located in Birmingham, Alabama and finished the 2012 regular season (including the SCAC playoffs) at 14-4.  To win their conference, they had to knock off Colorado College, after losing to the Tigers 9-5 in the regular season.  This is also Birmingham Southern's first win over CC ever.
It is fantastic to see a team from Alabama make the NCAA D3 tournament, and I love that they did it by garnering the AQ from a relatively new conference.  True growth at the college level does not happen team by team, but conference by conference, and the SCAC is a great example of how a conference with an AQ can be a difference maker.
Colorado College was considered the top dog in the SCAC for the first two seasons, but the gap between the Tigers and rest of the pack was not something that couldn't be overcome.  And teams like B-SC and Sewanee have risen to the challenge in only a year or two.  Programs like Hendrix might only be another year or two away from competing themselves.  The SCAC isn't just filled with new teams, it is filled with new IMPROVING teams, and it's all because of the AQ.
A trip to the NCAAs is huge motivation for any team, and although every team "can" make the NCAAs, some have an easier path than others.  And it is these teams in conferences with "easier paths" that can make huge strides quickly because the carrot is literally dangling right in front of their noses.  It can be hard to recruit a kid to a lower rated ODAC school, as they know they have a long hill to climb to get to the top of their conference.  But it is much easier to sell a kid on a possible NCAA bid when you only have one or two good teams to catch.
Now I'm not saying that it's easy to build a program up and make the NCAAs for the first time in a newer conference.  It's a hard thing to accomplish no matter where you are. But new AQ conferences are definitely a prime spot for growth and rapid improvement, and Birmingham-Southern is a great example of that.
Right now it's looking like B-SC will have to play Dickinson or Lynchbrug, or some other Southern powerhouse in the first round, and even if they lose big, this is a good thing.  I remember when Endicott made the NCAAs for the first time… they used to get SMOKED!  But after a couple of years the games really started to tighten up, and then Endicott was a consistent top 20 team.  I can see B-SC headed on the same path, especially if they keep Bonasera around.
Congrats go out to the Panthers of Birmingham-Southern College for their first trip to the NCAAs!  Good luck in your first tourney, no matter who you face.
____________________________________________________________________________
LACROSSE IN OTHER NEWS & LACROSSE VIDEO OF THE WEEK:
I just finish typing up a positive Hot Pot about lacrosse and how it's growing in the right ways and then I find the video below.  With the good comes the bad I guess.  Fair and Balanced?
I didn't see what happened before, and I don't know the kid involved… but WHO DOES THAT?
Play the game with more pride than that.  And remember, anything you do can show up on Youtube.  I hope the St. Thomas player learns something from this incident, and I hope that anyone who reads this post does the same.  I really hope the St. Andrew's player is ok.  We all make mistakes in life, but we need to push for better in our sport, and from the young men who play it.  This kind of stuff does nothing to advance the game at all.
So what do you think about stuff like this?  It it part of the game merely because lacrosse is a physical sport?  Or is it something that has no place in the game?  What can we do find the correct path here?