Editor's note: Word on the street is teams have started signing up for 2011 Denver Team Camp.  Bishop Kelly out of Idaho will be in attendance, for one.  That's Jeff Brunelle's old stomping ground!  For people interested in entering teams, they should contact Matt Brown at mtbrown@du.edu.  For additional incentive, any coaches that enter teams will be hired on and paid as camp staff to coach their team in the tournament! LAS sat down with the Bishop Kelly head coach, Blake Gaudet, to talk a little more about what this camp offers.
______________________________________________________________________________________________________________________
LAS: As a coach, how would you describe your personal experience at the DU Team Camp?
Blake Gaudet: Just before my guys stepped out to play their first game, the tournament director rolled up in a golf cart and handed me a check for $1,000.  Not that money should ever be a deciding factor on where you take your team, and it certainly isn't the reason we plan on going back, but it's nice to get a little compensation for the work you're putting in during the summer.  I know a lot of coaches volunteer their time in June, and it takes a bit of the financial stress off.
The first session of the camp consisted of about 2 hours of drills put on by the college coaches in attendance.  This was great for my guys, but I especially liked it because I had an opportunity to pick up some new drills and really get a sense of what college coaches are looking for in a player these days.  That's going to help me when I'm trying to mold my guys into college athletes.
What about your team's experience? Did individual players benefit?
Blake Gaudet: I had a number of kids that really got looked at by college coaches for the first time.  We had early success in the tournament which drew some recruiters our direction, and two or three guys really capitalized on that opportunity.  More than anything though, that kind of attention gave the kids the confidence to start putting themselves out there to other college coaches.  As a result, this group of seniors will have more college players than any that we've had in the past.
As a team, the chance to test ourselves against some great teams from places well outside of our normal area of competition was a huge learning experience.  They saw some styles of play that they weren't used to, tested themselves against bigger opponents, and really took their game to a whole new level.  I guarantee you our record next Spring is going to benefit because we went to Denver.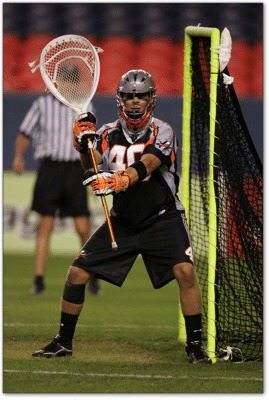 What was the most beneficial/rewarding part of the camp?
Blake Gaudet: I love that the players on the team were able to get some top-notch instruction from college coaches, and still got to compete as a team.  When a player goes to an individual camp and is put on a team with a bunch of kids he doesn't know, he might get better but the team as a whole doesn't benefit as much.  Denver gave us the opportunity to improve as individuals and as a unit.
Compared to other team camps you and your team have attended, how would you rate the DU Team Camp?
Blake Gaudet: The tournament is incredibly well organized.  We had some lightning come through on the second day of the tournament, and they were able to clear 8 fields in only a minute or two.  Within 15 minutes we had an email from Trevor Tierney, the camp director, with a totally revamped schedule.  They were really on the ball.  Also, we've been contacted multiple times since we left asking us about the experience we had.  I would give the camp a 9/10, and given that this was the first year running it for DU's coaching staff, I'm sure it will jump to a 10 next summer.