There is a lot of JuCo Report action to cover this week as we saw some big time results (as we inch ever closer to the playoffs), but I'm also going to talk about one program that is playing Iron Man lacrosse this season, and even sniffing the Top 10 while doing so!
First we hit up the poll. We're seeing even more movement, further backing up the idea that 2017 is truly a year of parity in the NJCAA men's lacrosse ranks. All one needs to do is look at last week's rankings and compare them to this week's. It's pretty fluid in the top 5 and last week saw a lot of 5-10 movement. I'll keep saying it – parity is here, and it is good!
NJCAA Top Ten Poll
Top Ten Ranking, Current Record, Vote Points, Last Week's Rank
1) Onondaga, 9-0, 60, 1st
2) Genesee, 7-2, 52, 5th
2) Howard, 8-2, 48, 2nd
4) Nassau, 6-3, 42, 4th
5) Harford, 9-3, 36, 3rd
6) Anne Arundel, 6-4, 27, 6th
7) CCBC Essex, 7-4, 21, 7th
8T) Ocean County, 6-3, 15, 8th
8T) Monroe, 5-2, 15, 9th
10) Tomkins Cortland, 4-3, 9, tied for 10th
Others Receiving Votes: Suffolk
Iron Man Lacrosse – Finger Lakes CC
As you all know (or at least I hope you know), NJCAA programs only get players for two years. If you don't recruit, some kids leave, you don't look for new players everywhere, or even if you just run into some plain old bad luck, roster numbers can drop precipitously. Teams with 40 players on their roster one year can drop to 20 the next year, and programs that typically carry around 20 can drop even further.
I'm not 100% sure how the roster at Finger Lakes CC got down to its current size to be honest, but they are now playing with only 12 guys in games, and this is about as close to true Iron Man lacrosse as a team can get at the collegiate level. Last week they had 13 guys, but lost a player to injury in a game this week, so now there is just the dirty dozen remaining. Imagine looking over at your opponent's bench and seeing more coaches than substitutes… then imagine that that team might actually beat you, and Iron Man isn't even on their roster. Everybody wants the robot heart.
WHAT? Apart from the Venture Bros references, am I saying that FLCC is still winning games with only 12-13 players?
They sure are! And they're even sniffing the Top 10! I can't believe I just wrote that, but it's true.
They started out the year with a 1-0 forfeit win over Howard, who is now 8-2. A win is a win! FLCC then dropped two games by large margins to Harford and Anne Arundel, but bounced back with a 1 goal win over Broome. That score might not be all that impressive, but a win with a very short roster will give any team confidence, and while FLCC dropped their next game to a top 10 opponent by only 5 goals, they also rebounded from the loss to Monroe by defeating Mercyhurst NE by 9 goals. Again, they won a game by 9 goals with only 12.5 guys.
At this point, FLCC has only played 6 games. They have 8 more to go, and these will take place between now and April 23rd. So yes, that is 12 guys playing 8 games in 13 days, which is… a lot to ask. But at this point, I'm thinking FLCC has figured out how to play short numbers lacrosse, so it's not impossible.
If FLCC can get wins over Jefferson, TC3, Herkimer, and Hudson Valley, they would be a legit Top 10 squad this year. Even wins over 3 out of 4 could get them into the poll. While all this is achievable, it's going to be MUCH harder than just winning "one game at a time" for the Lakers.
Why is it harder? FLCC will also face Onondaga and Genesee during the middle part of this run of games, and then face Union County and Ocean County as their last two games. While these two games (OCC and GCC) may not realistically be "winnable", they really do impact the OTHER 4 games that FLCC has to play. Games are brutal in general, and the cuts, bruises, and bumps tend to add up, especially if you never leave the field, and you're playing 2 of the top 5 teams in the country.
Can FLCC even make it through this 8 game stretch with enough guys to finish the season? I sure hope so!
While I love it that FLCC could play their way into the Top 10 with only 13 (now 12) guys, I'm really just watching to see if they can finish their season. A top 10 finish would be a 30 for 30 worthy story, but a completed season is really no less of an accomplishment. These guys could have packed it in for the year, and given up, but they banded together, took on all comers, and played the game, however they could. It's beautiful, and deserves some love.
Think about it this way – with 13 guys on your roster you can only practice six on six if EVERYONE plays. You can NOT do full field work. You simply don't have the numbers. Your back up goalie is DEFINITELY playing out in the field. No one has a set position. It has got to be exhausting, and a complete departure from "normal" lacrosse, but I'm also willing to bet it's a lot of fun, at least once the guys catch their breath.
Good luck to FLCC as they grind through the rest of their season. Finish up and finish strong, Lakers.
Howard Vs Genesee – VIDEO
Dear everyone else,
Please make more videos. No offense if you haven't, I just like seeing you play and want others to see it too.
Sincerely,
The JuCo Report
GREAT NJCAA Photos!
Nick Caruso sent in another great Chris Farrar photo, and the Vikings are looking good!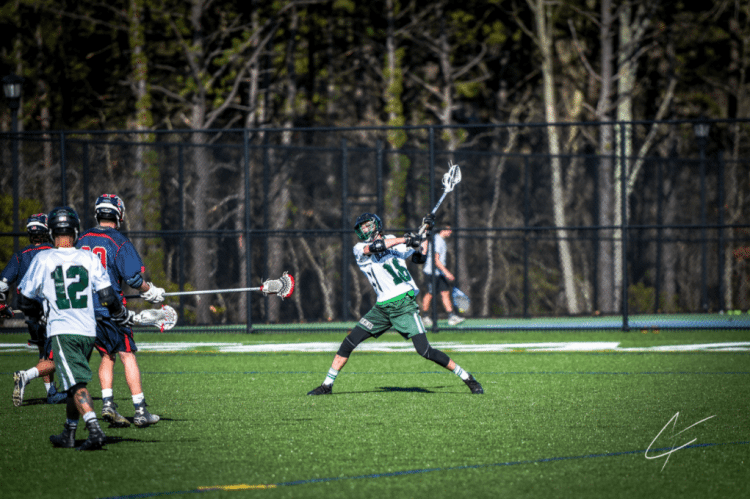 Onondaga vs. Union County – Amy Corcoran got some great shots of the OCC win over Union but this was one is just pretty!
Submitting Photos/Video
If you want PHOTOS or VIDEO of YOUR team included in the JuCo Report, send them to me at Connor@Lacrosseallstars.com! Same goes for tips, info, etc!
Recent 2017 Game Results
Tuesday, April 4th
Northern Virginia 10 – Potomac State 24
Wednesday, April 5th
Anne Arundel 17 – Frederick 9
Catonsville 3 – Southern Maryland 21
Essex 8 – Harford 7
Hudson Valley 12 – Herkimer 11 OT
Jefferson 4 – Genesee 24
Monroe 14 – Finger Lakes 9
Ocean County 19 – Delaware Tech 8
Onondaga 27 – Broome 4
Union County 14 – Morris 2
Friday, April 7th
Southern Maryland 8 – Anne Arundel 18
Tompkins Cortland vs. Finger Lakes – postponed
Saturday, April 8th
Ancilla 24 – Ferris State 7
Brookdale vs. Delaware Tech – postponed
Frederick 0 – Essex 9
Howard 9 – Genesee 11
Jefferson 3 – Monroe 15
Nassau 23 – Ocean County 1
Onondaga 33 – Union County 2
Stony Brook Club 3 – Suffolk 15
Sunday, April 9th
Harford 9 – Susquehanna JV 10
Howard 25 – Catonsville 0
Mercyhurst North East 6 – Finger Lakes 15
Monroe 9 – Herkimer 5
Morris vs. Northern Virginia – postponed
Tompkins Cortland 16 – Union County 8
Reading Recent Results
As I said last week, Harford Vs Essex was huge, and Essex answered in a serious way, proving the switch from the old guard to the new guard in Maryland is far from said and done. Between Harford, Howard, Essex, and Anne Arundel, Maryland now has 4 REALLY good NJCAA programs. This is VERY good for JuCo lacrosse!
Ocean and Union were both looking like next in line to be easy Top 10 programs, this past week showed us just how big the gap can still be between the "top" and the programs next up. Ocean took a hard L to Nassau 23-1, and Union played games back to back, dropping a large margin loss to Onondaga, and then getting knocked over and doubled up by TC3, 16-8 on Sunday.
OCC is now on fire, and a heavy favorite to win it all. Of course I've said that before!
Big Upcoming 2017 NJCAA Lacrosse Games
Monday, April 10th – Anne Arundel vs Potomac State – I don't know what it is about Potomac State that gives me hope that this could be an unreal game. I think PS can score some goals here, but we'll have to see it all play out. This is a trap game for Anne Arundel.
Wednesday, April 12th – Howard vs Harford – Need I say more? If you live in the area, go watch. You're welcome.
Wednesday, April 12th – TC3 vs Ocean – TC3 just beat Union by 8, and Ocean knows this. Both teams will come in ready to roll, and it's going to be a great game.
Friday, April 14th – Southern Maryland vs Northern Virginia – Ok, NOW we get the Mason-Dixon border war we all want. No, not THAT historically important one… this lacrosse game! What's not to like about this? Bragging rights over state lines, and plenty of compass rose references. Perfection.
Saturday, April 15th – Frederick Vs Harford – How good is Frederick? Honestly, I'm having a hard time telling. This game should provide a more up to date answer.
Saturday, April 15th – Howard Vs Essex – There are FOUR really good teams in Maryland, and this game features TWO of them.
Saturday, April 15th – Ocean Vs Union – This might be my game of the week. Everyone needs wins right now, these two teams are both trying to climb, and they seem to match up well, at least on paper.