When you watch the Iroquois, you can expect to drop your jaw more than once.
Saturday against England was no different.
Acrobatics around the crease coming from seemingly nowhere characterized the Iroquois goals in its 18-7 handling of the English on Epoch Field.
The men in red jumped out to a 3-0 lead, but once the Iroquois settled in, England has no answers. The game's inventors scored 12-straight, living up to the team's long-standing reputation of a creative spirit.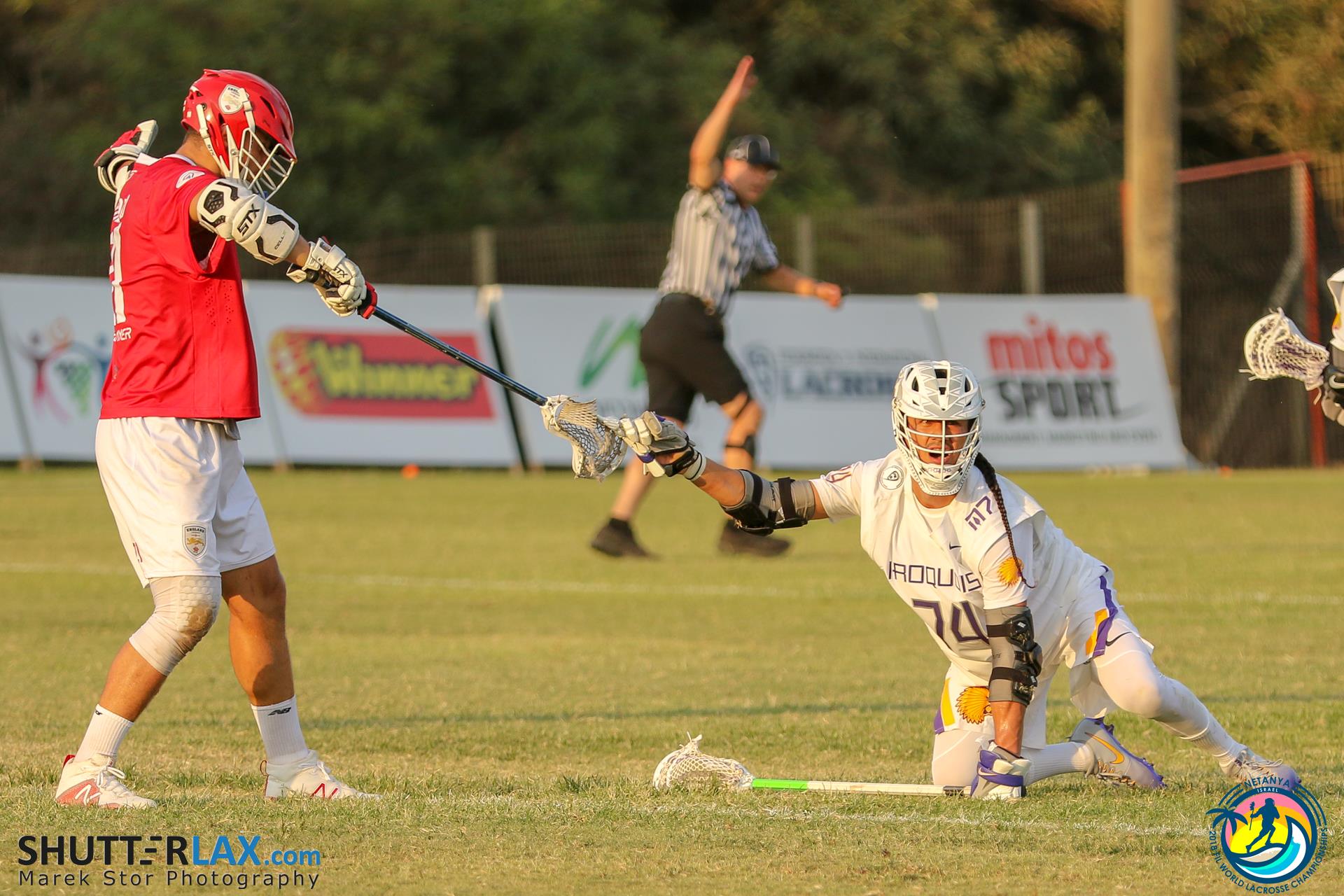 "It's unreal," said Iroquois attackman Lyle Thompson of his team's stick skills. "Our offense is run through basically eight attackmen. People look at me and think I have a creative stick, but with some of these guys, it's an extension of their body. You can see it when you watch us play."
Fans filled the stands, eager to ooh and ahh at Iroquois magic. Some chose to climb the dirt hill overlooking the venue for a better vantage point. Others found whatever room they could around the field, even packing like sardines in the small room remaining between the Iroquois bench and endline.
"It gives us a little more to play for," Thompson said. "We play with a purpose, but seeing a solid crowd and seeing people follow us around, it's nice to see."
Those lucky enough to earn an unobstructed view witnessed the stunningly orchestrated concert the Iroquois put on, with attackman Lyle Thompson working as conductor.
The internationally-known commodity scored two goals and added three assists in what could only be described as a beautiful performance.
"He played up to his potential," said Iroquois head coach Red Burnam. "Wherever you run him out of, the matchup is a nightmare for most guys."
It wasn't all doom and gloom for the English, though. Attackman Ryan Hunns tallied three goals, continuing to prove why he's one of the best young attackmen in the international game.
"He's a great finisher and a great shooter when he gets his hands hot," said England head coach Tom Wenham. "He makes a real impact for us and did a great job tonight."
But Hunns's factory of goals wasn't enough to even bring the English within striking distance. Wenham said consistency is the top problem for his team to solve.
"Our gameplan revolved around frustrating them and attempting to deny them possession, which we were able to do for patches," Wenham explained. "When we were, we felt we were effective. But we weren't able to do that consistently, and that's the next challenge for this team. We know we can run with the best teams in the world and be competitive. We need to be able to do that for the full 80 minutes."
The Iroquois are back at it Sunday at 8:15 p.m. against Australia, while the English will continue to search for their first win of the tournament Sunday at 5:15 p.m. versus rival Scotland. Both games will be played on Epoch Field.