There have been an inordinate number of top flight attackmen to come through the Ivy League, both in recent years and long into the past, and Cornell's Rob Pannell is certainly worthy of being in that class, but is he leading the way?  Is Rob Pannell the best attackman to every play in the Ivy League?  Probably not.  But is he better than Ryan Boyle?  An argument can be made.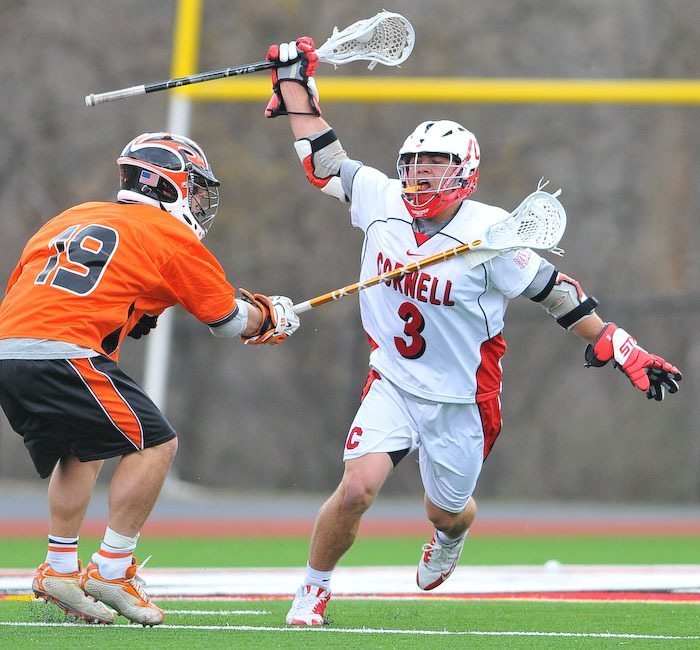 On twitter, 412 recently asked if Pannell was the best attackman since Ryan Boyle of Princeton.   And I think that is a definite yes.  Pannell is noticeably better than his current peers, even though players like Feinberg (Brown), Cohen (Harvard) and Douglass (Yale) are all excellent, amongst many others.  Boyle was regarded similarly in his day, so in this regard, they are really pretty even.  But Boyle had some real talent around him early on, and he was able to work with that wonderfully.  Playing with Tommy Davis, Mark Kovler, (EN: Oops again) Drew Casino, Jason Donegar, Sean Hartofolis, Josh White, Matt Trevenen, BJ Prager, Rob Torti and Matt Stribel certainly helped.  Of course, Pannell also benefited from playing with great players like Seibald, Romero, Glynn, Hurley, Mock, Lang, Lau and others, but those Princeton teams were just a little more stacked in my opinion.
This isn't a knock on those Cornell teams or players at all.  But those Princeton teams were pretty special back then.  Toss in the fact that head Coach Bill Tierney was giving college lacrosse defense a major face-lift, and you start to also understand the discrepancy between the "Rings" count.  Boyle easily takes this one, but you have to take into account how much he had helping him.  And it's tough to really close the book on this section of the resume right now since Pannell is still playing, and has a good chance to win it all this year.  And next year.  Because he's only a JUNIOR.  It's all about potential still, but if Pannell is as good as I think he is, along with the rest of Cornell, he'll make it happen.  So let's just leave that out for now, okay?
Maybe it's convenient for my argument to not count Championships, but Pannell went to one as a freshman.  So let's not get ahead of ourselves here and just cede it to Boyle.  Be patient.  I'll leave this category TBD.  If Pannell never wins one, Boyle was better.  And the previous statement will be totally true, at least as far as general consensus goes, if that is what transpires.  The pressure is on!
That's what makes both of these guys tick: pressure.  It's what separates them from the rest of the pack and it's why I'm asking this question.  Both Boyle and Pannell THRIVE under pressure.  They seem to welcome it.  They want the ball when the game is on the line, everyone knows they want the ball, and they still manage to make things happen.  It's inspired lacrosse.
Ok, enough slurping and back to the comparison.  These guys are tough players, and I appreciate how Boyle takes the beating he does at times, and never loses focus of his main objective: put up more points than the other guys.  He takes an absolute beating box games in the NLL but is always back up looking to get involved in the play right away, and never slashing someone behind the play.  Frankly, it's more of what the NLL needs.  But, like I said, Boyle TAKES the beating, and much more rarely gives it out.
Pannell, like Boyle, is almost always focused on scoring the ball and is more than willing to take one for the team, but sometimes he LOOKS to dish it out, even when he's in possession.  Boyle prefers to let the aggression come to him, and then he uses it against the defender.  Pannell can do that, but he can also put his shoulder into your sternum and knock you back a step.  To me, this is really the singular difference that separates the two of them.
Boyle runs the show, controls the game, inspires fear in longpoles, and picks opposing defenses apart with his dodging and feeding.  Pannell does the same thing, but sometimes brings that physicality and overt toughness that makes it looks like he's a 5'7″ man playing against 6'3″ boys.  Boyle was dominant and he was the head of his class.  Pannell is dominant as well, but he's truly head and shoulders above the rest.
And this is what gives Pannell the nod over Boyle for me.  The Ivy is experiencing more parity, as new teams each year seem capable of winning the crown, even if they don't end up doing so.  The level of play and competitiveness has improved from the bottom up, yet Pannell STILL just pounds people.  He puts up ridiculous points game after game, and certain teams (Harvard) even tried to shut him off.  Boyle was the anointed one (and deservedly so!) on the best team.  Pannell is making Cornell the best team, even if they otherwise wouldn't be.  And that's the slight difference.
If you've made it past Ryan Boyle with me, maybe you're willing to go a little further?  Okay, maybe a LOT further… and say Pannell is the best Ivy League Attackman of all-time?  Highly unlikely.  And even if you thought Boyle was the best before Pannell, this is NOT an easy sell.
After all, there have been a lot of great Ivy League attackmen…  Guys like Mike French (Cornell), Jon Reese (Yale) (Editor's Note: Reese was a middie. Oops! Thanks tydur!), John Walters (Dartmouth), Darren Lowe, (Brown), Kevin Lowe (Princeton), Eamon McEneaney (Cornell), Tim Goldstein (Cornell), and Hess, Hubbard, and Massey of Princeton all ring as golden names in the annals of the lacrosse history.  And I could probably name 20 more guys you might recognize if I really thought about it.  I only left Don Hahn off the list because I've never even seen clips of him play.  Although I'm sure he was unreal.  He did win the Turnbull.  Ok, he's on the list too.
The point here is that to call Rob Pannell the best Ivy League attackman ever is impossible.  I made the argument that he is better than Boyle, I did my best, and it still came out looking like Swiss Cheese.  Even if Pannell won the next two Tewaraaton awards, AND Cornell took home the next two National Championships, AND scored he scored 143 points his Senior year, you could make the argument that any one of the above listed players was better.
At the end of his career, we can sit back and say where he fit in, but for now, I'm going to TRY to forget about all that, and just appreciate watching him play as much as I can.  We'll have more than enough time to argue later.