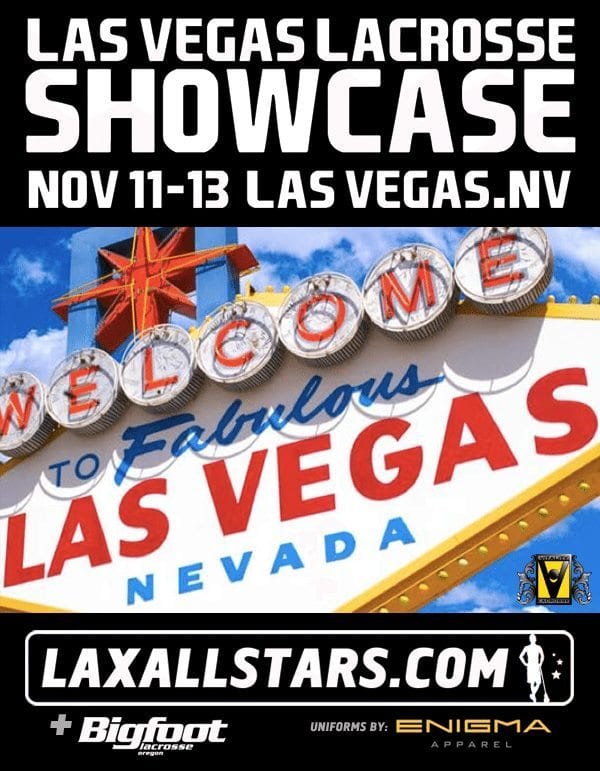 Hello, hello and welcome to our first post about the Las Vegas Lacrosse Showcase taking place this weekend, November 11-13. We're thrilled to have the opportunity to attend and sponsor The Bigfoot Lax All Stars team in the Men's Elite bracket (check out the uniforms here).
Six LaxAllStars.com representatives will be staying at Rumor Las Vegas with other members of our team. We're playing at the tournament, and we'll be documenting our experience via photos and video throughout the weekend. We'll also be on site at the tournament all day Saturday and Sunday passing out stickers, GTG Laces and high fives (or hugs if you're David Ogle). If you're in Vegas this weekend, look for the handsome young men wearing bright red crewnecks! Yes, we're bringing them back.
This year's Las Vegas Lacrosse Showcase includes 7 divisions: Boys U-15, U-17, U-19, Girls U-19, MCLA Collegiate, and adult men and adult women. This is the 3rd year Vitality Lacrosse has put on the event, which means it's likely to be the best Las Vegas X Lacrosse experience yet. So far, LAS staffers have had the pleasure of attending 2 other events put on by Vitality, and they've really impressed us with their strong attention to detail.
It was no surprise when we received an email earlier this week inviting our team to a pre-party before the official Adult Tournament party at the ROK VEGAS Nightclub in New York New York. They've even got a bus set up to shuttle players from the pre-party to Rok Vegas. What's that you say? Coolers on the bus too? Yep, it's all in the details! This is going to be one heck of a weekend.
From what it sounds like, the Men's Division is shaping up to have some great talent involved. We've heard rumors that Zach Greer, Anthony Kelly, Brian Silcott and many other significant lacrosse names are all suiting up at the tourney. Oh, who are we kidding? AK and Silcott are both on our team, The Bigfoot Lax All Stars!
The Salt Shakerz won the Men's Division last year, and it sounds like they've got their eyes on a repeat. Those guys play together year round… is that even fair? Meanwhile, Josh Rottman has told us that the Xiphos are carrying some serious fire power on their roster this year.  Guess it's good we're ready for a competitive and sleep deprived weekend!
In addition to the games being played, Vitality Lacrosse has also worked hard to align some big names for clinics and autograph sessions. Brett Hughes is on our roster, but he says he's not playing. Everyone needs to tweet at him now and tell him to get on board the Lax All Stars train! No, seriously. Do it.
By the way, this whole tournament supports the Wounded Warrior Project, which is pretty cool (and 100% suitable) since the event falls on Veteran's Day. WWP supports United States military service men and women who have been injured while serving their country, and Neil Butterfield over at Vitality Lacrosse was excited to us a portion of the tournament proceeds will be donated to the organization.
We'll have some high quality photos (pending the photographer's back spasms) coming your way this week on our Facebook and Google+ pages along with some videos popping on YouTube.
And finally, here's a list of all the teams participating in Las Vegas this weekend. Let us know if you have any special requests for photos or interviews by dropping us a line in the comments sections below!
Men's Elite Teams
Salt Shakerz
Aspen Men's Lacrosse
Twisted Steel
South bay Lacrosse
Bigfoot Lacrosse
Xiphos
Finest City Friars Lacrosse Club
Cougs
Camp Pendleton Men's Lacrosse
Men's Masters Teams
Team Colorado
Montezuma's Revenge
Moondoggies
Cactus Lacrosse
Women's Elite
San Diego Women's Post Collegiate
Portland Winded
College Teams
BYU
Cal Poly
U of Arizona
Cal Berkeley
UC Davis
UCLA
Westminster
Grand Canyon
Occidental
High School and Youth Club Teams
Bad Intentions (2 teams)
3 Rivers
Cadillax (3 teams)
Scorpions
Coldwater
Bishop Gorman
Zip it Lacrosse (3 teams)
Palo Verde
NorCal Braves (2 teams)
Alright, time to go enjoy the sounds of slot machines and house music. Las Vegas, let's do this!